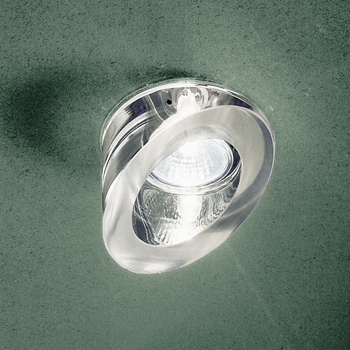 Recessed lights are lights fixed into hollowed areas such as alcoves and recessed ceilings. They are typically fixed into ceilings, but may also be placed into recesses in the floors and walls. Recessed lights provide an elegant, streamlined, and contemporary method of lighting in rooms. The light from recessed fixtures can create beautiful effects. They can create a calm and relaxing ambience or dramatic effects. Multiple recessed lights can also make a room appear more spacious, so they are excellent for small rooms and narrow hallways. The light appears to shine from holes in the walls, floors or ceiling and the light fixture itself is generally inconspicuous. The light can either be directed, as in a spot light. Or it can be cast in a wide beam, for example, to wash walls with light. Recessed lights are also referred to as downlights.
The Anatomy of Recessed Lighting
There are three basic elements of recessed light fixtures. These are the trim, the housing and the bulb. The trim is the exterior which is visible. The trim may be relatively inconspicuous, but is also designed with aesthetics in mind. It consists of the trim itself, the trim ring which covers the seam between the housing and ceiling, and optics such as reflectors, lenses, diffusers, and eyeballs. The housing is installed in the recess and is not visible. It houses the bulb fixture, as well as a mounting frame and bars. Recessed lights may contain different types of bulb. Recessed lights are frequently bought as a set, and this is generally cheaper and easier. It is also possible to buy the components separately and then assemble them together, giving the flexibility to mix and match preferred components.
Choosing Recessed Lighting
Given the complexity of recessed lighting, it is important not to rush into any decision without first having given the following points some thought.
Where to Use Recessed Lighting
Recessed lighting can be used in various ways and places to create different effects.
| | |
| --- | --- |
| To highlight specific objects | Place the fixtures about 30 cm in front of or away from the object. Objects might include paintings, carved panels, ornaments, or shelves. Three dimensional objects such as ornaments or fireplaces are more effectively highlighted by two or more lights coming from different angles. Adjustable fixtures are often required. |
| To wash walls with light | Wall washing can make rooms appear more open and spacious. Place the fixtures around the perimeter of the room or a specific section or wall. |
| For reading, studying, or similar purposes | Place the fixtures in the ceiling overhead. The light should shine directly in front of the person rather than coming from behind. Adjustable fixtures may be required. |
| To provide focused worktop light in kitchens | Place the fixtures to the base of kitchen cabinets. This provides focused light for preparing and cooking food and also creates a relaxed atmosphere. |
| To highlight staircases | Place fixtures in the adjacent wall, centrally to each stair and the same height from each stair. This creates a light scheme that is both practical and aesthetically pleasing. |
| To highlight the floor in hallways | Place fixtures in the adjacent wall. Place them about 20 cm above floor level. |
| To expand narrow hallways | Place fixtures in both walls close to floor and ceiling height. Use fixtures with reflectors and eyeball or gimball trims that can be rotated to angle light up and outwards. Angle the ceiling lights upwards and the floor lights downwards to create an expansive effect. |
| To highlight floors | Use floor recessed units. Create a path by placing fixtures in the centre of a hallway, highlight walls by placing fixtures close to them and angling upwards, or create other effects by placing the fixtures in various ways. Use LED and fluorescent bulbs which remain cool. Halogen bulbs heat up and should not be used. |
Recessed lights need to be carefully placed to have the desired effect. In general, the size of the fixture corresponds to how close other fixtures are placed. For example, fixtures 10 cm wide should be placed at least 100 cm apart. Placing fixtures too close together and/or in straight rows, especially in the centre of a room, can create a harsh effect. In general, larger fixtures are suitable for rooms with high ceilings and smaller fixtures are better for smaller rooms and lower ceilings. Recessed lighting is not generally suitable for concrete ceilings or for ceilings with ornate plasterwork such as cornicing and ceiling roses. These more traditional types of ceiling work well with decorative ceiling lights such as chandeliers.
Recessed Lighting Trims
There are various types of trim available. The trim chosen will depend upon factors such as the size of the room, the lighting effect required and personal style. It needs to be compatible with the housing.
| | |
| --- | --- |
| Open | Open trims are the standard type of trim and are relatively inexpensive. They are suitable for background lighting and task lighting. |
| Baffle | Baffle trims have the bulb positioned further in, so that the bulb is less visible, the light less bright and glare is reduced. They are suitable for background lighting and also provide focused light for specific tasks. |
| Eyeball and Gimball | Eyeball and gimball trims are adjustable so that the light can be directed to where it is needed or desired. Eyeball trims are more freely adjustable than gimball trims. They are useful for task lighting and also for highlighting specific objects or features. |
| Lenses and Diffusers | Trims with lenses and diffusers can be used to create interesting effects, such as coloured and softened light. |
| Decorative | There are various types of decorative trim available. |
| Shower | Shower trims are suitable for use in bathrooms and other damp locations. Look for IP ratings – they should have a minimum rating of IP44. |
Recessed Lighting Bulbs and Voltage
Recessed lights may have incandescent, halogen, fluorescent, or LED bulbs. Halogen and incandescent bulbs are generally cheaper, but both have relatively low energy efficiency. Incandescent bulbs are good for general background lighting and have a warm yellowish tone. Halogen bulbs are good for task lighting as well as background lighting and have a clear white tone. Low energy fluorescent bulbs have a bluish tone and are energy efficient. LED bulbs can be expensive to buy but are very energy efficient and have a number of other advantages. They are available in cool and warm white light and various other colours. Recessed lights can be run with either mains voltage or with low voltage. Mains is cheaper, easier to install and does not require special transformers. If using energy saving fluorescent bulbs, this is only type of voltage that can be used. Low voltage is more expensive, harder to install and requires special transformers. It is, however, more energy efficient and has more ability to create special effects.
Conclusion
Recessed lighting is an elegant and versatile method of lighting a room. It can be used for general background lighting, for task lighting, to highlight objects and to create other interesting effects. Recessed lighting can expand narrow hallways and make small rooms appear more spacious. Various types of trim, the external part, are available, including reflective trims to maximise light output, eyeball trims that can be rotated, and shower trims for use in bathrooms. Recessed lights may use various types of bulb, such as incandescent, halogen, fluorescent and LED and can be run off either mains or low voltage systems. There are many listings for recessed lighting fixtures and bulbs on eBay. Purchasing and installing recessed lighting is a superb option for the contemporary home to add clean and distinctive style.