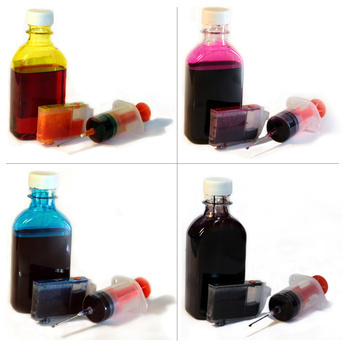 Laser printers are now the most popular printer type due to some striking technological improvements. Toner cartridges are the laser printer equivalent of the ink cartridges used for standard inkjet printers. These cartridges use toner powder, which is seared onto paper with heat during the printing process. Since the print medium is dry powder, refilling cartridges is easier than it would be to refill liquid ink cartridges. It is both cost effective and environmentally friendly to refill cartridges rather than replace them.
Before purchasing any laser printer, it is essential to become familiar with toner cartridges and the refill process, which sooner or later becomes the most expensive aspect of using a laser or any other printer. It has often been noted that companies that manufacture these devices are not actually in the printer business, but in the toner and ink business because low-end printers are essentially sold at very little profit to the producer. In fact, it is occasionally the case that a set of replacement toner cartridges is more expensive than purchasing a new printer, creating an environmental concern as the glut of discarded printers grows. As a result, the toner refill business is thriving. An excellent source for all toner refills is eBay.
Laser vs. Inkjet Printers
Before considering how to buy refills for toner cartridges, it is worth thinking about the different types of printers. For anyone who is trying to decide what type of printer to buy, it comes down to the number of pages printed regularly. While laser printers are still somewhat more expensive, the final decision should be based on the price and convenience of refilling the ink or toner. Many people only print a page or two per week and the quality is of little concern. Others print many pages per day and use a printer to produce photographs and better quality images for commercial purposes. Those in the latter camp should look at laser printers first.
While ink-based printers make cartridge changing simple, the cost of those cartridges can add up quickly. The producers have found ways to make it nearly impossible to refill the cartridges and most people end up buying replacements from the manufacturing company at inflated prices. While refilling a toner cartridge is not as simple as just throwing away the empty one and snapping in a new one, it is much less expensive and a less frequent process because of their larger sizes. Plus, toner is dry powder and is not as messy as liquid ink.
Types of Toner Cartridge
All laser printer manufacturers also sell replacement toner cartridges. Those companies are referred to as the original equipment manufacturers (OEMs). The term "genuine" is also used. As soon as a new model of printer reaches the market, other companies begin to manufacture cartridges. These are known as third party, generic, or compatible cartridges. It is important to learn about any company that produces compatible cartridges to ensure that there is no loss of performance with their use. On the other hand, many compatible cartridges are actually superior to those of the OEM. Bear in mind that OEMs are not fond of competitors, so may not repair printers that use any cartridge other than their own if something goes wrong, although this practice may not be permitted in some countries.
Remanufactured cartridges differ in that typically the original cartridge is dismantled, reassembled, and refilled by a third party. Any parts that are defective or worn are usually replaced. Remanufacturing offers the environmental advantage of less plastic waste in landfills. The downside to this process is that a second cartridge is required for use while the remanufacturer is retooling the first one.
Environmental Concerns for Toner Cartridges
It is estimated that millions of litres of raw petroleum are required to produce a year's supply of cartridges. The majority of them end up in landfills once depleted. Several of the companies that produce toner cartridges have responded by setting up internal cartridge recycling. While the intention may be altruistic, the result is often that the cartridges end up being shipped halfway around the world to be remanufactured and refilled, far from what many critics feel is a sustainable solution.
Factors to Consider When Refilling Toner Cartridges
While the cost of laser printers has dropped considerably over the last few years, the prices for toner cartridges have not. There is no question that the most cost effective and environmentally sensitive solution to the toner cartridge issue is for the owner of the printer to simply refill the cartridges as required. Toner refills and kits enable most people to refill cartridges quickly and easily. Typically cartridges can be refilled for about 20 percent of the replacement cartridge price. The process may seem daunting at first, but after successful completion most people are convinced by the reduced impact to the environment and wallet alike.
Page Counter
All replacement kits include a small computer chip that tracks toner usage and notifies the user when the level of toner is getting low. Chips can be sold separately or as part of the kit. At some point the usage of toner and the count on the chip get out of sync. Those who begin with a kit typically graduate to buying individual toner colours and chips separately.
Toner Cartridge Access
Before buying any laser printer, determine whether or not the toner cartridge is easily refillable. Some are equipped with removable plugs that enable simple refilling. Others require more aggressive techniques such as creating a hole. The kits for those printers that require making a hole usually include a tool to simplify the process and stick-on labels to reseal the opening.
Toner Refill Accessories
The toner refill bottles that are supplied with the kits or purchased separately come with a screw on cap with an opening that fits neatly into the cartridge hole. The kits include a full set of instructions, cleaning towels, and even plastic gloves to wear during the process.
Toner Refill Process
The actual refill process begins with removing the original factory supplied cartridge. Assuming that the user has a colour printer, there are individual cartridges for each colour, typically black, magenta, yellow, and cyan. The first step is usually to eliminate the waste toner that collects within each cartridge. Either open the plug and shake it out or cut a hole with the tool supplied, shake it out, and reseal the hole.
Next is filling the cartridge with appropriate colour toner. The same steps apply for either opening the plug or creating the hole. Now simply refill the cartridge, shaking it often to keep the toner from building up too much near the hole.
Finally, with needle nose pliers remove the original counter chip from the cartridge, noticing the orientation, and substitute it with the supplied replacement. When replacing, slide the chip in with the fingers rather than the pliers to avoid damaging it. The entire process can be completed in about five minutes for each cartridge, after learning the steps.
Buying Refills for Toner Cartridges on eBay
Everything you need to refill toner cartridges is available on eBay. Just go to the eBay home page and locate the search feature found on every page. This takes you to a complete list of all available items. For example, if you want to find some compatible HP cartridges so you can always have backups ready, just input that phrase into the open searching field. Then you can further refine the search based on colour, condition, delivery options, and more. Read up on eBay's search tips for some additional searching ideas.
Bundling Purchases on eBay
Anyone who has used eBay in the past recommends buying as many items as possible from the same seller. It is a great way to save even more time and money. If the same merchant can send a kit, some additional black toner, and maybe a few extra chips, they can package everything together in one delivery. Even if one of the items is priced higher than a competitor, the savings on postage may offset that difference.
Conclusion
Those who may still be under the impression that laser printers are not affordable should take the time to look into the current prices. Laser printers are becoming quite competitive in price when compared to ink models. While replacement toner cartridges may seem expensive at first glance, especially when purchased anywhere except eBay, it is easy and cheap to buy refill toner and kits. It is one of those situations that seems complex, but is actually quite simple. The trick is to have the necessary tools, which most kits supply.
There are many options for buying both the laser printers and toner cartridge refills from sellers on eBay. With eBay, the entire process is accomplished from a home or office computer. The large number of competing sellers with few overheads ensures the best prices. All of the processes of researching, shopping, ordering, paying, and taking delivery are easy with eBay.