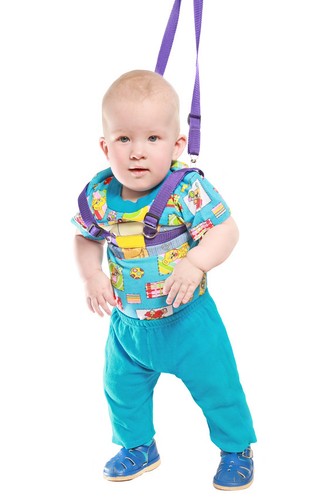 The reinsare effectively, with the riders' legs, the steering wheel of the pony.
If they are too long the child will not be able to gather enough tension on the pony's mouth to effect any command and if too short the pony will be constantly overreacting to the bit.
The right reins for you and your pony
Reins should always be the right length, for the size of your pony.
When you take up the reins, you should have clean contact with your pony's head in his normal, relaxed riding position, the loose ends should not interfere with the foot or stirrup.
If the reins are too short, your pony cannot stretch and relax.
Choosing which reins to buy should always depend on the:
size of the animal and the child
type of bit that suits the pony best
need for control and grip versus the aesthetics of the bridle.
Different types of reins
Reins are usually rubberised lengths of leather connected at the rider's hand by a simple buckle. At the bit there are standard buckles and keepers to connect to the rings of the bit.
Some bits are more complicated and have double rings. These are connected to the reins with 'D' rings to allow the rider to connect with the two rings on the bit.
Reins have stoppers, which are made of leather or rubber. These 'slide on' units prevent the reins from slipping too far down a martingale or breastplate.
The reins are usually coated in rubber to give the rider extra grip. Some reins are just pure leather and these are usually found on double bridles where there are two sets of reins and the rubber versions would prove too cumbersome. In the double bridle the lower rein is called the kerb rein.
When buying reins the quality of the leather is crucial as cheap, low quality reins are more likely to break which can leave the rider in a dangerous situation at a gallop.
Reins can be of varying widths but generally range between ½ inch and 1 & 3/8 of an inch.
Although the rubber versions are the most popular, many riders prefer braided leather, rubber, cotton or nylon as they offer more contact with the pony's mouth and are less bulky and heavy.
Plain leather reins are the most sensitive and give the cleanest touch to the pony's mouth but if the horse sweats they can be hard to keep a good grip on. A pony that pulls hard is often very difficult to manage with plain leather reins.
Specialist reins
There is a wide variety of types of rein. Some are designed to be used in specialist techniques, such as carriage driving. They may also come with different bits. Make sure that you are not distracted by these if you are searching for standard reins.
If a rider is using a Western saddle and bridle then the 'split rein' is the usual design. The reins are not buckled at the riders hand but stay as two separate strands held together by the rider.
Draw reins are usually leather or nylon webbing and are, in various different ways, connected to the saddle or girth to give the rider more control over the pony's head and neck.
Lunge reins are usually attached to a surcingle which in turn is attached to the pony. These are used to train or 'break' young ponies in a ring with the trainer standing on the ground (rather than being mounted on the pony).
Make sure you buy good quality reins
Once the correct length of the rein is established then be sure to choose leather of a high quality and the right weight and design for the size of the riders' hands, the sensitivity of the pony's mouth and any aesthetic preferences.
Check to see if the buckles, keepers and stoppers are of good, strong build and do not settle for anything that looks lightly and cheaply made.
Take particular care over the stitching as this is the area where weaknesses can develop and breakages occur. If there is any fraying or if stitches are missing then take the reins to a good saddler to have them mended.
Buying pre-owned reins is no bad thing, especially if they have only been lightly-used. Try to ensure that you are buying from someone who has taken good care of their tack. It is perfectly normal for owners of ponies to progress to horses; they would then have no use for their pony reins.
Caring for reins
Care and preparation of all tack is important but the reins are often overlooked. It is vital to keep reins clean and well cared for.
If the reins get sweaty or wet then wash them with warm water. Then apply a good quality saddle soap taking care to really work the soap into the stitching around the buckles and keepers.
If any tack get really wet then it may be wise to let it dry and then brush it with warm Neatsfoot oil or Coacholine. Both of these preparations preserve the leather and make it supple again after it has had all the natural oils washed out of it. Try searching eBay. The brands to look out for are Car & Day & Martin, Lincoln, Equimins and Tarrago.
All tack should be regularly saddle soaped as it makes it supple and easy to work with as well as being more comfortable for both pony and rider.
If there are a lot of ponies to work and not much time to clean and maintain tack then there are numerous brands of synthetic and nylon tack that can simply be thrown in the washing machine after use.
Standard sizes
Reins come in three standard sizes.
| Size | Use |
| --- | --- |
| 48" | Pony |
| 54" | Smaller horse |
| 60" | Larger horse |
How to Buy Reins for Children On eBay
Now that you've worked out which Reins you want, find them quickly on eBay. While you shop, don't forget Bridles, Headcollars & Halters, Saddles, Lunging, Rugs & Sheet and Other Tack. To start shopping, go to the Sports and Leisure category. Click the Sporting Goods portal and click Equestrian.
Categories
The Categories list on the left side of each page will help you narrow down your listings by item type. You'll find links for Books & Magazines, Driving, DVDs, Horse Wear & Equipment, Prints & Art, Rider Clothing & Accessories, Stable Accessories, Trophies, VideosandOther Equestrian. As you refine your search you'll be able to narrow down your choice by subcategory.
Product Finder
Use the Equestrian Product Finder to quickly narrow down item listings by type of product, brand, model and condition (new or used).
Keyword search
Search eBay listing titles for specific words. For example, if you want to find new reins, type the keywords "new reins" (without quotation marks) into the Search box. Click "Search title and description" to expand your results. Visit eBay's Search Tips page for more tips on searching with keywords.
If you can't find exactly what you want, try browsing eBay Stores or tell the eBay Community what you're looking for by creating a post on Want It Now, or save a search on My eBay and eBay will email you when a matching item becomes available.
Buy Reins for children with Confidence
Make sure that you know exactly what you're buying and understand how eBay and PayPal protect you.
Know your item
Read the details in the item listing carefully.
Remember to add delivery costs to your final price. If you're buying a high value item, check that the seller will insure it until it is delivered to you.
If you want more information, click the "Ask seller a question" button on the seller's profile or the "Ask a question" link at the bottom of the item listing page.
Always complete your transaction on eBay (with a bid, Buy it Now or Best Offer) otherwise you will not be covered by eBay Buyer Protection.
Never pay for your eBay item using an instant cash wire transfer service like Western Union or MoneyGram. These are not safe ways of paying someone you do not know.
Know your seller
Research your seller so that you feel safe and positive about every transaction.
What is the seller's Feedback rating?
How many transactions have they completed?
How many positive responses do they have?
What do buyers say in their Feedback?
Are they positive about the seller?
Most top eBay sellers operate like retail shops and have a returns policy.
Do they offer a money-back guarantee?
What are their terms and conditions?
Buyer protection
In the very unlikely event that you do not receive your item or it is not as described, eBay Buyer Protection your purchase price plus original delivery cost.
Conclusion
Look out for the best quality reins that you can afford. They are a very important part of the rider's control over the pony and ultimately his or her safety and the safety of the pony.