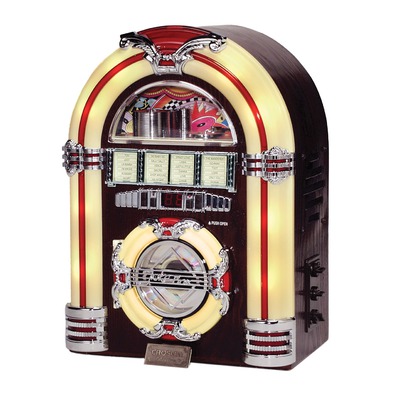 Although most of the companies that once manufactured jukeboxes are no longer running, jukeboxes remain a popular item among collectors and a large market for these devices still exists. The majority of jukeboxes on sale today are vintage models, and often some repair work is required to make them fully functional. There are plenty of replacement parts to buy however, and specific parts can easily be found on the Internet.
Choosing eBay to search for replacement parts is a good idea as the site has a large database of dedicated jukebox collectors selling these pieces. Buyers will also find that parts bought on eBay are often less expensive than those from jukebox dealers and on specialist websites. The following guide shall examine the important information needed for every jukebox restoration, and how to find replacement parts on eBay.
History of the Jukebox
Jukeboxes are coin-operated devices capable of playing music from a set selection of records. Early forerunners to the modern jukebox were player pianos and the phonograph, but these devices were extremely limited in performance and song selection. This all changed in 1928, when a man named J.P. Seeburg invented the Audiophone machine, which was capable of playing music from a selection of eight tracks. Seeburg would go on to become synonymous with the jukebox, and his company dominated sales of these devices in the 30's and 40's.
The arrival of the Audiophone herald the modern age of the jukebox, and multiple companies sprung up around America to answer to the demands of the American public. Jukeboxes became popular forms of entertainment in bars and restaurants, and provided an extra income to the people who installed them in their establishments.
The 1950's are often called the 'Golden Age of the Jukebox', and it's not hard to see why. Jukeboxes were everywhere, and in the homes of more and more people. This device became associated with the Rock and Roll music movement, and the name of one of the big jukebox companies (Rock-Ola), is even thought to have inspired the trend. The show 'Happy Days' cemented the fact that jukeboxes were most popular in the Fifties, and it used a famous model in its opening credits.
By the 1960's though, jukeboxes had begun to lose their popularity. As the devices were always preloaded with a select set of records, people's choices were ultimately limited. By the seventies most jukebox companies had either gone bust or were focusing on other coin operated devices such as arcade games.
Popular Jukeboxes
Hundreds of different models of jukebox were manufactured between the years of 1930 and 1980, but there four companies responsible for the creation of the majority released. These companies are known as the 'Big Four', and still to this day dominate the jukebox market. The four are Wurlitzer, Seeburg, Rock-Ola and AMI/Rowe.
| | |
| --- | --- |
| Wurlitzer | Notable jukeboxes released by Wurlitzer include the 1015 and the 2000 |
| Seeburg | Seeburg are especially known for the M100C (this was the model used in Happy Days), and the 220. |
| Rock-Ola | Rock-Ola is famous for their Bubble and Tempo jukeboxes. |
| AMI/Rowe | AMI/Rowe manufactured the popular Continental 2 and the Model K. |
Jukebox Replacement Parts
Service Manuals
It's extremely important that any buyers considering restoring a jukebox first seek out the service manual for that model. Although earlier models from the 30's and 40's can be quite straightforward to fix, models from the 50's onwards often have complicated parts. Acquiring the manual will save the buyer time and money and it will prevent the jukebox from becoming further damaged. The manuals also contain a list of the parts needed for the device to work, and what tools should be used when repairing. Service manuals are usually quite easy to find, and eBay has a very large selection for sale on the site.
Tools
The majority of jukeboxes need standard sized and shaped tools that can be bought at any hardware. However some devices require specific tools and what's needed can be found by reading the manual. Below are some tools that are used in almost every jukebox restoration.
| | |
| --- | --- |
| Screwdrivers | Standard and Philips head screwdrivers are usually sufficient, but occasionally buyers may find themselves needing hex or triangle head screwdrivers. It is not recommended that buyers use electric drills as the vibrations can damage delicate parts. |
| Grease Removing Products | This is important, as jukeboxes that have not been serviced in a long time will be full with grease, and this can cause problems with the amplification. A strong household remover should be enough, but multiple cleans may be required to fully eliminate the grease. Buyers should also purchase suitable lubricant for when the jukebox is reassembled. |
| Sanders | Electric sanders, or sandpaper, will be used to remove any buffing or scratch damage from the body of the jukebox. Electric sanders are suitable to use on metal housing, but for wood bodies buyers should use sandpaper. Any damage to the glass or plastic tubing of a jukebox should not be sanded down. Instead this piece will need to be replaced. |
| Soldering Iron | Solder irons are used to reattach delicate electronic parts together, and also for general work on the jukebox body. Cordless irons are good for internal work whereas larger irons will help with any splits or rips in the body. |
Jukebox Replacement Parts
Jukeboxes are unique in that every company manufactured their own parts, and models made by the same company often used variations of the same part. Unfortunately there aren't really any general parts that can be bought for jukeboxes. These devices were made to stand out and often how they looked and functioned was just as important as the actual sound quality. Of course general items like amps and speakers can be replaced by nondescript brands, but the smaller and more intricate pieces often require an exact swap.
Fortunately, there is a large market for jukebox replacement parts, and old models that are no longer functional are often stripped for their parts. There are plenty of specialist sites on the Internet that deal solely in jukebox replacement parts, but buyers are advised to search for parts on eBay as these are often much less expensive. Remember, the only way to know exactly what parts are needed for a replacement is to refer to the service manual.
Buying Replacement Jukebox Parts on eBay
To start a search for a replacement part, head to eBay.co.uk and take the following actions.
Click on the Collectables link found in the Collectable & Antiques tab on the left hand side of the page.
Buyers should immediately see the Jukebox heading, and from here they should click on the Parts/ Manuals/ Accessories link. This will load the jukebox replacement parts listing page.
Enter the name of the make, model and the part needed into the search bar and press enter e.g. Wurlitzer 1015 Amp.
If searching for a specific manual, enter the make, model and service manual.
Buyers may find that searching for tools will yield no results. This is because they are searching in the jukebox parts category. To look for a tool head back to the eBay homepage and use the search bar at the top of the page.
Searching Tips
The more information entered into the search bar, the more precise the results will be. As jukebox parts are so specific, buyers need to fully understand what it is that they are looking for.
Clicking the title of a replacement part listing will load up the item page, and buyers should always spend some time reading over this. Apart from containing details regarding bid price and the time left in the auction, the item page will often contain further information about that specific part e.g. dimensions, compatibility. The item page is also where buyers can contact the seller with any questions they might have, and this is done using the Ask A Question feature located underneath the description box.
The eBay Stores often have specialist items for sale that cannot be found on the main website. Buyers having difficulty locating a specific part are advised to try searching here. Additionally, there is a Wish List feature that lets other eBay users know about an item that is not listed on the site, and this could improve a buyers chances of obtaining it.
Buyers having problems navigating the site should contact Customer Support, and if any discrepancies arise with a seller then they should contact the Resolution Centre. It's a good idea to review a seller's feedback from other buyers, as they often leave comments if the goods are not as described or haven't been delivered on time.
Conclusion
Collecting and restoring jukeboxes is a fulfilling hobby enjoyed by many, and a full time career for some. Jukeboxes tend to be complicated devices, and require patience and dedication for the restoration to be successful. Many of the replacement parts required come from original models, and it is often possible to substitute one part for another. The best way to work out what is needed is to purchase and study the service manual for the model.
All jukebox restorers are advised to search for replacement parts on eBay, as the site has large selection at better value than that found in stores or on rival sites. The site also has a large number of service manuals, and every tool needed in jukebox restoration, making it the first choice site for most people.