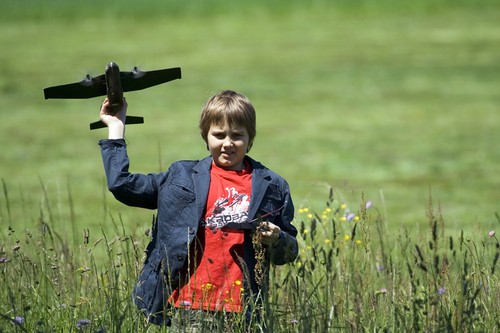 The first things to look for when buying replacement parts on eBay is the makers name, the model number and the part number, which is generally on the part itself. Understanding how the whole set up works in the first place and making sure the part that is being replaced is in fact the cause of the problem is also important to establish.
A reduction in engine power or a flight issue may be the result of something apparently unrelated. A bent propeller blade may be producing vibrations that are putting stress on the engine workings. Make sure the real reason for the malfunction is identified.
Try to invest in the best quality replacement parts affordable. Skimping on crucial components is a false economy.
Generally it is wise to try and buy, if it is simply being replaced, from the original manufacturer. There is a huge difference in the way the various different brands make the planes and construct the kits.
The subject here concerns hobby aircraft and not the military planes which can also be classified as radio controlled. The elements of the radio control aircraft are common throughout the price range and all the different types of planes available. They are:
The Radio Control Aeroplane
There are a great many planes on offer. Some cost many thousands of pounds, which are half scale replicas, down to balsa models on a very small scale.
The Transmitter
This is the key unit that flies the aircraft. The transmitter is carried by the operator and is the central control system that orientates the aircraft and manages its speed and altitude.
There are two types of part or component:
Function
Batteries, flap hinges and aerials, struts, braces, engine parts, props, prop shafts, cockpit glass, nuts bolts and screws.
Aesthetic
These parts concern anything that is used to improve how the plane looks and include paint and transfers, roundels and even streamers.
Working parts must fit correctly and must be compatible with the plane's overall design. The right batteries and fuel are the first consideration but you must take care to make sure fuel pipes and electrics are in good condition and properly linked up.
When going out to buy parts try to buy brands that are well established and trusted. This may mean spending more but the investment will be worthwhile.
Batteries
Zippy, Turnigy, Duracell are all trustworthy and reliable brands that can be used in a radio controlled aeroplane but make sure they are compatible.as well as some of the more broadly known brands like Duracell.
Main Body and Fuselage
Consider the following options as useful part types to look out for:
Wing sets, fuselage replacements and booms
Motor mounts, spinners, propellers
Tail wheel assemblies, cowls, motor shafts
Flight stabilisers, turbine components, nuts and bolts
Night-flying accessories and horn, hinge and clevis.
Applications for improving the look of the plane can be found from Durafly as it has a good selection of useful products to change the look and feel of the aircraft:
Transfers and decals
Covering film
Imitation pilots and plane suits
Tool kits and tool boxes.
Classifications of RC Aeroplane
As far as aeroplanes are concerned the different classifications are broad but can be split into five areas.
Scale Models
Beginner/Starter Kits
Sport/ Acrobatic
Parkfly
Indoor
Scale/ Real Life Imitations
The parts and accessories that really matter here are to do with the look and feel of the plane. This type of specialism demands recreating the original aircraft but on a small scale although some of these models are very large indeed.
Starter Kits
This is a very broad market so buy a model that is simple to use but also robust and strong. Spend the right money on a reliable brand and the experience will be guaranteed to be fun and satisfying.
Acrobatic
Buy robust planes for this sport. It is extremely demanding on the machine and testing for the flier. This is a level of sport where more experienced radio control fliers enjoy the demands of total concentration.
Planes in this class come from the likes of Durafly, Extra, Pistol, Sonic and GeeBee . The Retro series offers some planes that are scale versions of past aeroplanes which will probably suit the more traditional flier.
Park
This is really the most popular form of flying a radio controlled plane and can be done on all levels with planes that are hugely powerful (providing the park is big and not too busy) down to some of the better starter models.
Indoor
This is a great place to start flying with smaller aircraft particularly battery operated models. These models tend to be the smallest in the range and the cheapest.
Transmitter Boxes
The transmitter communicates with the plane via a receiver, which, in turn gives the controller the ability to direct the aircraft with the joysticks on the control panel.
Not much should go wrong with them as they are generally not damaged in flight like the planes. Unless the transmitter is bashed or gets wet in storage the only part that can go wrong is battery. Battery technology has been the key to the boom in radio control flying over recent years. Batteries are now so much lighter, powerful and more efficient than in the past. This makes the whole experience much more enjoyable and accessible. Nowadays there is substantially less damage to planes and the price of flying a radio control plane has been greatly reduced.
Aircraft Categories
The enthusiast can choose from all kinds of different types of aircraft but generally they fall into two main categories:
Gliders
These are great for starting out as gliders do not require much power and are light.
Gliders are also relatively cheap; they are often made from simple materials that are easy to work with like balsa wood. Some models can be found in aluminum or fibreglass. The most expensive on offer are actually made of carbon fibre.
Radio Control Aeroplanes
Watching others flying and working with their aircraft and talking to them is probably where there is most to be learned. In general buy the best that is affordable and do not buy really cheap parts. A part that fails and crashes the aircraft badly is the most expensive investment. Most importantly there is nothing like experience (good or bad) to really generate a deep understanding and great enjoyment from the radio control aeroplane and all its intricate detail. So do not be afraid to get into the engine and really experiment.
Buying Parts for Your Radio Control Aeroplane on eBay
Now that you've worked out which Parts for your Radio Control Aeroplane you want, find them quickly on eBay. To start shopping, go to the Sports and Leisure category. Click the Toys & Games, Radio Controlled, Aeroplanes and Parts & Accessories
Categories
The Categories list on the left side of each page will help you narrow down your listings by item type. You'll find links for brands such as: Futaba, JR, Spektrum, HiTec<GWS and OS..
Product Finder
Use the Radio Controlled Aeroplane Finder to quickly narrow down item listings by brand, model and condition (new or used).
Keyword search
Search eBay listing titles for specific words. For example, if you want to find new Radio Controlled Aeroplane parts, type the keywords "radio Controlled Aeroplane parts new" (without quotation marks) into the Search box. Click, "Search title and description" to expand your results. Visit eBay's Search Tips ppage for more tips on searching with keywords.
If you can't find exactly what you want, try browsing eBay Stores or tell the eBay Community what you're looking for by creating a post on Want It Now,, or save a search oon My eBay and eBay will email you when a matching item becomes available.
Buy Radio Controlled Aeroplane Parts with Confidence
Make sure that you know exactly what you're buying and understand how eBay and PayPal protect you.
Know Your Item
Read the details in the item listing carefully.
Remember to add delivery costs to your final price. If you're buying a high value item, check that the seller will insure it until it is delivered to you.
If you want more information, click the "Ask seller a question" button on the seller's profile or the "Ask a question" link at the bottom of the item listing page.
Always complete your transaction on eBay (with a bid, Buy it Now or Best Offer) otherwise you will not be covered by eBay Buyer Protection.
Never pay for your eBay item using an instant cash wire transfer service like Western Union or MoneyGram. These are not safe ways of paying someone you do not know.

Know Your Seller

Research your seller so that you feel safe and positive about every transaction.

What is the seller's Feedback rating?
How many transactions have they completed?
How many positive responses do they have?
What do buyers say in their Feedback?
Are they positive about the seller?

Most top eBay sellers operate like retail shops and have a returns policy.

Do they offer a money-back guarantee?
What are their terms and conditions?

Buyer Protection

In the very unlikely event that you do not receive your item or it is not as described, eBay Buyer Protection covers your purchase price plus original delivery cost.