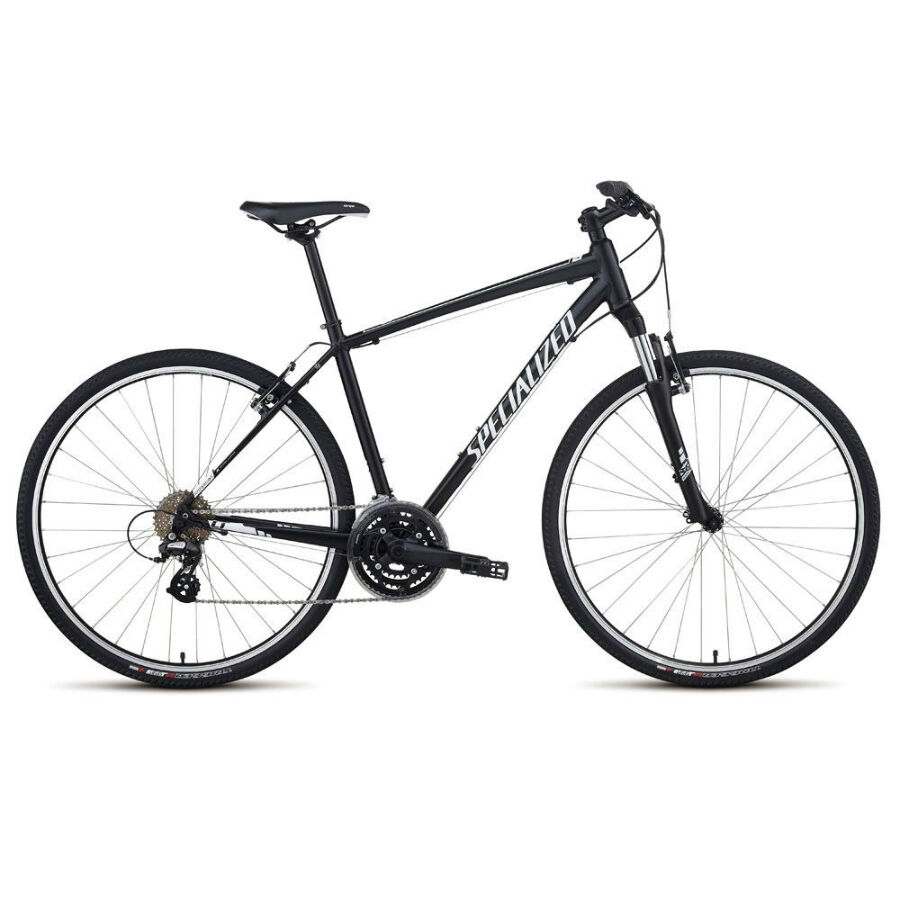 First there was the road bike. The mountain bike followed. Then an unfulfilled need arose from people who wanted to ride both on and off-road, but not to extremes.
The result is the hybrid bike. The most versatile of bikes, it can be used for leisure cycling, fitness cycling, regular short distance commuting and touring. Although not as fit-for-purpose as bikes specifically designed for these roles, it does save the average cyclist from having to own two or more bikes. While not sturdy enough to take on rock and muddy terrain like a mountain bike, it will be perfectly happy to trundle down a tow path or many of the off-road routes in the National Cycle Network, tackle quite steep gradients and hold its own in town traffic to and from work or the shops or work.
Hybrid bike characteristics
These are generally the main distinguishing features of a hybrid bike, many of them borrowed from or related to aspects of road or mountain bikes:
A triple chainset offering lots of gears, including low ones for steep inclines
Slightly wider tyres for better traction and stability
Suspension seat posts and adjustable rise stems
Forks often with front suspension to absorb the bumps on uneven terrain and potholes encountered on a commute
A larger wheel (like a road bike) with a wider rim and tyre for better traction and stability
Frame made out of steel or aluminium robust enough to handle extra weight and cope with all terrains and weather
Upright position offering more comfort and allowing a clear view of the road ahead
Flat and wide handlebars to inspire confidence in traffic and give good bike control.
How to tailor a hybrid
Within the genre of hybrids there are choices to be made; you can select appropriate parts and accessories to modify or create a bike with an accent on particular usage without excluding others.
Looking for off-road capability? If likely to spend more time on tow paths and bridleways, think about mountain bike style 26" wheels and fatter tyres, maybe even a basic suspension fork.
Sticking more to the street? Commuters might favour the 700c size wheel commonly found on road bikes, lighter weight components, closer gear ratios and a sportier look.
Seeking comfort? Choose accessories such as saddles built with comfort not speed in mind, wide gear ratios offer a selection for untrained legs; you could add a suspension seat post to smooth out any bumps along the way.
Feel like touring? Hybrid frames allow the easy fitting of additional accessories like racks for carrying panniers, bottle holders, mudguards, lights and chain guards to protect from spray.
Hybrid Bike Part Systems Explained
To make choosing parts easier, it is convenient to divide a hybrid bicycle into seven separate, logical systems.
| | |
| --- | --- |
| 1 | Frame |
| 2 | Forks |
| 3 | Drive-train |
| 4 | Wheels |
| 5 | Steering |
| 6 | Seat |
| 7 | Brakes |
Most of these systems have essential sub-components.
If the aim is to build a hybrid bike from scratch, start with the frame and add to it. Look for a recognised name like Scott, Specialized, Giant or Trek. Hybrid bike frames are made from a variety of materials.
| Material | Pros | Cons |
| --- | --- | --- |
| High-Tensile Steel | Strong, most affordable, nice ride; usually found on entry-level bikes | Weighs more and can rust if not cared for |
| Chromoly Steel | Affordable steel alloy offering light weight and a great ride | May rust if not cared for; more expensive than High-Tensile Steel |
| Aluminium | Light, strong, affordable, rust/corrosion resistant, great ride | More expensive than High-Tensile Steel |
| Carbon-fibre & Carbon/aluminium composites | Lightest, strong and rust/corrosion resistant, great ride | Most expensive |
The fitting and geometry vary according the end-use – country, performance or comfort.
Country
Similar compact proportions to mountain bike tubing based on 26" diameter wheels to give a very responsive feel.
Performance
To easily achieve speeds approaching a road bike these frames have a smaller wheelbase appropriate to the 700c wheel size.
Comfort
This type of frame has a longer wheelbase and shorter top tube to provide a more relaxed, upright and stable sitting position.
Bear in mind is that country-biased hybrids have high bottom brackets. These make sense for jumping over logs, but for stop-and-go urban cycling, the high bottom bracket can make them awkward to mount and dismount.
Forks
For hybrids the choice is between a conventional fork and a suspension fork, with air springs, coiled springs or rubber springs inside it.
Whilst the suspension fork will not be as heavy duty as one for a mountain bike, it still has the same purpose – to absorb impact and make for a smoother ride. So it might seem a useful option if you have off-road riding in mind. But there is a school of though that suspension is never a good idea for hybrids. Here are some considerations to help in making a decision:
Suspension adds about two to three pounds in weight
Suspension can soak up pedalling energy, but this can be counteracted by upping its resistance
Suspension is less needed on a hybrid for mainly road use unless there are lots of bumps and potholes
If opting for straightforward forks choose either chromoly or carbon for strength with resilience; aluminium tends to ride stiffer.
Drivetrain
This is the set of components that allow the rider to drive the hybrid bike forwards.
It is made up of the crankset, bottom bracket, sprocket, pedals, chain, rear hub and gears. A rule of thumb is that drivetrains which are road-oriented provide smoother shifting than those with mountain-oriented components. For example, choose the Shimano Tiagra rear derailleur over the mountain bike equivalent, Shimano Deore.
Crankset
Like a road bike a hybrid bike will have either two or three chain rings in the front as part of the crankset. There are eight or nine gears in the cassette on the rear wheel, a combination that allows from 16 to 27 possible gear combinations, which will account for virtually every need a hybrid rider will have in town or on the bike path
For flat area riding at a reasonably high pace, 8-speed gearing is great for local rides or bike lane riding. For hills and carrying bags a 14- to 30-speed drivetrain offers lower/easier gearing to ease the extra effort. For all round use consider the traditional half-step-plus granny crankset (granny being the biggest cog for easy pedalling up the steepest inclines)
Gearshift Regardless of which gearing you choose, modern systems shift with a simple push of a button-style lever, or by twisting the shifter. There is no need to feel for gears. Just click into a gear and it is almost immediately easier or harder to pedal.
Pedals
Basic hybrids bikes are equipped with platform pedals, allowing riders to put their feet on the ground frequently in stop-start traffic. More advanced riders may prefer to use toe clips for greater speed or even clipless pedals for cycling shoes with cleats.
Wheels
The wheels on a hybrid bike are a true combination of what can be found on road and mountain bikes. Some hybrids owe more to their off-road cousins and have mountain bike style 26" wheels and fatter tyres. The 700c size wheel commonly found on road bikes is more suited to riders intending to stick mainly to tarmac. Wider wheels like a mountain bike offer greater stability and durability, but a higher recommended inflation level puts them in the same speed bracket as a road bike; high pressure reduces rolling resistance. The rims and spokes on hybrids are lighter, too, like a road bike, since the assumption is that no one will be doing the rougher off-road riding that mountain biking entails.
Whether 26" or 700c, wheels for hybrids are fitted with tyres between 28-40mm wide. These tyres may be either multi-condition or fast rolling for tarmac. These have knobbles on the outer edges for better traction on looser or rougher ground. The alternative choice is almost totally slick tyres like a road bike. These will speed progress considerably if your usage is mostly on-road.
Steering
Handlebars:
The handlebars on a hybrid are typically flat like a mountain bike, and go straight out from the stem. With a wider grip, usually about shoulder width, these handlebars allow riders to sit upright and offer a better position for vision and control of the bike than the handlebars on a road bike.
Riding position:
Like a mountain bike, a hybrid's design allows riders sit upright in a position that gives them best control of the bike with well-placed centre of gravity and in a posture that reduces strain on the rider's neck and back.
Like the bikes themselves, seats or saddles for hybrids offer an optimum combination of comfort and support. Look for anatomical shapes, cut-outs to eliminate pressure on soft tissue (which prevents numbness and pain), flexible frames, gel padding and cushioning springs. Sometimes, all of these attributes can be found in the same seat.
Suspension seat posts are another excellent feature found on many hybrid bikes. They smooth rough terrain and pothole-covered roads absorbing vibrations and impacts that would otherwise go straight to the seat and lower back. They are also light and simple so as not to require much maintenance.
The aim is to provide more control over speed and to be able to stop fast with very little effort.
Rim brakes
Most hybrids are equipped with rim brakes called linear- or direct-pull brakes.. These are powerful stoppers and excellent for all-round riding, from casual neighbourhood excursions to commuting every workday, even in nasty weather.
Hub brakes
Which are integral to the front and/or rear wheel hubs are usually found on bicycles designed for less rigorous riding. They are designed more for durability and low maintenance than extreme-conditions stopping power.
Disc brakes
Feature callipers and rotors at the centre of the wheels, car-style. More often seen on mountain bikes, they perform reliably in the worst conditions – rain, snow and mud.
How to Buy Hybrid Bike Parts on eBay
Now that you've worked out which Hybrid Parts you want, find them quickly on eBay. While you shop, don't forget Tyres & Wheels& ,Handlebars & Stems,, Headsets, Drive, Gears, and Saddles & Seatposts.. To start shopping, go to the Sports and Leisure category. Click the Sporting Goods portal and click Cycling.
Categories
The Categories list on the left side of each page will help you narrow down your listings by item type. You'll find links for Bikes, Bike Parts, Clothing, Footwear & Helmets, Cycling Accessories, Trophies & and Other Cycling.. As you refine your search you'll be able to narrow down your choice by subcategory.
Product Finder
Use the Hybrid Bike Parts Finder to quickly narrow down item listings by type brand, model and condition. (New or used)
Keyword search
Search eBay listing titles for specific words. For example, if you want to find new Hybrid Bike parts, type the keywords "Hybrid Bike Parts New" (without quotation marks) into the Search box. Click "Search title and description" to expand your results. Visit eBay's Search Tips ppage for more tips on searching with keywords.
If you can't find exactly what you want, try browsing eBay Stores or tell the eBay Community what you're looking for by creating a post on Want It Now, or save a search oon My eBay and eBay will email you when a matching item becomes available.
Buy Hybrid Parts with Confidence
Make sure that you know exactly what you're buying and understand how eBay and PayPal protect you.
Know your item
Read the details in the item listing carefully.
Remember to add delivery costs to your final price. If you're buying a high value item, check that the seller will insure it until it is delivered to you.
If you want more information, click the "Ask seller a question" button on the seller's profile or the "Ask a question" link at the bottom of the item listing page.
Always complete your transaction on eBay (with a bid, Buy it Now or Best Offer) otherwise you will not be covered by eBay Buyer Protection.
Never pay for your eBay item using an instant cash wire transfer service like Western Union or MoneyGram. These are not safe ways of paying someone you do not know.
Know your seller
Research your seller so that you feel safe and positive about every transaction.
What is the seller's Feedback rating?
How many transactions have they completed?
How many positive responses do they have?
What do buyers say in their Feedback?
Are they positive about the seller?
Most top eBay sellers operate like retail shops and have a returns policy.
Do they offer a money-back guarantee?
What are their terms and conditions?
Buyer protection
In the very unlikely event that you do not receive your item or it is not as described, eBay Buyer Protection your purchase price plus original delivery cost.
Conclusion
The hybrid bike is the cycling world's great all-rounder. Carefully specified and built part by part, a hybrid makes it a lot easier to breeze through the daily commute or tour the countryside. Combining the very best of road and mountain bike style and technology, they give the perfect mix of ride-ability and reliability. They are fast when needed, but tough enough to cope with bumps and potholes.