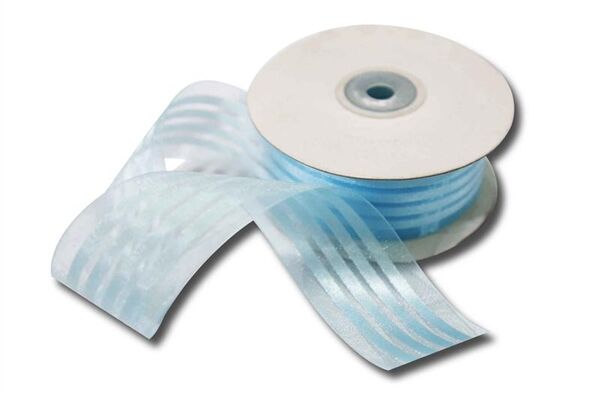 Whether people need ribbons to trim birthday gifts or a wedding chapel, eBay offers a unique shopping platform to help simplify their search. In some cases, eBay shoppers already know which type of ribbon they need. Others want to browse a number of product listings before making their selection. In either situation, eBay features convenient, one-stop shopping to meet the needs of busy consumers. With a large community posting new listings daily, eBay sellers offer plenty of ribbons at competitive prices.
Buyers who are unsure which type of ribbon best fits their needs can quickly find many different varieties on eBay. With so many ribbons at their fingertips, it is helpful for people to understand the differences between each type. This way, they can locate ribbons that are both beautiful and beneficial to the task at hand. Often, the materials used to produce ribbons dictate how well they perform in a given situation. After finding suitable ribbons to buy, the next step is completing the transaction. By carefully researching the item and the seller, shoppers can successfully purchase ribbons on eBay.
A Brief Introduction to Ribbons
Ribbons are used to embellish handmade crafts, sewing projects, and floral arrangements, and they can also be shaped into celebratory decorations. Ribbons are broadly categorised as either woven edge or cut edge. Within these categories, many different colours, widths, and textures are available. It is up to the consumer to determine which type of ribbon best suits the needs of the project. For example, wire-edged ribbon lends itself well to bow-making, while washable ribbons are perfect for apparel.
By visiting the eBay Shops and product listings, shoppers can browse numerous options from a wide selection of sellers. Those who are unfamiliar with the different types of ribbon available to them are encouraged to learn more about this product category before proceeding with their eBay purchase. By doing so, shoppers can be sure to select beautiful ribbons that perfectly suit their particular needs.
Basic Ribbon Categories
The simplest way to differentiate ribbons is by taking a closer look at the ribbon production process. When thread is specially woven into narrow lengths of fabric and the edges, known as selvages, are finished, the ribbon is referred to as woven edge. In comparison, cut-edge ribbons, often called floral or craft ribbon, are cut from wider pieces of material and stiffened to improve body. Extruded ribbon, like that seen on gift wrappings, is a subcategory of cut-edge ribbon produced from large sheets of thin plastic. After considering these basic ribbon categories, the next step is learning more about the specific types of ribbon available to consumers. This makes it much easier for people to pick out appropriate ribbons.
Ribbons for Every Occasion
The following chart lists and describes a number of popular ribbon types. Some of these classifications refer to the way in which the ribbon is made, while others highlight a specific ribbon characteristic. In order to choose the best possible ribbon for a project, keep this information in mind while browsing.
| Type | Description |
| --- | --- |
| Grosgrain | French for "coarse texture"; ribbed weave pattern across width of ribbon |
| Jacquard | Ribbons with intricate woven designs; includes brocades and damasks |
| Lamé | Woven with flat gold, silver, and copper metallic threads similar to tinsel |
| Picot Edge | Selvages trimmed with tiny decorative loops; also called feather-edge |
| Satin | Smooth, glossy finish on one side (single face) or both sides (double face) |
| Sheer | Soft and semi-transparent; includes organdy, organza, and chiffon ribbon |
| Taffeta | Smooth, crisp, lightweight ribbon; made from silk or synthetic threads |
| Velvet | Plush pile weave ribbon; soft to touch; easily damaged by overhandling |
| Wire Edge | Monofilament wire in selvages for easy shaping; also called French wire |
Many style variations exist within the above-mentioned ribbon categories. Shoppers who search the eBay listings are likely to find examples of each type in various colours and widths. When selecting ribbon for a specific project, it is important to determine how much ribbon is needed. This allows shoppers to rule out sellers who are not offering a large enough supply of the required ribbon type.
How to Simplify an eBay Search for Ribbons
There are several ways to find ribbons for sale on eBay. To make the most of eBay's shopping tools, buyers must first decide how they want to search the product listings. EBay customers typically fall into one of two categories: those who know exactly what they want to buy, and those who prefer to browse and compare various items before making a purchase. Either way, the highly customisable eBay search results page allows shoppers to tailor the eBay experience to their preferred approach.
Browse a Large Selection of Ribbons
To start shopping for ribbons online, type a couple of relevant keywords into any eBay search box. To see all the ribbons eBay has to offer, begin with a broad search term such as "ribbon". While this approach provides plenty of listings to browse, it can also easily overwhelm shoppers with too many results. Search refinements allow people to narrow down their options according to certain preferences like price, quantity, and condition. By thinking about the requirements of the project, buyers can begin to focus on ribbons that meet their current craft and sewing needs. For instance, some applications require ribbons of a certain width, while others call for ribbons that match an existing colour scheme.
Search for a Specific Type of Ribbon
When shoppers have a particular type of ribbon in mind, eBay allows them to quickly locate matching item listing pages. If time is of the essence, it is best to choose keywords directly related to the desired ribbon type. For example, search terms like "purple satin ribbon" or "double sided wire edged ribbon" are likely to turn up focused results geared toward a certain product type. Shoppers who adopt this approach can still make use of the various refinements to further limit their search. If an eBay search does not turn up any current listings that match their needs, buyers are encouraged to save the search. By signing up for email notifications, they can learn about new matching listings the same day they are posted on eBay. This way, consumers never miss out on an ideal eBay buying opportunity.
Shop for Ribbons with Confidence on eBay
With a reliable customer Feedback system and various secure payment methods available, eBay offers a safe environment for conducting online commerce. Before buying ribbons on eBay, consumers are urged to take a closer look at the seller's reputation. If everything looks good, the next step is selecting a trustworthy payment method before completing the transaction. By leaving Feedback of their own after receiving purchased items, shoppers lend a hand in building a successful eBay community.
Research Seller Feedback
After finding an item listing they are interested in purchasing, buyers must remember to check the seller's Feedback history. This allows them to see if past customers were fully satisfied with the items purchased from that seller. To view a Feedback profile, simply click the Feedback score listed on the item page next to the seller's User ID. After reviewing detailed seller ratings and comments from past customers, shoppers are better able to determine if the seller is worthy of their trust. To find the most reliable sellers on eBay, look for those who sport the special top-rated status badge.
Choose a Secure Payment Method
Before finalising an eBay purchase transaction, buyers must carefully weigh the available payment methods. Though they may offer additional options, many sellers accept and even prefer PayPal payments. Using this online method, funds are transferred immediately without releasing any sensitive personal information to the seller. Also, if necessary, Paypal payments are easily traceable. By choosing a secure payment method such as PayPal, buyers can feel more confident about their online purchases.
Conclusion
The eBay Shops and product listings treat buyers to a large selection of ribbons at competitive prices. Whether they are looking for glossy satin or intricate jacquard ribbons, eBay sellers are likely offering just what shoppers have in mind. Crafters who browse the eBay ribbon listings can let their creativity run wild with the multitude of colourful and attractive possibilities. In addition, by taking advantage of eBay's convenient search platform, matching listings are never more than a few clicks away.
Shoppers who have little prior experience with ribbons can benefit greatly from learning more about common classifications. This knowledge allows them to determine which types of ribbons are best for the craft, sewing, or decorative project they intend to create. Some prefer to browse eBay's vast selection of listings to get a better feel for the products available to them. Alternatively, by selecting targeted keywords, buyers are able to limit their eBay search to a particular type of ribbon. After narrowing down the search results using various refinements, consumers are encouraged to learn more about each seller before making a selection. By offering secure payment methods and plenty of relevant Feedback from past customers, eBay helps build buyer confidence in online purchase transactions.