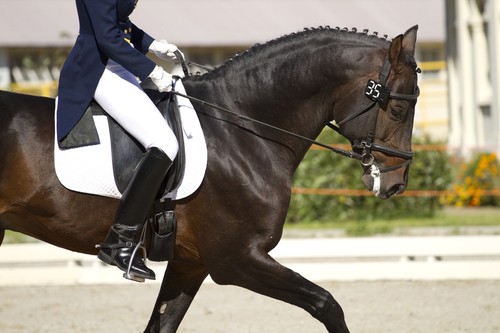 A pair of safe, comfortable riding boots is an essential part of every horse rider's equipment. Riding boots are designed to protect the feet and legs in case of mishaps. The rider should be able to slip into and out of the stirrups comfortably while riding. eBay is an excellent place to shop for riding boots due to the incredible variety on offer from a range of sellers. As there are so many items available, prices are competitive, making it easy to find the perfect pair of riding boots at a reasonable price.
When buying riding boots on eBay, knowing what to search for makes the process easier, so take a moment to learn about the types of riding boots available. Learn how to search effectively and refine your search using eBay's functionality and item specifications. Before buying, evaluate the item and the seller for added peace of mind. Finally, learn about the convenience of eBay Shops.
Types of Riding Boots
Before searching for riding boots on eBay, learn about the types of boots available. This helps you to find exactly what you are looking for and gives you an indication of what is meant by specific descriptive terms. Riding boots are designed to protect the legs and feet against injury from chafing, horse's hooves, and branches, thorns, and other environmental factors. The leather or materials that they are made from needs to be thin enough to allow the rider close contact with the horse's flanks, but thick enough to protect the rider. This makes high quality leather a popular choice for riding boots.
The soles of riding boots should be smooth to allow the rider to position the foot in the stirrup comfortably. A heel prevents the foot from slipping through the stirrup. Short boots protect the foot and some riders prefer to wear them with half chaps due to their flexibility and versatility.
To find the right riding boots on eBay, understand the terminology used to describe them. The table below lists the most popular types and provides a short description.
Type of Riding Boot

Description

Long boots, straight cut at the top

Usually leather

Close fitting in the calf and heel, but allows ease of movement in the ankle

Used for dressage, eventing, hunting, and show jumping

Dress boots with dressage cut

Cut higher on outside of the knee

Sculpted look, tapers to a narrow cut at the ankle

More elegant

Allows more sensitive communication between the horse and rider

Used for dressage

Also known as top boots

Same as traditional dress boots, but with cuffs at the top

Usually black with tan cuffs

Used for hunting

Feature laces at the ankle

Allows greater adjustability when riding with short stirrups

Used for hunting, eventing, and jumping

Dress boots with extra padding

Offers additional protection during polo matches

Lightweight and flexible

Very soft

Some have extra padding on the inside calf or heel

Used for horse racing

Also known as Chelsea boots

Look like dress boots, but end just above ankle

Usually leather

Worn with half chaps

More economical and versatile than tall boots

Also known as paddock boots

Ankle boots

Varying styles

Not suitable for formal or competitive wear

Used when going between riding and stable management

Based on traditional dress boots, but more practical and versatile

Often made from weatherproof material with a patterned sole

Good for casual use, but not suitable for formal or competition wear

Also known as cowboy boots

Differ from English riding boots

Higher heel, shorter shaft, looser fit

Can accommodate spurs, which are not used for British equestrian events

Seldom worn in Britain for riding
It may be wise to buy more than one pair of boots, especially if the wearer rides competitively. Boots should not be worn two days in a row. Instead, alternate between pairs to allow each pair to rest and get back into shape. Those who do ride competitively may have guidelines about appropriate competition wear and it is always best to confirm this before buying.
Searching for Riding Boots on eBay
Knowing how to search effectively is one of the most important facets of buying on eBay. The process is a simple one: type a phrase, for example "women's riding boots", into the search field, which can be found on every page. Alternatively, use the search options suggested or allow eBay to autocomplete the search phrase. This displays all of the items listed that are tagged with the chosen keywords. Narrow the results displayed by choosing the most appropriate product features. If you are looking for a relatively unusual or rare item, or vintage boots, then the advanced search feature can be used to further refine your search to include more or fewer results.
Evaluating the Item
Before buying a pair of riding boots on eBay, take a moment to learn about the item. Simply click on an individual listing to view the item listing page where you can find out all that you need to know. This includes details such as the full item description, buying options, the seller's accepted payment methods, the terms of the seller's returns policy, postage and packaging costs, and the seller's feedback information.
When purchasing footwear, it is always a good idea to buy from a seller who accepts returns in case the item that you choose does not fit or feels uncomfortable. Always check the terms and conditions of the seller's returns policy and adhere to these to ensure that the seller is able to help with any issues. Remember to add the postage and packaging fees to the item's selling price to work out its total cost before buying.
If you have any questions about a listing, contact the seller by clicking on the "Ask a question" link. This directs you to the "Find answers" page, where you can select a question category to see whether the seller has provided an answer to the question that you wanted to ask. If he or she has not, then you can contact the seller directly with the question that you have.
Evaluating the Seller
Once you have found a pair of riding boots that you like, you should evaluate the seller in order to shop with confidence. eBay's seller feedback feature declares the seller's online reputation. Buyers leave feedback about the seller's products and customer service once they have received their goods and the transaction is complete. To view this information, click the number that accompanies the seller's username on the item listing page.
Detailed seller ratings are displayed once a seller has received feedback from more than 10 previous customers. This feedback covers aspects including the seller's communication, the reasonableness of the postage and packaging fees, and the accuracy of the item description in the listing. A list of items sold and individual buyer comments can also be viewed in the seller feedback section. Remember to leave feedback for the seller once you have received your goods and the transaction has been finalised.
eBay Shops
Some eBay sellers specialise in particular types of products, such as equestrian clothing and footwear. If you find a seller whose products and customer service you like, then you can visit his or her eBay Shop to see more products which may be of interest. You may be able to find everything that you need in one place from a seller that you trust.
Conclusion
Before searching on eBay, learn about the styles and types of riding boots available. Few newcomers to equestrian disciplines realise how many boots are there are to choose from. If the wearer rides competitively, check the sport's guidelines to ensure that the boots chosen are suitable. All riding boots should be comfortable, offer adequate protection, and allow the rider to communicate with the horse. A combination of short boots and half chaps may be a more affordable option, especially if the rider's main pair of boots need to rest on alternate days.
Buying on eBay is simple if you know how to search and evaluate the item and seller. To search effectively, use the keyword suggestions offered and refine your searches by choosing the appropriate product features. Once you have found the riding boots that you want, take a few moments to learn about the product and the seller. All of the information that you need to do this can be found on the item listing page, which is accessed by clicking on an individual listing.
Take note of the item description, postage and packaging fees, and the seller's accepted payment methods. Use the feedback information provided by previous buyers to get to know the seller. Many sellers have a returns policy and it is best to consider these sellers when buying footwear. Ask any necessary questions about a listing before buying the riding boots. eBay sellers offer a selection of riding boots for a range of equestrian activities.