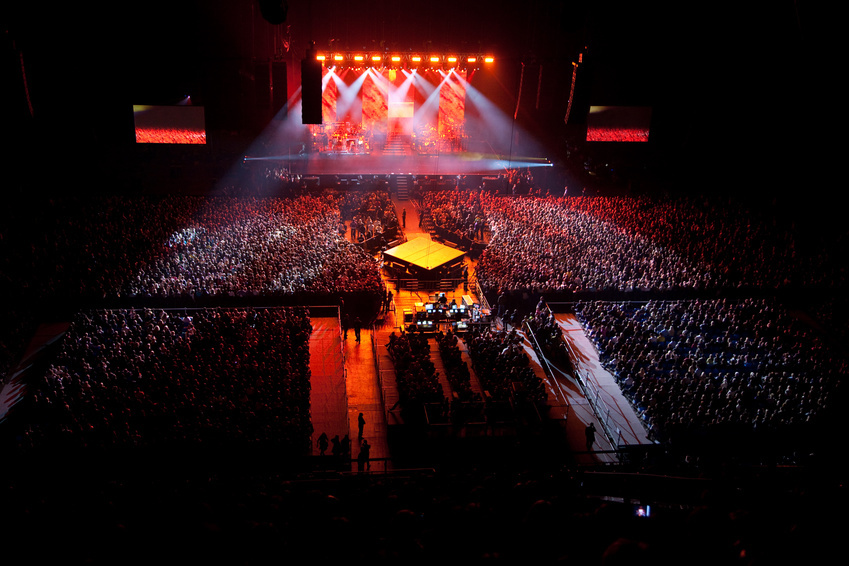 Britain is home to some of the world's great music artists, including Robbie Williams. Williams' music has regaled audiences for decades, and he has been honoured by the United Kingdom's Music Hall of Fame. Williams continues to share his passion for his art by performing at concerts in Great Britain, Ireland, and other areas. If fans are interested in attending a Robbie Williams concert, they can find affordable tickets to the event, with some careful planning.
Although Robbie Williams tickets are available through different sellers, eBay is an ideal place to shop for tickets to this artist's events. eBay's fast, powerful search engine and buyer-friendly features make shopping easier, allowing users to relax and enjoy their time browsing the website. If buyers are in a hurry, they can shorten the list of search results using eBay's search filters. Buyers should be able to quickly secure Robbie Williams tickets on eBay, allowing them plenty of time to plan ahead for the event.
About Robbie Williams
Robbie Williams was born on February 13, 1974. In his youth, he was a member of Take That, a British pop band. In 1995, however, he left Take That to pursue his own career as a solo artist. Though the start of his solo career was a rocky one, he soon established a loyal fan base. His triple talents of singing, songwriting, and acting make him a favourite with audiences. The Guinness Book of World Records includes an entry featuring Robbie Williams, thanks to record-breaking sales for his Close Encounters Tour in 2006. Fans purchased 1.6 million tickets in one day for the tour.
Then, in 2010, Williams once again became a member of Take That. The result of his reintegration into the group was a fantastic album that became one of the fastest-selling albums for this century within the U.K. With more than 70 million records sold, Williams has the distinction of being one of the best-selling musicians in the world. In fact, he is one UK's top-selling British solo artists.
Searching for Robbie Williams Tickets on eBay
eBay offers many items, including clothing, books, electronics, vehicles, and much more. When shoppers visit eBay's home page, they can begin a search for event tickets by entering a search term, such as "Robbie Williams tickets", into the search bar. eBay's powerful search engine takes just a few seconds to populate the results page. Depending on the season and Robbie Williams' touring schedule, buyers may see dozens of results or just a few results.
If shoppers decide that they want to shop for a different product or find tickets to a different artist's concert, they do not need to return to the home page. Instead, they can simply go to the search bar that appears on every page and type in a different search term.
Narrowing Search Results for Robbie Williams Tickets on eBay
If there are many Robbie Williams tickets for sale at the time that one is searching, the results may be too overwhelming to sift through. To quickly find the good deals, shoppers can employ eBay's search filters to narrow their search results.
To use a search filter, shoppers choose a heading that applies to their preference, such as "Venue City/Town" or "Seller". Several choices should appear below the heading. Buyers can click "See all" for a full list of options. Next, they check the box beside one or two options that fit their needs. eBay automatically removes all listings that do not match those criteria, leaving a tailored list of search results that shoppers can sift through much more quickly.
Filtering by Venue Name
Some Robbie Williams fans may want to see him perform at a particular venue, perhaps because of its unique design and equipment or because of its proximity to where they live. In such cases, buyers can take advantage of the "Venue Name" filter. If sellers have specified a venue name in the listing, that venue should show up as a filtering option. Options may include Wembley Stadium, City of Manchester Stadium, Landsdowne Road, or National Stadium.
Filtering by Venue City/Town
One can also select search results based upon a city or town in which Robbie Williams is performing. Shoppers click the checkbox next to the preferred city to find tickets available for Robbie Williams concerts at that location. Choices include Dublin, London, Manchester, Glasgow, and Edinburgh. If buyers find their choices have limited their search results too much, they can click "Clear", or uncheck the box to see results from all available cities.
Filtering by Number of Tickets
Buyers should have a count of the number of tickets they want to purchase for an event. Single tickets are less expensive and work well for individuals who want to enjoy the Robbie Williams concert on their own. However, for a date or watching the concert in larger groups, it pays to find deals that can lower the overall cost of the tickets. eBay allows buyers to search by the number of tickets they need so that they can realise the savings and also attempt to purchase a group of seats that are next to each other.
Filtering by Price
Some buyers may be on tighter budgets and may not be willing to spend more than a certain number of pounds on a Robbie Williams tickets. These individuals can use the "Price" filter to stay on target. They should simply enter the minimum and the maximum amounts they want to pay. eBay then adjusts the search results on the page to match those specifications. The remaining listings for tickets should fit within one's budget.
Filtering by Item Location
Some buyers may wish to purchase tickets from a seller who lives nearby. If so, they should use the "Item Location" filter. They can choose from sellers within the United Kingdom, sellers within the European Union, or sellers worldwide. One can also type in a postcode, enter a specific kilometre radius, and see listings from all the sellers within that zone.
Filtering by Seller
Buyers can choose the type of seller from whom they would like to purchase tickets to a concert. With a "My Saved Sellers" list, one can opt to see listings only from the individuals on that list. Buyers can also elect to see only the listings from eBay Top-rated sellers, all of whom have high feedback scores and a reputation for quality service.
Another option that buyers have is to use eBay Shops, a special section of eBay where sellers with multiple products can create an online showcase in which to display items. Shoppers can go straight to eBay Shops to conduct a search, or they can do a regular search on eBay's main website and then choose to see only the listings from sellers with eBay shops.
Other Filtering Options
Occasionally, buyers who are looking for event tickets can use additional filters to narrow the search options. They can select the type of view they want to have, ensuring unobstructed vision of the stage or sporting event. They can also search by the type of event. If it is important that they attend the concert or event at a particular time of year, they can specify a particular month and see if tickets are available for that time period.
Contacting eBay Sellers about Robbie Williams Tickets
When buyers purchase Robbie Williams tickets on eBay, they occasionally have to contact sellers about details that are not included in the item listing. If buyer and seller live in the same town, they may want to arrange an in-person pickup rather than mailing the tickets. One can also use the "Contact Member" link on a seller's profile page to initiate contact with a seller. Every product listing page also includes an "Ask a Question" link for the same purpose. Either link allows buyers and sellers to chat freely about a product or transaction without compromising anonymity or security of their accounts.
Saving a Search for Robbie Williams Tickets
Some fans of Robbie Williams and other musicians may be interested in going to multiple concerts. These individuals can keep an eye on eBay ticket sales and prices using the "save a search" feature. Buyers save a ticket search, such as "Robbie Williams tickets", and eBay then emails buyers whenever new listings for those tickets become available. When a seller posts a pair of Robbie Williams tickets, buyers who saved a matching search receive the email and can then go online to inspect the listing and the price.
Conclusion
Fans of Robbie Williams can enjoy his music at home by purchasing one of his top-selling albums. Copies of these albums are available on eBay. However, there are times when listening to a recording is not enough. Some fans may want to experience a live Robbie Williams concert. If so, they should check Williams' current touring schedule and obtain tickets to one of his events. With eBay, finding the right number of tickets at an affordable price is simple.
Buyers should look for sellers who offer free shipping for the tickets. They should also request photos of the tickets so that they can verify or authenticate the information printed on the tickets. Once buyers have their tickets in hand, they must take care of important details such as transportation and parking for their group. Finally, once the day arrives and the tickets are handed in, fans can walk into the venue and experience the wonder of seeing one of their favourite artists live in concert.