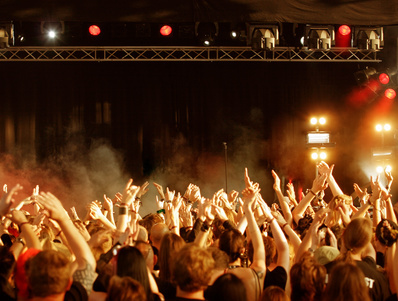 RockNess is a vibrant, exciting festival that takes place each year at the edge of Loch Ness near Inverness, Scotland. The festival was first held in 2006. It features three days packed with comedy and music from top performers from the United Kingdom and other countries. In 2013, the festival included names like Ellie Goulding, The Maccabees, Plan B, The Temper Trap, and many more. Comedians like Chris Forbes, John Walker, Julie Sutherland, and dozens of others keep festival attendees laughing throughout the weekend. A number of entertainment options are available at the festival, from more mature entertainment to family-friendly activities.
If music lovers want to attend RockNess, they can find great deals on eBay. The website has a large number of sellers and allows buyers to sort through their search results so that they can find what they want more quickly. With eBay, RockNess attendees should soon have their coveted tickets in hand.
RockNess Tickets for Adults
Since RockNess is a very popular event, it is recommended that those who want to attend purchase their tickets as far in advance as possible. However, the tickets themselves are not sent out until March or April.
When buyers purchase their tickets on eBay, they should receive a confirmation from eBay affirming their purchase. They may also receive a message or an email from the seller, with additional information about when to expect the tickets. Buyers must be certain that they are purchasing their tickets from a reliable seller who can be trusted to send the tickets as agreed. If attendees do not receive their tickets at least 72 hours before the event, they must contact the seller to find out if the tickets were sent.
Purchasing RockNess Tickets from Top-Rated Sellers
eBay Top-rated sellers are usually trustworthy and reliable. These sellers have a long history of smooth transactions and satisfied customers, many of whom have left positive feedback. When shoppers search for RockNess tickets on eBay, they should be able to filter search results by the type of seller they want to use. They can simply check the box beside "eBay Top-rated Seller", and eBay removes all search results from regular sellers, leaving only those from Top-rated sellers.
Purchasing RockNess Tickets through eBay Shops
Buyers can also choose to purchase tickets from sellers with eBay shops. This is a separate area of eBay's website where sellers can create online retail spaces to show off multiple products and services. Some sellers in eBay Shops may specialise in event tickets. These sellers often have multiple tickets available for various events and artists. To search for RockNess tickets in eBay Shops, visit eBay Shops and type in "RockNess tickets." Shoppers can also conduct a search on eBay's main website and then check the box beside "sellers with eBay Shops" under the "Seller" filter.
Tickets for Children
Children under age 12 do not need tickets to attend RockNess. However, any person under the age of 18 must be accompanied by an adult. The RockNess regulations state that one adult can accompany three individuals under 18 years of age.
RockNess personnel may request proof of the child's age at the entrance to the festival, so attendees should plan to bring a photocopy of each child's birth certificate or some other official document that proves the child's age. This ensures that children can receive the free admittance to which they are entitled. Those over 18 need to purchase regular adult tickets.
Even though children are permitted and welcomed at the event, not all parts of RockNess are family friendly. Parents must use discretion regarding the areas of the event that they attend with their children. Even if one activity is not appropriate for children, parents should be able to find another part of the event that offers fun for the whole family.
The RockNess Schedule
Once buyers have purchased their tickets to RockNess through eBay, it is a good idea to view the schedule and plan which activities they want to attend. Usually, the RockNess organisers reveal a partial schedule in advance, with a more detailed schedule becoming available as the event dates approach. Attendees can follow RockNess on Facebook or Twitter for updates and information.
On the Friday of the festival's opening, guests may arrive as early as they wish. However, the campsites are not available before 10 a.m. The RockNess festival itself generally opens sometime during Friday afternoon.
Types of RockNess Tickets
There are a few types of RockNess tickets available for attendees. Buyers should understand what each ticket type entails and choose one that fits their needs and plans. The chart below outlines the uses of each type of ticket.
| | |
| --- | --- |
| Ticket Type | Ticket Use |
| | Single day, no re-admittance permitted |
| No Camping Weekend Ticket | Admittance once per day, no re-admittance within the same day |
| Weekend Camping Ticket | Admittance and re-admittance until 3 p.m. Saturday afternoon |
Day ticket holders and those with weekend tickets, but no camping, must plan to be at the festival all day. Once they leave, they cannot re-enter on the same day.
Parking Tickets
Those who purchase tickets from the RockNess website have the option to pay for parking at the same time. Attendees can also pay for parking when they arrive, although costs are higher on event days. If buyers purchase VIP RockNess tickets on eBay, their parking fees for the VIP parking area should be included in the purchase price. One should check with the seller to ensure that this is the case.
VIP Packages
VIP packages are available for RockNess attendees. Guests can buy a VIP ticket outright or upgrade a general ticket to include VIP privileges. VIP packages allow for special parking in the VIP lot, near the gate, with quick access to the event site. VIP campers can park near the campsite in the VIP camping area. Attendees enjoy perks such as flushing toilets, secure lockers for valuables, places to charge mobile phones, hot showers, and special tents where they can have a body treatment, body art, or a massage. The VIP manager ensures that all VIP guests are supplied with everything they need to make the stay satisfactory. Guests also have access to special seating and food outlets.
What to Bring to RockNess
Attendees should bring with them anything that they might need during their time at RockNess. Some may decide to travel light and instead bring money to purchase necessities throughout the day or the weekend.
If attendees are staying just for the day, they may simply need a hat, sunscreen, and a bag containing a few other essential personal items, such as a roll of toilet paper. One should also bring money to cover any unexpected expenses. However, guests are well advised to limit the amount of cash and keep bags or wallets close at all times.
Camping Supplies
For those with the three-day weekend camping tickets, tents, sleeping bags or mats with blankets, and pillows are items necessary for ensuring comfort. They must have clothing, including underwear, socks, trousers, shirts, jackets, and a hat. Festival attendees usually wear wellies, since the ground is often muddy and wet.
Cosmetics and personal cares supplies such as a toothbrush, toothpaste, deodorant, hand soap, and hair care items, are also essential. Other items that attendees should consider bringing are watertight plastic bags, a torch, a towel, and insect repellant. Some may also consider bringing along an iPod or MP3 player with headphones, a mobile phone, and duct tape to repair any rips in the tent. Any expensive electronics should remain at home.
Food
Food is available for purchase at the RockNess event site during regular event hours. However, many campers and other attendees choose to bring extra snacks, meals, or drinks. Some may opt to bring their own bottled water or an empty bottle to fill with water. Campers may bring small gas stoves with gas cartridges that are removable. Such stoves are ideal for warming barbecue or cooking sausages and other camp food. A few extra snacks, such as chocolate bars, crisps, mixed nuts, or fruit bars, are always handy to have along.
Alcohol
Attendees may bring their own alcohol, as long as they limit it to the amount that their party can reasonably consume during the time frame. Glass bottles are not allowed, since they can crack or break. Because of this regulation, beer must be in cans. Attendees should bring the beer in with them when they first enter the festival area. They are not allowed to bring more beer back with them, so what accompanies them during that first trip must suffice.
Conclusion
A weekend at RockNess is an unforgettable, enriching experience. Guests are treated to the best in modern music and comedy, with extra activities to fill in the time between their favourite performances. Campers can spend the late evening cooking delicious sausages and other food over gas stoves, enjoying the cool summer night and the company of friends.
Buying RockNess tickets on eBay is simple, involving a brief search and a quick look through the available listings. Buyers can organise a search by implementing eBay's search filters to choose the number and price range of the tickets they want. With their tickets secured, attendees can begin planning what to bring with them to RockNess. If they forget necessary items, they can purchase those on-site or in a nearby town. Whether visitors to RockNess are 12, 40, or 70, they are ensured a one-of-a-kind experience and memories that they can carry with them for a lifetime.