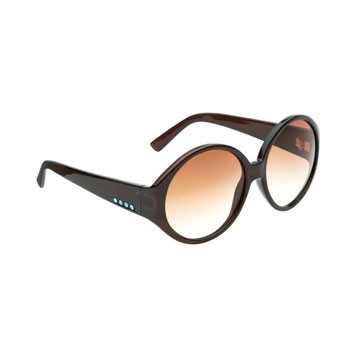 Round sunglasses are timeless and iconic. Celebrities like John Lennon wore them in the 1970s and Lady Gaga still wears them today. Prices vary greatly, with plastic frames being less expensive than metal. As well as choosing the materials for the frames, buyers must decide whether the frames should be large or small, and whether the lenses should be black or tinted. The colour of the lenses determines when they are safe to be worn, for example, some colours are not suitable for driving. When choosing any shape of sunglasses, it is important to understand the effects and dangers of exposure to ultraviolet (UV) light, so that the buyer can purchase a pair that offer adequate UV protection.
Fortunately, round sunglasses are flattering for many face shapes, provided they are the right size. The ideal pair of round sunglasses look great and protect the eyes. Large or small, plastic or metal, black or tinted, eBay has a range of round sunglasses to suit any budget.
Materials for the Frames of Round Sunglasses
The frames of round sunglasses are either plastic or metal. The choice of the frame material is based on the personal taste of the wearer, the wearer's budget, and the settings that the sunglasses will be worn in, for example, for casual wear or active sport.
Plastic Frames for Round Sunglasses
Plastic frames are easier to mould, which makes them especially appropriate for round sunglasses. Another advantage of plastic frames is that they do not conduct temperatures well, which makes them comfortable to wear in hot weather because the frames do not heat up against the face. Similarly, they do not feel cold in chillier temperatures. In comparison to metal frames, plastic frames are less expensive, they do not corrode, and they are lighter, so they can be worn comfortably for long periods of time. Despite not being prone to corrosion, plastic frames do become weak and brittle eventually due to exposure to sunlight. Plastic is less robust than metal, so it breaks more easily: rather than bending, plastic will more commonly snap. Sunglasses with plastic frames are more difficult to fit adjust, and so getting a very good fit is less straightforward than with metal frames.
Metal Frames for Round Sunglasses
Metal framed sunglasses can be lightweight, depending on the metal used, but they are still not as light as plastic. Metal frames are stronger than plastic because the weak points are soldered rather than moulded. This makes them somewhat malleable, so the frames are able to bend a little bit before breaking. Round sunglasses with metal frames blend into the face easier than plastic to create a stylish look. Metal frames tend to be more expensive than plastic, but they can be adjusted easily to ensure a proper fit, and broken parts are easily replaced. There is a much larger selection of round sunglasses available with metal frames.
Different metals are used to make round sunglasses. The chart below highlights the key advantages and disadvantages of each of the materials.
Material

Advantages

Disadvantages

Titanium

Bends easily without breaking

Very lightweight

Resistant to corrosion

Hypoallergenic

Expensive

Flexon

Very flexible: returns to original shape after bending

Lightweight

Comfortable

Hypoallergenic

Difficult to adjust to fit face correctly

Stainless Steel

Very strong, yet still flexible

Lightweight

Inexpensive

Only some frames are hypoallergenic

Aluminium

Strong

Lightweight

Inexpensive

Easy to repair

Resistant to corrosion

Difficult to find for purchase

Not hypoallergenic
The table above allows buyers to weigh up the pros and cons of each material used to make metal frames for round sunglasses. This provides buyers with the information required to make a good purchasing decision.
Coloured Lenses for Round Sunglasses
Provided the lenses are of good quality, all sunglasses block light. However, there is a significant difference in the contrast and the appearance of colours that are seen through tinted lenses. Choosing a lense colour depends largely on what conditions the sunglasses are most often used in.
Yellow, Amber, and Gold Lenses
Yellow, amber, and gold lenses are a good choice for use in low level light conditions. Yellow lenses also reduce glare, without distorting colours. These lenses improve contrast and do not reduce depth perception, which makes them popular for driving in low level light, and for snow sports.
Grey, Smoke, and Brown Lenses
Grey, smoke, and brown lenses are colour neutral. This means that the lenses do not distort colour in any way. These colours are very popular with drivers, the armed forces, and people who play a range of sports. Lenses of these colours cut the glare and brightness, and provide UV protection. In bright conditions, grey, smoke, or brown tinted lenses can help to reduce eye strain.
Pink and Rose Lenses
Pink and rose lenses are excellent in low light conditions. They enhance both contrast and the appearance of objects against a blue or green background. Pink and rose tinted lenses can also be worn by computer users to reduce eye strain and to cut glare. They are an excellent choice for road users as they increase road visibility.
Mirrored Lenses
Mirrored sunglass lenses dramatically reduce glare, as light bounces off the mirrored surface of the lens: they make everything seem much darker. The mirrored coating is a film applied to the outside of the lens.
UV Protection for Round Sunglasses
Whatever size of round sunglasses are purchased, buyers should always make sure that they offer 100 percent protection from harmful UV rays. There are several UV wavelengths present in the rays of the sun, which can cause damage to the eyelid, as well as the cornea and other parts of the eye. As there is a potential for significant damage, both acute and chronic, it is strongly recommended that buyers purchase round sunglasses with 99 or 100 percent UV protection.
Buyers are advised to buy round sunglasses that have the CE logo. This logo means that the sunglasses have been tested and are fully compliant with the criteria set for the European Community Standard. Some sunglasses are also labelled with the code BSEN1836. This means that the sunglasses meet the standards set by the British Standards Institute, and that they protect the eye from UV rays. Round sunglasses with larger lenses protect a larger portion of the eye.
Face Shape and Round Sunglasses
Fortunately, round sunglasses are versatile, and suit oval, rectangular, square, and heart-shaped faces. Small round sunglasses work well with an oval face. As oval faces are already well balanced, the small round frames complement the curves and do not detract from the features of the face. Large round sunglasses also suit rectangular and square faces by adding definition and curves to balance out the overall angularity of the face. Heart-shaped faces benefit from large, round frames whose size and shape help to draw the eye upwards and away from the small jaw and chin.
How to Buy Round Sunglasses on eBay
eBay has a wide range of round sunglasses and accessories available for purchase, from small metal frames to large plastic ones. These sunglasses can be bought either new or used. Buyers can search for sunglasses from the eBay home page. Once the initial search has been performed, buyers are able to narrow down their results using filters, such as price or whether the sunglasses are new or used.
When purchasing round sunglasses, buyers should read the description in the item listing and look at the photos. The sunglasses should offer 100 percent protection against UV rays. If the sunglasses are used, buyers should look for signs of wear on the lenses, especially scratches and marks that cannot be removed. These imperfections may prevent the wearer from being able to see clearly. If there is any doubt, buyers can ask sellers for more information or more pictures by contacting them using the "Ask a question" link.
Feedback
Feedback allows the buyer to read what previous buyers have said about the seller and the service that he or she provided. Positive feedback means that the seller has offered a great service and is recommended to other potential buyers.
Conclusion
Iconic round sunglasses have been worn for many decades by musicians from John Lennon to Lady Gaga. They are both a classic fashionable accessory and a sensible item of eye protection. Buying round sunglasses is easy once the shopper has considered a few factors. The materials of the frames make the glasses perform differently, such as being appropriate for hot or cold weather conditions. The colour of the lenses also has an effect on when and how the sunglasses are used.
Face shape should be considered before purchasing a pair of round sunglasses. The sunglasses are versatile and suit oval, rectangular, square, and heart-shaped faces when worn in the right size. Large round models suit rectangular, square, and heart-shaped faces, whereas small round sunglasses suit oval faces. Protection from harmful UV rays is an important consideration for any kind of sunglasses. Round sunglasses with a variety of frames, lenses, and of different sizes can be found on eBay.