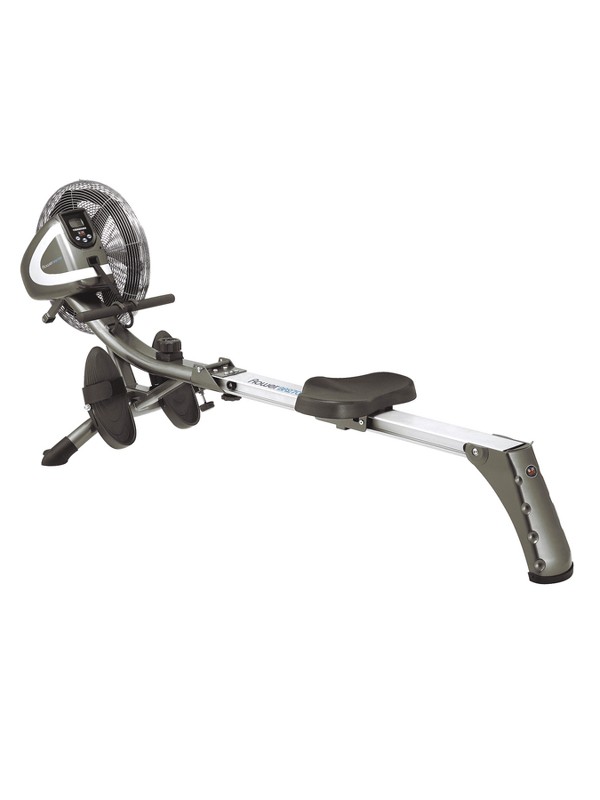 Cardiovascular fitness is an important part of any healthy lifestyle with the oft-inclement weather in the UK urging many to opt for gym memberships or equipment for their own homes.
eBay is home to a large selection of all kinds of cardiovascular equipment, with rowers being part of a collection that includes all manner of apparatus that can improve a user's health and fitness.
The following guide explains the different types of rower available, how to choose the most appropriate one and the best way to complete a transaction safely and securely using eBay.
How Does Rowing Help With Fitness?
Rowers, as suggested by the name, are designed to closely imitate the sport of rowing and all of the fitness benefits that come with it.
Rowing provides an excellent cardiovascular workout and is beneficial for both the upper and lower body in terms of muscular strength.
It is ideal for anyone looking to progress as the resistance can easily be adjusted to cater for all levels of fitness.
Resistance Type
One of the first things to consider when buying a rower is the system of resistance it uses.
There are four main types available and each one will have an effect on the machine and the way it performs.
The table below outlines the four resistance systems with a description alongside:
Type

Description

Air Resistance

· Common system that uses air to create resistance and challenge the user.

· Flywheel creates resistance as you pull against it with the hand-bar.

· Most have a damper lever on the side that can either decrease or increase the resistance.

· Seat glides back and forth on a metal bar and is intended to closely mimic an actual boat.

Hydraulic Resistance

· Older style of rower that is a particularly affordable option.

· Works by using hydraulic pistons to give resistance.

· Two long handles are pulled by the user when in use.

· Take up a lot less space than other machines and are perfect if space is at a premium.

· Can be noisy and don't offer as high a variation of resistance as other models.

· Not as realistic as other rower types.

Magnetic Resistance

· Resistance is controlled by extremely strong electromagnets.

· An affordable alternative to other machines.

· Similar to hydraulic resistance models.

· They differ in that the resistance is a lot easier to set.

· Take up more space than hydraulic resistance machines.

· Workout is a lot more fluent and the machine is almost silent during operation.

Water Resistance

· Closest that a machine comes to rowing on a river.

· Similar to air resistance models.

· Resistance is provided by water, as opposed to air.

· Can be customised by adding and removing water from the tank that gives resistance.

· Expect a high price and high quality items.

· Takes up a lot of space and can't be folded away easily.
Heart Rate Monitor Type
Many rowers come readily equipped with some kind of heart rate monitor technology to keep track of fitness.
The bullet points below explain the two different options with a description alongside each:
Hand Sensors – Heart rate is calculated when rower has hands on the sensors provided.

No other equipment is needed, though it is less accurate than other types of monitoring.

Chest Strap – A strap is put around the chest of the rower, with the chest strap having to be bought separately.

This connects to the rowing machine's onboard computer and provides an accurate reading.
Buying Considerations for Rowers
Rowing machines are large pieces of equipment that cost a considerable amount of money. It means taking a number of considerations before buying and some of them have been outlined in the following section:
Cost
Depending on the type of machine being bought there is a huge variance in value between models.
The higher value machines tend to be those that use either air resistance or water resistance with the more affordable versions having hydraulic resistance or magnetic resistance.
If air or water resistance machines are being sold at very low prices it's important to check with the seller the machine is still in full working order.
Space
Part of the research that goes into buying a rowing machine is the space that it will take up when in the house.
For people with space constraints, the hydraulic resistance machines come highly recommended, as they can be easily folded away and stored under beds.
All the other types of machine tend to be large and measuring up before buying one is crucial.
Condition
Checking the condition of any item on eBay is imperative before buying.
eBay allows buyers to search using Condition as a parameter, and the following table outlines the conditions with a description alongside each:
Condition

Description

New

Expect item to be brand new and the price to be close to the RRP.

New other (see details)

Item is likely to have been on display in a shop and this is the reason for it being listed as New other (see details).

Buyers can also 'Ask the Seller' if unsure of the quality of the item.

Used

Buyers must be careful to clarify with the seller the amount of usage the item has had.

This will have a big effect on the price.

For parts or not working

Rower no longer functions correctly and is only suitable to supply spare parts for other machines.
User
Buying the correct rower will mean taking into account the primary user of the machine.
This should help to decide whether to spend a large amount of money on a rower or go for a more affordable option.
Safety Whilst Using
As with any large-scale piece of gym equipment, safety when using it is very important.
To ensure that no injuries occur make sure that activity is performed correctly and the instruction booklet has been adhered to fully.
Controls and Programmes
Make sure the controls and programmes provided are what the primary user will benefit from.
This should be taken into consideration when choosing between the different types of rower available, as more affordable models may be sufficient for some users.
How to Buy a Rower Using eBay
Gym equipment is frequently the choice of people looking to get fit and not wanting to pay excessively for a gym membership. eBay has a wide selection of machines available, with rowers being part of a vast array of items that are sold by some of the most knowledgeable sellers anywhere online. They offer help at every turn and make sure the item is suitable for you, the buyer.
To find rowers on eBay, first click on the Sporting Goods category on the home page.
On the following page scroll through the sub-category choices and select Exercise & Fitness to see all of the health related items on eBay.
Next, go to Cardiovascular Equipment on the left hand side of the page and follow that up by clicking on Rowers to see all the items that have been listed on eBay's auction site.
To narrow down the selection even further, select from the options on the left side of the page that include: 'Brand', 'Resistance', 'Type', 'Heart Rate Monitor', 'Condition', 'Price' and 'Auction Format'.
In some cases, it may be simpler to search for the item by name. To do this, type some key words or phrases into the box at the head of every eBay page and click search to see the results.
The search results can be whittled down even further by choosing to only find results in a certain category, which can be chosen in the drop down list to the left of the search box.
When searching for a rowing machine on eBay it's important to scrutinise the sellers to make sure they are legitimate. eBay makes this easy as it provides an extensive transaction history for every seller on the site.
If there is a large amount of negative feedback on the profile, don't hesitate to 'Ask the Seller' questions as to why this is the case.
When entirely happy with the item there will be a couple of options available. If the listing is an auction either make a 'Bid' or place your 'Best Offer'. Otherwise, choose to 'Buy It Now'.
But before finalising a purchase, keep in mind the following queries:
What kind of resistance is most suitable?
How much space is available for the rower?
Which pre-set programmes does the rower need to perform?
If used, what is the exact condition of the rower?
Conclusion
People are increasingly choosing to buy comprehensive gym equipment as an alternative to expensive health club memberships, and cardiovascular equipment is a huge part of this.
Rowers are an integral part of this and provide a rounded experience that doesn't just stop at cardiovascular fitness, as it also strengthens many muscles in the upper and lower body.
eBay is one of the best places to buy rowers online and the helpful group of sellers, along with the buying guide above, are ideal to help any person successfully purchase one.
The answers to these questions will help the buyer, but should in no way limit the decision that always rests with you, the buyer.
When ready to complete the deal remember to use PayPal to make sure the payment goes through safely and securely.