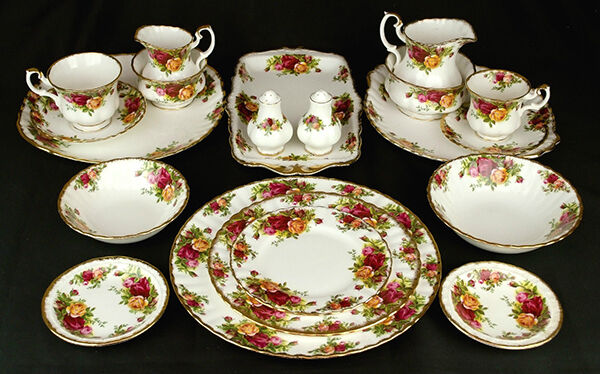 Established in 1896, Royal Albert started out as a pottery business in Longton. Inspired by everything English, especially England's national flower, the rose, as well as the country garden, Royal Albert tableware and fine china has become known the world over for being both traditional and innovative in design. One of the most famous of Royal Albert's patterns is known as Old Country Roses. Released in 1962, the well-liked pattern was based on King's Ransom, an older Royal Albert design.
When looking for tableware on eBay, specifically Royal Albert Old Country Roses tableware, shoppers should keep a few things in mind. First, they should learn about the types of tableware that are available to get an idea of the different products that are available, including tea and coffee cups, plates, trays, platters, and other dishes and accessories. Next, they should learn what to look for when buying Royal Albert Old Country Roses tableware, most importantly product quality and cost.
Types of Tableware
When buying tableware, shoppers need to know the different classifications so they can buy the correct items for their needs, whether that includes plates, large bowls, cups, or silverware. All different types of tableware exist with distinct designs. The table below contains a review of the different tableware types.
Tableware Types

Description

Encompasses serving bowls, platters, and other dishes that are used to serve food.

Pitchers, teapots, and carafes also fall into this category.

Used for serving individual portions of food.

Examples include plates, bowls, and specialised dishes for serving specific foods.

Includes the utensils used for eating.

Basics include a fork, spoon, and knife, with more specialised versions of each also available.

Used to serve individual drinks.

Includes mugs, tea cups, and water, juice, and wine glasses, among other cups.
When purchasing tableware, shoppers sometimes have a choice of buying individual pieces or sets. A set can save shoppers money, as sellers tend to attach a lower price to items that are bunched together in order to encourage sales.
Typical Plates, Sizes, and Uses
Tableware plates come in a variety of sizes, depending on their use. From dinner plates to salad plates and more, the following chart contains the different plates, their sizes, and a brief description.
Plate Types

Size

Description

30.48 cm

Larger than dinner plates.

Typically sit underneath the dinner plate or bowl.

26.67 cm

Primary plate used when serving food.

Generally placed on top of a charger plate.

21.59 cm

Used to serve dessert once the main meal is finished.

Also placed on top of a charger plate.

19.05 cm

Used to serve salads if they are part of the meal.

Sometimes chilled before use to keep the lettuce from wilting.

17.14 cm

Used for bread and other side items.

Sometimes used to hold coffee or tea cups.
In addition to plates, other different types of tableware exist, each serving a specific function. A variety of flatware is used when eating a meal, for example, as well as bowls, cups, and items used for bringing the food to the table. When buying tableware, shoppers should determine what they need based on what they plan on serving on a regular basis.
A 5-Piece Dinnerware Setting
When buying a 5-piece dinnerware setting, shoppers should keep in mind what comes with it. That way they can order any extra pieces they need separately. For the most part, a 5-piece set comes with a dinner plate, salad plate, cereal bowl, side plate, and a tea cup and saucer set. Shoppers typically have to purchase charger plates separately, as this type of plate really serves no purpose other than to be decorative and hold other plates on top of it. Shoppers should also be aware that most manufacturers sell their products in multiples of four, although some also sell individual settings and pieces, as well.
Space Limitations
Shoppers should also keep the space they have available in mind. They should take into consideration the limitations of the cupboards where they plan to store the dinnerware that is purchased. To this end, they should measure their available cabinet space to avoid buying dishes that do not fit in the cabinets. Shoppers might even have to buy separate dish cabinets to hold the larger items, such as plates, platters, and sets. They should likewise keep in mind any extra serving items that come with the sets. These can include serving bowls, a sugar bowl, creamer, or even a gravy boat.
Royal Albert Old Country Roses Tableware
Many consider Royal Albert tableware with the signature English rose design of the Old Country Roses brand to be one of the most popular dinnerware patterns in the world.
Tableware Types

Description

Tea and Coffee Sets

Includes a pot, cups, saucers, a tray, and containers for the sugar and cream.

All items can also be purchased individually to replace broken pieces or add to the set.

Plates

A variety of plates for various uses.

Available in sets or individually according to need.

Bowls

Sugar, vegetable, and fruit bowls are just a few of the many types.

Bowls may function as serveware or dinnerware.

Vases

Used as a decoration or as a centrepiece.

Sometimes used to hold blossoms or put on display for their intrinsic beauty.

Jugs

Wide body with a flared mouth and handle.

Similar to a pitcher.

Mainly used to hold cream for coffee or tea.

Trays and Platters

Used for serving food or carrying other dishes, such as a tea or coffee sets.

Dining Sets

Contains all of the necessary plates, saucers, and cups for serving a meal.

Differs according to the type of food served.

Gravy Boat and Stand

Holds various types of gravy.

Stand provides a small dish to hold the hot gravy boat.

Cake Stands

Many are multi-tiered.

Can be carried by a handle on top.

Holds a cut cake placed on a table for serving.

Salt and Pepper Shakers

Small containers that hold salt and pepper.

Typically placed at the centre of the dining table next to the centrepiece.

Centrepieces and Clocks

A variety of different centrepieces are available.

Porcelain clocks with the Old Country Roses theme are available as mantle clocks.
Shoppers can buy most of the items in the table above as single items or as parts of sets. When buying sets, shoppers should be sure to either buy sets with the number of items they need or purchase additional items separately.
What to Look for When Buying Royal Albert Old Country Roses Tableware
When perusing Royal Albert tableware, especially pieces with the Old Country Roses design, shoppers need to judge items according to several important criteria, including quality and cost.
Quality
Shoppers should inspect the quality of pieces of tableware, especially pieces manufactured from breakable materials, such as porcelain, clay, or bone china, before buying. Since they cannot physically look for cracks, chips, or other damage when shopping on eBay, they should check for such damage by looking carefully at any photos the seller provides.
Cost
Cost represents another important factor when buying tableware. Some ways to cut costs involve buying items in sets, which tend to cost less, or buying used items. Most people cannot tell the difference between new and used items if the pieces have been maintained well.
Find Royal Albert Old Country Roses Tableware on eBay
eBay provides shoppers from all over the world the opportunity to buy high-quality products in a safe environment. The marketplace is easy to navigate and utilise, and it also features products sold by sellers with a high level of customer service. To begin searching for the products you want, just enter keywords into the search box on any eBay page. Use terms like 'Royal Albert Old Country Roses sets' or 'Royal Albert Old Country Roses dish', for example, to begin your search. The terms should describe the products you want.
Once the list of results pops up, narrow it down a bit by clicking on the various options. This step displays only the listings that match your search inquiry and filter preferences. For more help on searching eBay using keywords, check out eBay's Search Tips. While shopping on the site, you may also want to stop by eBay Shops to find more Royal Albert tableware. Before buying anything using any of the available methods, read over the seller's feedback rating. This helps you learn what other shoppers thought of the seller's products and business practices.
Conclusion
Tableware can add grace and beauty to any table. The many beautiful and elegant designs offered by various manufacturers can add a special flair at meal time. Royal Albert's Old Country Roses design provides shoppers with a classic example of elegantly styled tableware that has come to define the Royal Albert brand. Whether buyers are purchasing tea cups, platters, or other Royal Albert tableware items, the Old Country Roses imprint makes the brand's items instantly recognisable to collectors worldwide. Much sought after, many of these pieces often sell out quickly. Those who want to build collections with this design should buy pieces when they get the chance.
When buying Royal Albert tableware on eBay, or tableware in general, shoppers first need to determine if they want a few single pieces or a partial or full set. They then need to carefully examine photos of the items that are available and pick out those that exhibit no signs of damage and have reasonable selling prices. By taking these steps, shoppers can ensure a safe and easy shopping experience while looking for Royal Albert tableware on eBay.