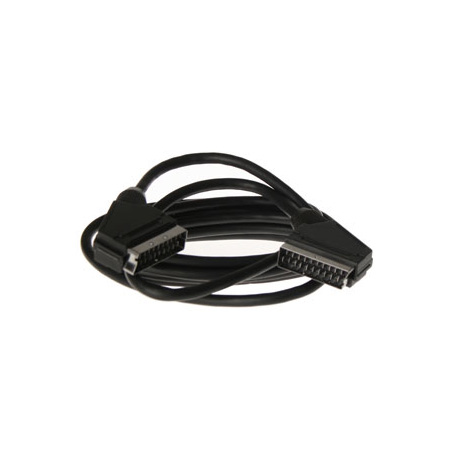 SCART cables are used to connect televisions, DVD players, and other audio-visual equipment. They provide a physical and electrical connection between two devices. SCART is an acronym for Syndicat francais des Constructeurs d'Appareils Radio et Television. The industry standard was set by the original cable interface produced by Peritel, a French company. The end of a SCART cable is characterised by 21 pins, which separate the components of the sound and picture. The signal itself determines its direction of travel along the cable. Composite video, control signals, and stereo audio can travel bidirectionally, while RGB signals travel in an input-only direction.
Most audio-visual equipment comes with a SCART interface as standard. It should be noted that SCART cables are designed to carry analogue standard definition content. With the current switchover from analogue to digital, and the introduction of new digital standards such as high-definition multimedia interface (HDMI), SCART is becoming increasingly obsolete. However, SCART cables remain a common connector for older audio-visual components. Before buying a SCART cable, buyers should ensure that it is compatible with the audio-visual devices. When purchasing SCART cables on eBay, buyers should familiarise themselves with the history of the connectors, consider their advantages and disadvantages, understand what to look for when buying SCART cables, and learn how to navigate eBay's website.
History of SCART cables
SCART cables date back to 1977 when they were originally designed for use with televisions. Before the invention of these cables, a radio frequency antenna was used to provide an analogue signal to an electronic device. During the 1980s, SCART cables were upgraded, allowing them to carry not only analogue signals but S-video as well. This new design allowed SCART cables to be used as bidirectional connectors between televisions and other audio-visual equipment. More modern SCART cables are able to carry RGB video, composite, digital, analogue, S-video, and stereo audio input and output.
Advantages of SCART Cables
SCART cables carry both the audio and video signal in a single cable. This reduces the number of cables required, which is why SCART cables are often the preferred option as a connector. As they are also versatile, most audio-visual equipment features a SCART socket. This means that a SCART cable can be used to connect nearly all devices.
Disadvantages of SCART Cables
There are several major disadvantages of SCART cables. In addition to the fact that they can only carry analogue signals, SCART cables provide only limited locking. So, the cable are likely to become disconnected or loose. Loss of audio or video connection due to a loose SCART cable is relatively common. The thickness and inflexibility of the cable can also pose a problem, especially when trying to connect the cable to a plug at an awkward angle. Confined spaces only make the problem worse. Although thinner SCART cables are available, they are more susceptible to crosstalk, which is an unwanted transfer of signals between communication channels, or they are unable to support all communication modes.
Factors to Consider When Buying SCART Cables on eBay
When buying SCART cables on eBay, buyers should bear in mind screening. Screening is the protection that a wire gains from an enclosing web of earthed wire mesh that makes it avoid electromagnetic interference from other signals. Poor screening can lead to crosstalk between connectors and ghosting of the picture, which is an offset repetition of a visual image on the screen.
Although the level of screening can be difficult to determine by looking at a cable, buyers should choose cables that have individually screened audio and video connectors. The diameter of the cable can also help to identify the level of screening. Buyers should avoid SCART cables that are encased in thick plastic jackets and instead choose cables that have a metal connector body. Metal provides better screening around the connector. Flat style SCART cables also offer better screening than standard cylindrical cables as the connectors are spaced further apart.
In addition to screening, buyers should consider gold plated SCART cables. These cables provide lower contact resistance, which helps to maximise the signal connection and offers better picture quality and performance.
How to Find SCART Cables on eBay
Buyer's should begin their search from the eBay homepage. From here, buyers can use the search bar to type in any key terms related to the item that they are looking for. Buyers may choose to search for SCART cables or to type in more specific keywords such as, gold plated SCART cables. Entering a more specific search better narrows down the listings. However, this can also cause buyers to miss items that may have been of interest.
Alternatively, buyers can use eBay's advanced search feature to narrow down item listings by price or buying format. This feature also allows buyers to search by location or to limit the listings of SCART cables to those of Top-rated sellers. Top-rated sellers are recognised by the eBay community for their consistent level of high customer service.
Narrowing the Search Results for SCART Cables on eBay
eBay has a wide selection of products available for purchase. So, the number of search results for SCART cables can seem vast, especially to first time eBay buyers. Fortunately, eBay allows the buyer to navigate the site's features easily.
Search by Cable Length
Searching by cable length is a good option for buyers who have a general idea of the type of audio-visual devices that they need to connect. Buyers connecting a television to a DVD player may only need a one to four metre SCART cable as these devices are likely to be in close proximity to each other. However, buyers who wish to connect a wall mounted television to a games console may be better served by a longer five to nine metre SCART cable. Buyers should bear in mind that the cable should connect the two devices comfortably without being pulled taut. If the SCART cable is not loose enough it runs the risk of becoming disconnected.
Search by Connection Split/Duplication
Buyers hoping to receive a good quality of picture and sound may choose to search by connection split/duplication. Individually screened audio and video connectors are thought to decrease crosstalk and ghosting of the picture. Selecting a 1:3 SCART cable as opposed to a 1:1 SCART cable ensures that buyers are satisfied with the picture and sound that they receive.
Search by Condition
Many buyers look for SCART cables that are in a particular condition. While new SCART cables are widely available for purchase, buyers may choose a used SCART cable as a cheaper alternative. When buying a used SCART cable, it is important to inspect the component for any missing pins as this can compromise the cable's ability to function properly. Buyers should also avoid SCART cables that show signs of frayed wires as this is a potential safety hazard. Buyers should always ask sellers about the condition of the SCART cable before purchase. Cosmetic issues should be taken into account, but should not deter a buyer. However, these issues may affect pricing.
Ask a Question
If not all of the buyer's questions regarding a SCART cable are answered by the seller's item description, buyers are free to use the "Ask a question" feature on the item's listing page. This link is designed to help buyers to communicate effectively with the seller. While the majority of sellers are happy to answer any questions a buyer may have, some sellers may not accept questions before the buyer purchases an item. However, these sellers accept questions after the purchase.
Feedback Ratings
Buyer's should always check a seller's feedback rating before purchasing SCART cables. Ratings are determined by the information provided by other buyers within the past year. This information, along with the number of transactions a seller has completed, can offer an insight into the level of service that a seller provides. Upon receiving the SCART cable, buyers are encouraged to leave feedback for the seller. This can help worthy sellers find new customers and is a useful resource to other buyers too.
Conclusion
SCART cables are used to connect audio-visual components to each other. These components include televisions, VCRs, DVD players, and games consoles. With the current analogue to digital switchover, buyers should be aware that SCART cables are not compatible with new digital standards, such as HDMI.
In order to buy the right SCART cable, buyers should consider the features of each cable and how these features affect both the sound and picture quality. For the best quality, buyers should choose a SCART cable that has an individually screened audio and video connector and a metal connector body. Flat style SCART cables also offer better screening, as do gold plated cables. Whether using a SCART cable to carry an S-video signal or a RGB video signal, eBay offers buyers a wide selection of products at competitive prices. Buyers should familiarise themselves with eBay's search options, including the keyword search and the advanced search feature. It is also a good idea to review eBay's seller feedback rating system before making a purchase. Doing this helps to ensure a positive transaction and a pleasurable online shopping experience.