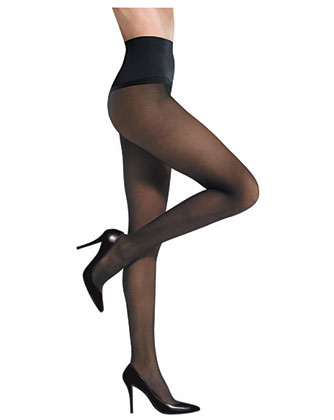 Tights in the United Kingdom are see-through, close-fitting legwear, covering the wearer's body from the feet to the waist. Primarily considered to be a women's and girls' garment, tights appeared in the 1960s, and provided a favourable substitute to individual stockings. Americans prefer to call tights 'pantyhose', alluding to a combination of panties and sheer hosiery, whereas the British 'pantyhose' is a more generic term, referring to all legged garments ranging from sheer lingerie to sturdy outerwear worn for horseback riding.
In the 1920s, the hemlines for women rose to new heights to show the legs, and the only see-through hosiery that shrouded the legs was stockings. These were first composed of rayon or silk, and subsequently with nylon during the war in 1940. In the 1940s and 1950s, movie producers had stockings sewn into the panties of dancers and actresses, according to actress Leslie Caron. In 1953, Allen Gant Sr. developed a commercial equivalent to sewing stockings into panties, which he dubbed 'Panti-Legs'. Between when Gant developed Panti-Legs until the time they were commercially sold in 1959, Ernest G. Rice invented his own design for pantyhose and submitted a patent for it in 1956. Rice's design was adopted by other manufacturers and created a dispute that lasted for many years before the patent was finally upheld in court, shortly before his death.
Tights are an excellent choice to jazz up an outfit. The options available make this a great accessory to complete an outfit. It helps to understand the difference between styles and gauges of fabric when choosing a pair.
Composition
Tights have a standard construction: the top of the waist is strong elastic, and the part covering the hips and buttocks (the panty area) is generally composed of a thicker material more resistant to stress damage than the legs. The crotch area is usually made out of porous cotton, with the legs composed of the thinnest usable fabrics, and consistent construction down to the wearer's toes. The toe is reinforced to safeguard against wear and tear.
Tights are composed of a nylon spandex mixture, which provides elasticity and is form-fitting. Nylon fabric is prone to 'running' or tearing when snagged on something rough or sharp or subjected to excessive stress. There are variations in tight construction, such as cotton, silk, or wool. The twenty-first century has seen a rise in specific styles, like fishnets, distinctive patterns and colours, opaque, low-rise, footless shapewear, and even tights for men.
How to Wear Tights
Striped, textured, sheer, opaque, fishnet, footless tights and leggings; consumers have myriad options when choosing tights, and all the jargon can be a little confusing.
Footed Tights
Footed tights consist of two essential types: sheer and opaque. Before shopping for the perfect pair of footed tights, familiarise yourself with the term 'denier', a numeric scale that refers to the sheerness of the tight: the lower the number, the sheerer the fabric will be on the leg. A higher denier is more opaque, resulting in a thicker tight with saturated colour. The denier scale ranges from 3 to 100. Those tights registering at a scale lower than 10 are barely there, and are perfect for warm weather or formal occasions. Tights that fall between 10 and 20 on the scale are considered practical and durable hosiery. The range of opacity between 25 and 35 is considered semi-opaque, and above 40 is decidedly opaque. Opaque tights are preferred in cooler climates because they are densely knit out of nylon, spandex, or wool, and provide increased warmth.
Coloured Tights
Denier of 40 and above is perfect if the wearer does not want a glimpse of skin visible through the tights. Bright, vibrant colours, like hot pink, turquoise, bright purple, fire engine red, grass green, and canary yellow, are some of the eye-popping hues that can jazz up a neutral outfit. If an individual is wearing colour, keep the tights subdued with brown, grey, or black.
When choosing colours to wear on the lower half of the body, most anything goes. Choose colours that are seasonally appropriate. Excellent warm weather choices include turquoise, bright orange, canary yellow, and magenta. Deep, jewel-inspired colours look warm and vibrant in cooler temperatures. It's a good idea to avoid lighter pastel colors, like pale yellow, unless fishnets are layered over top.
Textured Tights
Individuals who are not fans of intense colours can elect for pleasing variety by selecting high quality conventionally tinted tights in patterned textures. Horizontal patterns elongate the leg for petite ladies, while vertical and unique patterns accentuate long legs.
Fishnets
Fishnet tights are an updated, more fashionable replacement for old-fashioned nylons. There are several factors that influence the appropriateness including mesh, colour, and condition.
Stocking Mesh Size
The general rule is that fishnets, with a mesh greater than tiny holes, are inappropriate for everyday attire. Indulging in large-mesh fishnets should be reserved for club-wear or in more private surroundings.
Colour
Neutrally coloured fishnets, such as nude, brown, or black, are a superior choice for everyday and professional wear. This hosiery can add a splash of pizzazz to an otherwise ordinary outfit. Sheer or flesh-toned fishnets may even be worn in a conservative workplace as a modern alternative to conventional nude pantyhose. Fishnets admittedly are available in all colours of the rainbow, but wearing these in a professional office setting is not recommended, unless an individual works in an artsy setting, where bright colours are not frowned upon.
Know When to Discard Them
Although fishnets are made of thousands of tiny holes, wearing them with snags and tears is unattractive, to say the least. Throw out those damaged stockings and invest in a new pair.
Leggings and Footless Tights
Footless or cropped tights are a fantastic choice for a casual look, and are best worn under a skirt in warmer weather. These styles of tights are most flattering on ladies with longer legs. If the goal is to lengthen the leg, stick with footed tights in the same or similar color as the shoes to be worn.
Caring for Tights
Instructions on the package often recommend to avoid machine-washing tights. Manufacturers prefer that consumers hand wash tights in a warm water and mild detergent solution. However, machine-washing is acceptable if a few precautionary steps are taken to prevent ruining the tights permanently. Placing the tights into a lingerie bag or pillowcase prior to putting them into the washing machine is an excellent idea. By turning the wash temperature to medium and selecting a light spin cycle and a mild detergent will guarantee the tights do not get damaged or tangled. To dry them quickly, place them in the clothes dryer on delicate for a few rotations. Tights with a slight ladder should always be hand washed, but all other types are fair game as long as care is taken.
Famous Tights Wearers
Who are some of the more famous tights wearers? Rihanna opts for sheer tights when dressing up and opaque tights in bright colours when dressing to go out for the evening. Katy Perry always wears tights or support, even under pants and long dresses, when performing. Her preferred denier range is between 10 and 20 for durable and practical wear onstage. Jessie J prefers sheer, less-than-10 denier tights for her appearances on the red carpet. She loves to show off her long legs wearing tights with subtle threads of silver or gold sewn in to sparkle and catch the light. Kylie and Dannii Minogue both wear tights when performing in concert. Their legions of fans argue amongst themselves over who has the best set of legs.
How to Find the Perfect Pair of Tights on eBay
When looking to buy the perfect pair of tights on eBay, you will have greater, more efficient success when you narrow your search for the specific type of tights you desire. Start by entering 'women's tights' into the search bar on the homepage. Don't let the thousands of choices that invariably pop up overwhelm you. If you have certain specifications, plug those into the search bar. For example, if you are searching for green, opaque women's tights, then plug in 'green opaque'. Look around to see what sellers are top-rated, and visit their eBay page. Often, sellers have more products for sale in their shop than what shows up in the initial search. You may qualify for free or reduced shipping if you buy in bulk. Also, take heed of the seller's return and exchange policies in case you receive product that is damaged or doesn't fit. This can save you lots of aggravation, should a return prove necessary.
Conclusion
Tights are an excellent choice to accessorise an outfit. The many options available means that it is not difficult to find that perfect pair for any setting, day or night. Colours and textures add interest to neutral skirts and dresses, while subdued tones make for a more sophisticated look. It's helpful to familiarise oneself with the variety of fabrics available, and what the accompanying denier number signifies. Tights come in a range as low as 3 denier to as high as 100, depending on the structure of the fabric. Sheer tights are less than 10 denier and are perfect for warmer weather. Tights over 40 denier are an excellent option to wear in cooler climates. For the lady looking for a fashionable pair of tights, the market offers tights in a vast array of colours and styles, from footless leggings to fishnets, in an array of colours to enhance any outfit.