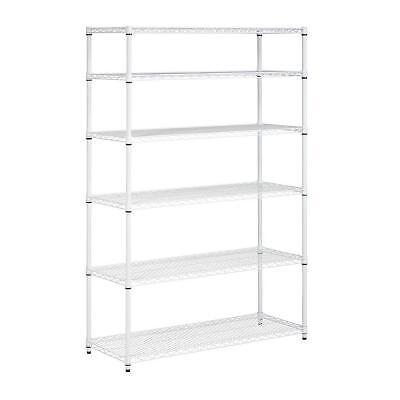 When looking to buy shelving, there is a bewildering array of products available on the marketplace, for both commercial and home use. Shelving can be an expensive outlay, especially if the shelving that is purchased does not meet the specific needs. Commercial shelving can be for office use or for use storing items of stock. Whatever the use, the shelving must meet health and safety requirements. Because some shelves can be very large, it is often not easy to find brick-and-mortar retailers who have a wide range of either type of shelving on display. However, online retailers offer shoppers a good way to see a wide range of available products. Because it offers a wide range of commercial and domestic shelving products, eBay is an ideal site for buyers to find exactly the type of shelving they need.
Types of Shelving
Every office needs additional storage at some time or other. Purchasing shelving units is a straightforward way to solve that problem, and eBay offers a number of different shelving products. Shelves are available in many types, including freestanding and wall mounted, and are available in a wide variety of materials and designs.
Before making a purchase, it is important to consider what the shelf is to be used for. The size and weight of the items to be stored is a major factor in the type of shelving that must be purchased.
eBay is a good source of shelving for commercial uses. Most businesses require shelving to store stock and supplies of one sort or another. Whether it be the need to store stationery supplies in an office environment or stock waiting to go onto the shop floor in a retail environment, businesses require shelving that addresses functional needs. Health and safety considerations are very important in a commercial environment. Commercial shelving units generally have four or five shelves, and come rated with a maximum recommended weight for the particular construction.
Fixed Brackets
eBay offers shoppers a wide range of wall mounted shelving units to choose from. The most rudimentary shelf unit consists of two rudimentary wall brackets supporting a shelf made of a simple, wooden material, such as MDF. In many cases, sellers are sell these simple wall brackets, individually.
For a more flexible solution, buyers should consider double-slot shelving. Double-shot shelving kits consist of two bars that attach to the wall. Each bar features a number of double-slots, into which one or more shelf brackets can be inserted. This arrangement allows users to quickly install shelf brackets and easily alter their positions at a later date. Fitting these brackets is a simple matter. They are designed so that the longer arm of the bracket is fixed to the wall while the shorter arm supports the shelf itself. They are easily fixed to a wall, either by using wall plugs or by fixing a batten to the wall.
Built-in Shelving
The purpose of most storage solutions is to make the best use of available space, and built-in shelving makes use of any sized alcove in a wall. Space either side of a chimney breast is often dead space but built-in shelving solutions found on eBay can turn this space into useable storage. Shelving solutions can be made to individual widths, and have a variety of shelf positions. This makes a shelving unit that is built into an alcove very practical, in addition to being an attractive addition to a room's decor.
Adjustable Slotted Systems
The simplest and most flexible type of shelving is the adjustable slotted system.These may differ in small ways, but the key parts are the same. They start with a pair of vertical rails that fix to the wall using wall plugs and screws. They utilise a variety of mechanisms that allow the shelving brackets to fix to the rails. The brackets usually fit into a slot in the rail or clip in using a proprietary mechanism. The rails that fit to the walls determines how much weight the shelves support. Adjustable slotted systems of this type also allow shelves to be moved once they have been put up. It is simply a case of removing the shelf bracket and moving it to another location on the vertical rail. eBay features a number of these for sale at reasonable prices.
Shelving Issues to Be Aware Of
Shelving brackets sometimes fail, and when they do the consequences can be disastrous. Invariably, failures of this type occur for one of two reasons: either the shelf is not fitted correctly, or the shelving is burdened with too much weight.
Any shelf must be fitted tightly to a wall, using wall plugs and the correct type of screws. The manufacturer's installation or assembly instructions should be followed carefully. These are usually available from the seller, but if they are not they can often be found online. All shelving of this type also has a weight capacity that should be adhered to, and eBay sellers should be able to tell prospective buyers what that capacity is.
The maximum weight a particular type of shelving can support should always be considered before purchasing. The item's detailed description should give an idea of the shelving unit's weight limit. If the seller has not included such details, it is a simple matter to make an inquiry using the eBay messaging utility.
Free Standing Shelves
For many shoppers, shelving is not simply about creating additional storage. A set of free standing shelves is meant to be part of the interior decor of the home. Shelving is available in a wide range of styles, and any shopper needs as wide a selection to choose from as possible. Shelves are available with be open fronted designs or behind glass doors. Glass doors are a good way to protect the items from collecting dust, which routinely builds up in any home.
Corner Shelves
To make maximum use of the space available, users should consider installing a corner shelf. Corner shelves fit neatly into a corner that might otherwise remain unused. This is an effective way to increase storage space, and they make an attractive addition to the decor of a room. A corner shelf fixed to a wall with two brackets is also an effective way to mount surround sound speakers or store devices such as webcams or mobile phone chargers.
Shelving Materials
Wooden furniture has always had an allure, and MDF shelving covered in wooden veneers makes an attractive addition to any room. Solid wood is often used to make more substantial pieces of shelving furniture. Pine is widely available, and is found in a variety of stained finishes, from natural to distressed wood. Sustainably-grown oak is now becoming widely available, even from British farms. This means that hardwood furniture is now affordable for many shoppers for the first time.
Modern day plastics make good materials for commercial shelving. They are tough, durable, and easy-to-clean. They are also available in a range of colours, which can be a useful way of indicating how stock is organised.
eBay lists free standing shelves in a variety of materials. Classic woods such as pine and oak are widely available and lend themselves to more traditional office designs. For shippers looking to find office shelving with a more contemporary look, eBay lists shelves in a variety of modern materials such as glass and chrome.
How to Buy Shelving on eBay
To find the available types of shelving on eBay, simply type "shelving" into the search bar that appears on every page on eBay. After you have entered your search term, eBay returns a list of items that you might be interested in. You can then scroll through and browse the listings. For more information on a specific listing, simply click on it to open the detailed information page.
You may find there are too many listings to make sense of, so eBay provides a filter system to help narrow down your search. The filters that eBay offers depend on the search term you are using, but it usually offers such filters as maximum price, seller location, and condition (whether new or used). As you narrow your search, eBay will suggest more filters to further narrow the number of listings until you are satisfied with the number and types of selections.
Conclusion
Buying new shelving is a solution to a variety of problems. For both domestic and commercial shoppers, new shelving can often be a response to lack of storage space issues. Moreover, in some circumstances, a shelving unit can be an attractive and decorative addition to the decor of your home or office. For shoppers looking to buy a new piece of furniture, visiting a High Street retailer may often mean there is only a limited choice of items, as shelving is quite bulky to display. Online platforms such as eBay offer a wide range of choices that solve these problems. Buying shelving on eBay means that shoppers have a wide choice of styles and materials to choose from. It also means that they have the choice of shopping at a time that is most convenient for them, as eBay is available all the time.