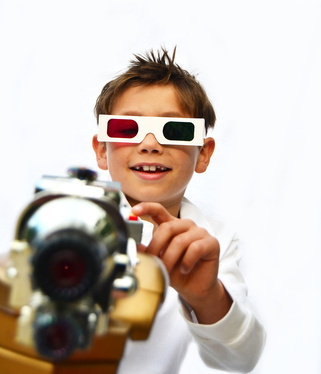 Shooter games are a subgenre of action video games wherein the player is afforded the real experience of wielding a gun to fight a variety of foes. These fun, but controversial, games help to form skills as players are taught to gradually improve both speed and reaction time. This is achieved through the use of surprise attacks and difficult-to-shoot targets that are randomly thrown in the mix.
Despite the violent premise, shooter games have long been among the more popular types of video games. Since the days of Nintendo's Duck Hunt, the number and complexity of shooter games has grown at record speed. There are different genres of shooter games that fall beneath the blanketed category, including first-person, third-person, light gun, shooting gallery, and tactical categories. If one is looking for shooter games, then there are few considerations to take into account. These include the rating of the game, the type of console, and the condition, among others. eBay shoppers can find a large variety of of shooter games on the website. One only needs to be aware of the many functionalities available on the website in order to make the right purchase.
Seek Preferred Titles of Shooter Games
One of the first things to do when seeking video games on eBay is to try looking for specific titles. Consumers who are interested in a specific shooter, such as Hitman or BioShock, can find a variety of listings for those specific titles much faster by using the specific, rather than vague, search terms. In some cases, they may also be lucky enough to find a "video game lot" featuring several related titles for a bargain price. Even consumers who are seeking a title out of pure curiosity may be supplied with a number of options, frequently featuring detailed listings describing the rating and other game details. In fact, reviews and listing details from eBay sellers may be the factor that helps determine which games to buy and which ones to leave behind.
When seeking a specific title, remember that some video game titles are part of long sagas, with multiple sequels and subgames even within the same generation of console. In some cases, these may not be as obvious as being marked 1, 2, or 3. The result could be searching for BioShock: Infinite, but ending up with the older title, simply named BioShock. Though these two games have only slightly different names, the games themselves are entirely different. Purchasing the wrong title could create an embarrassing mistake when one is setting out to buy a game as a gift.
Check Rating of Shooter Games
Before purchasing a game on eBay, it is important to check its rating. This is especially important if the purchase is for a child who is old enough for shooter games. Video games in Europe have a Pan European Game Information (PEGI) rating. These ratings not only determine whom a game is appropriate for, but also who can purchase a game. Individuals may not purchase games in stores, intended for ages 17 or up, without proper identification. The PEGI ratings are based on the ages for which a game is appropriate. They are 3, 7, 12, 16, and 18. Simply put, the number of the box indicates the absolute youngest player for whom the title is appropriate viewing.
The following chart illustrates the basic guidelines of the rating system.
| PEGI Rating | Meaning |
| --- | --- |
| 3 | Suitable for all ages. Can include comical violence. |
| 7 | Suitable for age seven and older. Can include frightening scenes or sounds. |
| 12 | For age 12 and over. Mild bad language. Can contain more graphic violence towards fantasy characters or mild violence towards human characters. may contain nudity. |
| 16 | For players 16 and older. Can show use of drugs, tobacco, violence, sexual activity. |
| 18 | For adults. Includes gross violence. |
It is also a good idea to check the Entertainment Software Rating Board (ESRB) rating for games that originate in the United States. This helps determine if the game is appropriate for the intended audience. Refinement options available from eBay make it possible to exclude certain ratings. This can make finding the appropriate games easier.
Verify Game is Scratch-Free and Working
Video games typically come on discs. Although discs can last an almost infinite amount of time under the right conditions, there are many simple issues that can leave them damaged and defective. Severely scratched discs are a big problem. When scratched, these discs fail to work properly. Though discs can sometimes be refinished, this is an added expense that may or may not correct the issue. For this reason, it is important for consumers to verify the status of a video game before purchasing it on eBay.
Consumers often find that many of the game titles they desire are available new on eBay. Of course, a variety of used games that are in like-new condition is also available. If the condition of a game is not mentioned in the description, then the consumer should send a message to the eBay seller inquiring about the status of the disc. eBay shoppers can find contact information for a specific seller by visiting the seller's feedback profile. Sellers can respond with answers to questions or more pictures of discs, if need be.
Check for Special Codes or Accessories for Shooter Games
Some video games, especially those with online content, may come with special codes that enable the users to download or acquire extra storylines or virtual accessories. In other cases games may require a special sort of accessory in order to play, such as in the case of games like Wii Fit or Dance Dance Revolution.
If these special codes and accessories are an important factor in shooter games, it may be worthwhile to find an eBay seller who is offering both the game and the additional elements. Sometimes, purchasing these items separately offers a more economical deal. As the deals on eBay vary based on what is being offered at the time, it is a good idea to check with the seller.
Verify that Shooter Game Is Designed for the Correct Console
Different types of consoles are available in the market, and each console offers exclusive video game titles. Many of the more popular titles may be available for several consoles. They are not, however, interchangeable. In other words a game designed for the Microsoft XBox 360 is not compatible with Sony Playstation 3. The same goes for computer-based video games. Many popular console titles are also designed for computers, with some for the Mac and others for the PC.
Generally, eBay sellers include this information in the game listing and title. If one is unsure about the game being compatible with a device, it is important to inquire with the seller.
Buying Shooter Games on eBay
A great way to find shooter games on eBay is to use keywords related to the genre or the specific game you wish to purchase. For example, you could search for "shooter games", or you could look for something more specific, like "Hitman". With tens of thousands of listings on eBay for shooter games, picking the right game can sometimes be a challenge. Once the results flood in, it is possible to reduce the listings to a more manageable number through the use of eBay's filters. You may opt to filter by games for a certain console, with a certain rating, or those that have been released in a specific time period.
Determine the shipping total for an item that you plan to purchase on eBay. At times, the cost of shipping and handling can be high enough to make a substantial difference in your desire to make a purchase.
Video games can be expensive, and the discs are somewhat fragile. This is one investment where paying extra for shipping insurance really makes sense. If the seller does not already offer insurance as part of a package, find out the cost of insurance and if it can be added.
Conclusion
Shooter games are an especially popular genre of video games. There are different types of shooter games within the category. They may be fantasy-based or rooted in gritty reality, appealing to different audiences. Some feature engrossing storylines, while others are little more than virtual target practice sessions. Shooter games are available on every console on the market as well as on handheld game devices, smartphones, and personal computers.
Consumers who have an interest in video games can find a variety of shooter games on eBay. Options include both new, used, and rare collector's editions. With so many options available, it is very easy to find the specific type of game one wants on eBay. Listings are comprehensive and thorough, and one can find a wide range of prices, depending on whether the games are in new or used condition.
Thanks to its large network of sellers, eBay makes an excellent source for the game enthusiast who is looking for a specific or hard-to-find title at a great price. Consumers can also find consoles, accessories, and related products on the website.