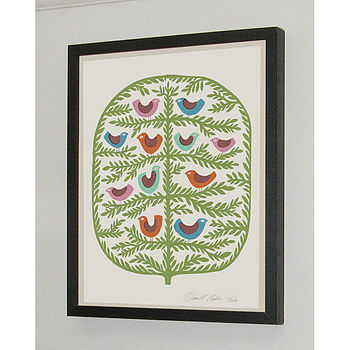 Prints are an affordable way to own sought-after works of art and give everyone a chance to own pieces that are otherwise out of reach. Of these, the most sought-after prints are those that are Signed Limited Editions and as such they carry a value that far outstrips any other reproductions that can be bought on the high street.
The following buying guide tells buyers what makes an item a Limited Edition, things to look out for when examining for authenticity and how to buy one safely and securely on eBay.
What Makes a Print Limited Edition?
Painters have produced prints for centuries and there are certain characteristics a Print must have in order to be classed as a Signed Limited Edition Print.
The bullet points below explain what they are in some more detail:
Signature
Print must have a signature if it is to have any credibility. It's very important to check the right person has signed it and that it's the correct signature. Any irregularities will bring the value down.
Edition Number
Expressed as X of X (for example 1 of 20) and tells the buyer how limited the print is that they are buying. This must be present along with the signature for the print to be authentic.
Different Eras of Print
As prints have been produced for such a long time, they are put into categories depending on the era in which they were produced. Those eras are explained in the table below:
| Era | Years |
| --- | --- |
| Antique | Pre-1900 |
| Modern | 1900-79 |
| Contemporary | 1980-Now |
Types of Print Produced
Prints are made in a variety of ways with each being attractive to a different class of collector. The table below outlines the different type of prints, their characteristics and what kind of buyer seeks them:
Print Style

Description

Antique

· Highly sought after prints that will have been produced prior to 1900 – which is a requirement for it to known as an Antique.

· Tend to be priced higher than any other print.

· Often illustrations from aged books.

Etching/Engraving

· Image is created using a sharp object and was regularly used to recreate art many years ago.

Giclees

· Use a digital image of a piece of artwork and then print it onto a canvas or watercolour paper using a printer.

· Colour is very rich and the majority of contemporary artists use this method.

· Before buying be sure to check the quality of printing and printer used.

Heliogravure

· A photographic transfer creates etchings on a metal surface.

·

Lithograph

· More traditional method of creating prints and it is the place to look for older reproductions.

· Lithography uses a stone or metal plate with a smooth surface that is treated so that ink only adheres to certain parts of it.

· The image is printed onto wet paper from the stone or metal plate and then numbered and signed by the artist.
Art Style
While searching for Signed Limited Edition Prints on eBay, buyers will notice that art is also categorised by the style the artist painted it in.
The table below outlines some of the styles for sale on eBay and what buyers can expect them to look like:
Art Style

Description

Abstract

Will not portray an object, person or place in the real world.
Art is based on what you see and relates to everything to do with the work.
Primarily seen in the 20th century.

Art Deco

First surfaced in the 1920s before enjoying a renaissance in the 1960s
Characterised by geometric shapes, symmetrical designs, bold colours and use of plastic and glass.

Cartoon

Visual art that originated in Italy.
Used in the creation of Frescoes (mural paintings on plaster).
Cartoons linked the pieces together and there are many examples by prominent painters such as Leonardo Da Vinci.

Impressionist

Originated in France during the 1870s.
Looks to create an experience by a system of different impressions.
Uses a number of unmixed primary colours and tiny strokes to stimulate natural light.

Outsider Art

Works painted by artists that don't recognise themselves as artists due to lack of training.

Pop Art

Uses scenes and objects from everyday life.
Copies other media including advertising, science fiction and comic strips to make pieces of modern art.

Realism

A general attempt to depict subjects in accordance with secular and empirical rules.
Started in 1850s France.
Designed to look "true-to-life".

Surrealism

Began in 1920s France.
Movement tries to translate the stuff of dreams into art.

Vintage

Created between the 19th century and middle of the 20th century.
Reflects artist's thoughts on a certain era.
Does Size Matter?
A lot of debate surrounds the size of Signed Limited Edition Prints and whether it has any effect on the value of the item. It's generally accepted by artists that size doesn't matter as long as the item is numbered using the system mentioned earlier and the signature of the artist is present.
To sum up, the size of print, as long as it's numbered and signed, won't affect the value of the Print.
Check the Print is Verified
To ensure that Limited Edition Prints meet a certain standard there are a couple of bodies that oversee the industry.
In the UK, the Fine Art Trade Guild is employed to adjudicate the process. They do this by employing a strict set of laws and regulations that cover the processes involved when creating a Limited Edition Print.
In the USA, each state's consumer protection laws cover the process and violation of these laws result in large fines.
The two bodies in place mean that most prints can easily be verified. Another way to make sure the Print being bought is genuine is to research it thoroughly.
Research is Key
When buying a Print from eBay it's important to do as much background research as possible.
This goes for everything from the artist that painted the picture and the scene that has been produced in the picture, to the seller that has the item up for auction on eBay.
How to Buy a Signed Limited Edition Print from eBay
There are a huge number of different works of art on eBay and the Signed Limited Edition Prints in this guide are just one strand of that sector. That in itself means there are some very experienced sales people in the art industry on eBay and it's among one of the most competitive places to buy any types of art online.
To search for Signed Limited Edition Prints on eBay, first click on the Art category. From there, it's as simple as scrolling down to the Prints option and clicking on it. From there on you can choose from a number of options that will narrow down the search for Signed Limited Edition Prints. eBay allows buyers to search using the era in which the Print was first produced. The options include Contemporary (1980-Now), Modern (1900-1979) and Antique (Pre-1900).
When the buyer has chosen one of the periods above, a wealth of new options will become available. These include being able to search by Medium (Print Style), the Style of the piece, and Subject.
For Signed Limited Edition Prints it could be more appropriate to search for them by an individual name. This can be done by typing in search terms into the search box present on every eBay page.
If at any time you're unsure about item details, don't hesitate to Ask the Seller a question to find out more. There is even a Buying Tips section that will provide even more help if required.
When the buyer has decided on the item and are ready to Buy then it's up to them to either place a Bid, click the Buy it Now button or place their Best Offer. Using PayPal will make sure the transaction is secure and goes through as smoothly as possible.
Safety Considerations When Buying
The confusion over Limited Edition means there are a number of different interpretations and it's something to look out for when buying from eBay. It makes the item description extremely important and anything else that isn't listed should be put to the seller in the form of an Ask the Seller submission.
When looking at items on eBay remember to check the seller's transaction history carefully and scrutinise any negative feedback that has been left. If at any time you become unsure of the seller involved ask them any questions that you feel are necessary.
Most eBay sellers will have some feedback left on their profile and if none is present, it's another reason to go over everything extremely carefully before making an order.
Before placing a bid read through the conditions of sale a number of times and if there's anything that looks untoward then use the Ask the Seller option.
Conclusion
Signed Limited Edition Prints are an extremely valuable addition to all locations they are put on display and guaranteeing authenticity is a big consideration to take when buying. Some of the main points to clarify before making an offer for one on eBay are as follows:
Ask as many questions as you feel necessary.
Check the print has a signature alongside the edition numbers.
Ensure the respective country's art guild or regulatory authority has verified the edition.
Do some extensive background research first.
Once consideration has been duly taken in relation to these questions, you will be able to make a solid decision on the item and make a bid. After everything's tied up be sure to use PayPal to complete transaction safely and securely.