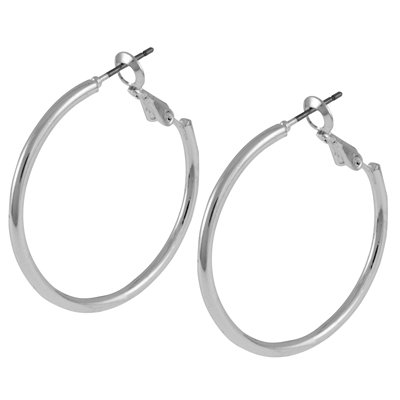 Made popular by pirates and women alike, the silver hoop earring has a long tradition of being worn by a variety of people. They came into fashion for many different cultures and for a variety of reasons when people first learned to mould silver and began piercing their ears. Some say that they came into fashion approximately 3,000 years ago in the Middle East.
Silver hoop earrings can be a great fashion accessory for any occasion. They can be dressed up or dressed down depending on the event or outing. The silver hoop earring has long been a staple of many wardrobes. There are silver hoop earrings that are worn by both men and women. While men tend to move toward the single, small silver hoop inspired by pirates, women are a different story entirely. A women's hoop earring can be any size and often varies in shape, type of stone or charm, and the back of the earring. Silver hoop earrings can be purchased from jewellery shops, department stores, and through the online auction website, eBay. Before purchasing silver hoop earrings, consumers should understand the types of men's and women's silver hoop earrings, the various types of stones and charms they contain, and the different types of backs available.
Men's Silver Hoop Earrings
Men's silver hoop earrings have been a fashion accessory for centuries. They have dropped in and out of fashionable wear throughout their history. Many men in ancient times would wear a small hoop as an indicator of status, wealth, power, or success. They have been sported by pirates, noblemen, and stockbrokers alike. In more recent history, they have been made once again fashionable by the media, actors, and films. Many men choose to wear a single, small solid hoop as an accessory to a variety of fashions. Since men remove their earrings less than women, it is not uncommon to see a formally dressed man with a silver hoop or a man in casual dress sporting the same style earring.
Women's Silver Hoop Earrings
A pair of women's silver hoop earrings come in a variety of fashions. The size of the women's hoop earring can vary from a small, solid loop in each ear to an overly large hoop that hangs to the shoulder. There are a wide range of silver hoop earrings that Tiffany & Co make. You can purchase them on ebay.
Size
Women's silver hoop earrings can be a thin sliver of a circle, which are worn with a delicate dress and other understated jewellery. They can also be thick and worn to complement bulky jewellery worn elsewhere. Many women match the size of their hoop earrings to the mode and style of their dress or their hairstyle. Hairstyle can play an important role in the decision to wear hoop earrings. Long hair worn down is usually best complemented by a small silver hoop. The smaller hoop is less likely to tangle in long hair worn down.
A larger hoop can easily be worn by a woman with short hair or a woman who is wearing her long hair up and off of her neck. A woman with short hair or with her hair pulled back is usually not in danger of having a large hoop become tangled in her hair, which can be painful.
There are a variety of hoop sizes in between the large and small hoops. The hoop earring also varies in shape as well as size.
Shape
Although the women's silver hoop earrings are often thought of as a circle, they can vary in shape. Some of this variance is in width, style, and backing. A hoop earring simply describes the fact that the earring comes down one side of the ear and back up the other. Each hoop earring can be in any shape as long as it wraps completely around. There are hoop earrings that are folded into octagons, hexagons, and other geometric patterns. They can also be found in spirals and other more creative patterns.
The width of hoop earrings also varies. They can be a few millimetres thick up to a few centimetres thick. Many of the wider hoop earrings are patterned or made from textured or pounded metal. Hoop earrings of all sizes and thicknesses can be bevelled, have designs carved into them, or have different thicknesses within the same earring.
Silver Hoop Earrings With Stones and Charms
The silver hoop earring can be a very versatile fashion accessory. Precious stones, semi-precious stones, synthetic stones, and charms can be added to them to change their style completely. The change in style can be done quickly and easily depending on the type of charm or stone. These changeable earrings are perfect when going from day to evening wear without having to switch out the earrings.
Charms
The charms that are available for a pair of thin hoop earrings are as varied as the earrings, themselves. They can be purchased in just about any size, shape, style, or other configuration. They can be changed to match an outfit, display something that is a favourite, or dress down an outfit. These charms make a standard silver hoop earring into something personal and special. If the subject of a particular charm cannot be found as an earring charm take a look at some of the charms and beads meant for bracelets. Many of those can be used for earrings as well. All that a person has to do is make sure that they do not weigh down the earring excessively.
Precious, Semi-precious, and Synthetic Stones
Silver hoop earrings can also have an inlay of a variety of different styles. Precious, semi-precious, and synthetic stones are often set into the simple silver hoop earrings. A single set of similar coloured diamonds can make the simple hoop shine. Birthstones or other semi-precious stones can be used to add colour to a silver hoop earring. Synthetic stones can also be used to accomplish this effect. They can be multi-coloured, multi-faceted, or both.
Earring Backs for Silver Hoops
Unlike other earrings, silver hoops come in a large variety of backs. There is a clip back, which snaps into place with the opposite side of a hoop, which secures the hoop and anything that may be attached to it. Then there is the regular earring backing. This type of hoop ends in a post like most other earrings. A normal earring backing that fits secures the hoop. The French back, or clutch back, has a small ring that flips up onto the post, which secures the earring to the earlobe. The ring sits against the back of the earlobe. The screw on the back is exactly what it sounds like. It is a backing that twists onto the post of the hoop earring. Each of these backings secure the earring through a pierced ear.
There are also earring backs for those without pierced ears. Magnetic earrings, including hoops, have become increasingly popular because they do not require pierced ears. There are also clip-on hoop earrings that also do not require pierced ears. The clip on some earrings have a screw-in post on the back or a standard spring clip for both back and front. These varieties come in all of the styles listed above but cannot take much weight, and sometimes pull off easily. The larger varieties of these pull free if they become tangled in hair or clothing.
Buying Silver Hoop Earrings on eBay
Purchasing silver hoop earrings on eBay is not difficult. All you have to do is navigate to the eBay website and some search terms into the search box, and then click search. For a broad search type "silver hoop earrings". For a narrower search, type something like "diamond silver hoop earrings". This brings up a list of all of the products available that match those search terms.
When you find a listing that you want to take a closer look at, simply click on the listing and a detailed view of it is populated. First, read the description, then take the time to read the seller's shipping and return policies. These policies are extremely important if something goes wrong with the order. The seller also has a feedback rating included on his or her listing that details the seller's reputation. Most sellers on eBay have fairly good reputations but it is good to make sure that the feedback is positive just in case.
Conclusion
Since the silver hoop was produced 3,000 years ago, it has undergone many different changes. There are many sizes, types, styles, and backs to the classic silver hoop earring. It has evolved from a simple silver adornment into a fashion statement. Some hoops are appropriate for both men and women, while others are solely women's fashion jewellery. The hoop can be both decorative and adorned or simple and classic. Each of these styles are available on the popular auction website, eBay. Purchasing on eBay allows the earrings to be purchased from the comfort of your own home.
The hoop earring can be used for formal evening wear or for a more casual look. They are simple to purchase and can be worn even if your ears are not pierced. Whether you choose the timeless look of the classic silver loop or the more adventurous look of a loop with inset stones or charms, the silver hoop complements a variety of looks and outfits.