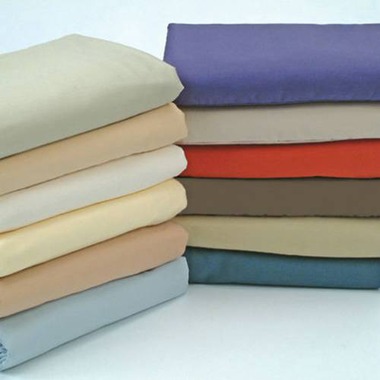 Sliding between clean, soft sheets at night is a pleasure that everyone should be able to experience. While making a bed is a chore that many people groan about, few can deny how much better the bedroom looks when the bed is neatly outfitted with sheets that coordinate with the room's décor, or how much better a snugly made bed feels.
In order to make a bed up properly, it is necessary to have the correct size sheets on hand. Most people keep at least two sets per bed on hand, so that there is always a clean set ready to go when the set that is on the bed goes into the laundry. When it comes to sheets, buying decisions are pretty much the same for all standard sizes, including small double sheets.. The first step is to be sure of the correct size for the mattress. Then, making a purchase is simply a matter of choosing the preferred material, colour, and pattern. Buyers should also be aware of the option of purchasing sheets in sets or individually, as well as laundry care for bed linens.
Sheet Sizes
Before purchasing those small double sheets, one should be sure it is the correct size for the bed in question. It is easy to confuse a small double with a double or sometimes even a single when attempting to judge visually.
| Mattress Dimensions | Sheet Size (centimetres) |
| --- | --- |
| Small single | 75 by 190 |
| Single | 90 by 190 |
| Small double | 120 by 190 |
| Double | 135 by 190 |
| King | 150 by 200 |
| Super king | 180 by 200 |
The chart above can be used to determine and confirm the necessary sheet size. Once a shopper is sure that he or she needs small double size sheets, there are a few more decisions to be made before making a purchase.
Sheet Materials
Regardless of size, sheets come in a few different material options. The most popular high-end sheets are made of Egyptian cotton.. Egyptian cotton is softer and more durable than regular cotton. Another natural luxury fabric is silk.. Similar in feel to silk, but easier to care for and less expensive, are satin sheets made of polyester. Good sheets for everyday are 100 percent cotton,, either woven or in a modern jersey knit.
For added durability and wrinkle resistance, one can choose from a cotton blend and polycotton varieties; however, cotton is easier to clean than polyester, which has a tendency to hold onto stains. For extra warmth in cold climates, flannel sheets feel cosy.
Sheet Weaves
There are two basic types of weaves when it comes to sheeting: percale and sateen. Both are described below.
Percale Sheets
Percale is the most common weave; if a weave type is not mentioned on the product packaging, then the sheets are most likely percale. A percale fabric is densely woven and smooth with a matte finish; percale can be woven from any fibre or fibre blend.
Sateen Sheets
Sateen initially feels softer than percale due to its uneven weave; however, the downside is that sateen does not have the longevity of percale. Sateen sheets also have a slight sheen and a more luxurious look initially.
Sheets in Other Weaves
Sheets are also available in jacquard, damask, and other types of weaves although these other weaves are not nearly as common as percales and sateens.
Sheet Colours and Patterns
For adults, neutral-toned sheets in solid black and white are some of the most popular colour choices. These colours go with a variety of decorating styles and can even be kept when the comforter and other design elements are changed out. For people who keep their beds made, plain sheets such as these may be less expensive than designer sheets. Other than solids, sophisticated patterns include stripes (shadow or contrasting), florals, or geometric designs. In the case of coordinating bed linens, these are ideal for those who tend to leave the bed unmade, since the cheerful colour or print showing gives a more finished look to rumpled linens.
Children's bedrooms are ideal for bright colours and fun patterns, and anything that encourages little ones to go to and stay in bed is usually worth carrying out. Allow teens, kids, and even tiny tots to pick out a pattern or colour if they are interested. This helps them to feel more comfortable and happy in bed.
Sheet Sets vs. Individual Sheets
Depending on the manufacturer, sheets may be sold individually or as a set that includes a flat top sheet, a fitted bottom sheet, and one to three pillowcases (depending on the size of the bed). This is a convenient way to purchase a complete matching set. Some people, however, prefer to get individual sheets and follow the practice of hotels that use two flat sheets instead of one flat and one fitted. This cuts down on sorting time and makes folding easier; anyone who has ever struggled with folding an elasticised fitted sheet will appreciate this. Purchasing linens individually also enables one to create a customised artistic look by pairing a solid sheet with a patterned one or combining two different colours.
Sheet Care
Sheets are relatively easy to take care of: They can withstand rigorous machine washing and high-heat machine drying, they are fairly simple to fold, and they generally do not require pressing unless one prefers to do so. There are a few tips, however, that will help anyone.
Pre-washing
Always launder brand new sheets at least once before using them on the bed. Sheets are full of chemicals that are added for crispness, sheen, and resistance to wrinkling. Dyes also leave a residue in sheets. Washing new sheets removes excess chemicals and makes sheets softer and less likely to cause irritation. This is particularly important for people who suffer from allergies or autoimmune disorders.
How to Fold Sheets
A flat sheet, being perfectly square, is easy to fold. One tip that younger folks may not be aware of is to make the first fold a vertical fold. This way, a crease will set in down the centre of the sheet; this crease can be used as a guideline for finding the centre of the sheet when making the bed.
Fitted sheets are a challenge but can be folded neatly by following some helpful guidelines. The steps are as follows: With the right side of the contour sheet facing down on a clean surface, such as a large table or bed, and the sheet oriented horizontally, fold the sheet in half lengthwise by bringing the top corners down to match the bottom ones. Line up the diagonal seams of the corners and tuck the bottom corners into the top corners from underneath. Then, turn the left side of the sheet over to meet the right side, like a book, being careful to keep edges straight and match up the corners.
Once again, tuck the bottom two corners into the top two corners so that all four are neatly nestled inside one another. Afterwards, straighten the sheet's edges and corners as much as possible. Finally, continue to fold the sheet so that it ends up approximately the same size as the folded flat sheet. It may be easier to fold the fitted sheet first and then fold the larger top sheet to match. Remember, this is one case where practice really does make perfect, so do not give up. Eventually, it will become much easier.
Where to Find Small Double Size Sheets
Standard sizes of sheets are sold at a variety of stores, such as
Dollar stores
Discount stores
Department stores
Bed and bath stores
Bargain and closeout stores
It may be possible to find used small double sheets at yard sales, consignment shops, charity stores, flea markets, or through online auction sites. Sheets tend to last a long time, even with regular heavy-duty washes, and many times people get rid of them only because of a change in décor.
How to Buy Small Double Size Sheets on eBay
You can find all sizes of sheets, including small double size, on eBay.. You can find sheets in one of two ways. The first way is to begin at the homepage and navigate through the categories and narrow them down as you go until you arrive at a listing of bed linens and sets. You can then check the filters for fitted or flat sheets, pillowcases, or sets of linens. The second way to find sheets is to return to the homepage and, using the search box, type in "small double sheets&" You can add in other keywords to personalise the search if you already know what you want.
Budget shoppers may wish to enter a price range in order to filter the results to include only those items that fall within the range. Some sellers offer free postage and packaging,, making it easier to compare prices and find the best bargains. You can also choose UK only vs. European Union sellers, which may reduce shipping costs.
Conclusion
Shopping for sheets, including small double size sheets, is not too difficult if you take the time to prepare by making a few simple decisions regarding the material, colour, and pattern. First off though, be sure that it is indeed small double sheets that will fit on the mattress. Some folks have not purchased bed linens for so long that they are not quite sure what size mattress they have. A small double bed is most often confused with a double, since there is only a 15 centimetres difference in width between the two.
Sheet materials range from the most utilitarian cottons and cotton blends to the finest silk and Egyptian cotton. Other choices include sophisticated satin or the casual charm of jersey or flannel. When it comes to coloured and patterned sheets, it is not always necessary to purchase a set that matches the duvet or comforter unless one leaves the bed unmade quite often. Those who are in the habit of making their beds up each morning find that the sheets make little difference since they are hardly ever seen; these people may choose to purchase an inexpensive solid white, ivory, or black set of sheets.
Whether a buyer chooses a prematched set of sheets or purchases sheets individually, he or she should take care to wash them before using them for the first time. This way, those small double size sheets will have anyone drifting off into a peaceful slumber in no time.