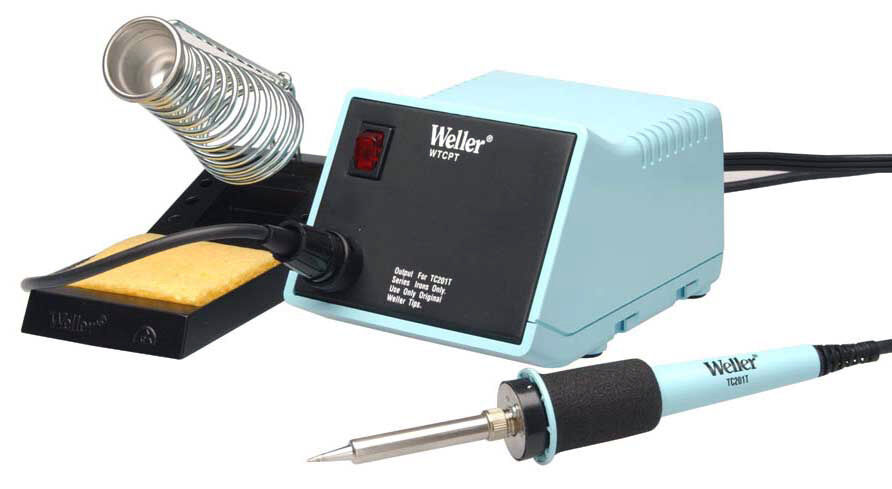 Although people do not often think about this, the many uses for soldering equipment around the home and at certain business locations is very significant. Many individuals, from home crafters and artisans to auto mechanics, use soldering equipment just about every day for jobs such as computer repair, auto repair, and some forms of metal sculpture.
When the time comes to purchase soldering equipment, shoppers can try to look for these tools all over town, including hardware stores and specialty shops, only to have to pay retail markup for limited choices of soldering equipment. Smart shoppers however, save themselves time and money by purchasing soldering equipment online at eBay. Not only is there a wide-range of choices, but shoppers can also benefit from the multiple types of sellers and the option to bundle purchases from one seller. Thanks to the website's many user-friendly tools, finding the right soldering equipment can be relatively easy on eBay.
Shopping for Soldering Equipment on eBay
While there are a few ways to shop for soldering equipment on eBay, an easy way is to do a keyword search. No matter what eBay page a shopper is on, one can search for anything by using keywords. Simply enter a basic search term, such as "soldering iron", into the search bar at the top of a page, and click the search button. When the results page opens, scroll through the options listed, or narrow the search results by selecting one or more of the filter options available on the page.
Another way to search for soldering equipment is to use eBay's category options. Because soldering equipment is used for multiple applications, they can fall under several different categories. To locate soldering equipment in the category that matches the need, enter the term "soldering equipment" into the search bar and then look at the list of categories that are presented. Then pick the appropriate category to find items listed under it.
In order to know the types of soldering equipment one needs to consider, it is important to know the equipment that is ideal for different types of projects. One can then tailor the search around those parameters.
Uses for Soldering Equipment
Soldering is the process of joining two or more pieces of metal through heating and melting solder, or filler metal, that has a lower melting point than the metal being joined. Different from welding in many aspects, the equipment employed in soldering projects is much simpler to use and does not require training and licensing.
Soldering is permanent under all conditions but can be reversed if heated purposefully. The connections created by soldering include joining copper pipes in plumbing applications. Connecting rain gutter joints and metal roof flashing are other uses around the home for soldering equipment. Mechanics find soldering especially useful for repairing radiator leaks. In addition to these applications, soldering equipment is used significantly in Heating Ventilation and Air Conditioning (HVAC) installation and repair projects for connecting Freon lines and repairing leaks.
Types of Soldering Equipment and Accessories
Although they are limited, a few pieces of equipment and accessories are needed for soldering projects. Some of the equipment is specific to the type of job being completed. Soldering guns, soldering irons, and various hand tools and accessories are needed to properly complete soldering projects.
Soldering Gun
A soldering gun is a multipurpose soldering tool that is often employed for heavy-duty jobs such as mechanical repairs, plumbing projects and other soldering jobs that do not require the minute precision soldering needed for electrical projects. Called a soldering gun because of its pistol grip design, this generally comes with interchangeable tips for soldering, smoothing, and cutting, and it operates on 100 watts of power.
Soldering Iron
Soldering irons are basically the same tool as soldering guns, except that they are more compact and streamlined for more delicate and precise projects, such as electronics manufacturing and repair and jewellery craft. Smaller than a soldering gun, a soldering iron is straight and held like a writing instrument. Because of their small size and light weight, soldering irons are easy to manipulate, allowing users to work on projects of minute scale. Just as with the soldering gun, a soldering iron can have interchangeable soldering tips, including several sizes to accommodate the project.
One added benefit of soldering irons is dual purpose; soldering irons that have interchangeable tips accept wood-burning tips, making the soldering gun a wood burner as well.
Soldering Gun/Iron Station
For several reasons, but importantly for safety, a soldering gun/iron station is a must-have piece of soldering equipment. Depending on the quality of the soldering gun or iron that is purchased, it may come with a station as part of the accessories. If however, the soldering gun is used, or is not sold with accessories, purchasing a station is necessary. The average station has a sleeve made from a heavy-duty spring mounted on a weighted base. The soldering gun or iron shaft and tip slide into the spring where it is safely held out of the way. Some stations are also equipped with a tray and sponge to keep tips clean. One can also purchase stands that have power packs with temperature controls.
Sponge and Tray
During the process of soldering, especially when working on very small projects, the need to keep the soldering tip clean is very important. A damp sponge in a small metal tray does the trick. These simple devices are inexpensive, which is good because sponges need regular replacement.
Solder
Depending on the project to be completed, the type of alloy combinations used in a solder can be different. Tin/lead works great for electrical work, tin/zinc is ideal for working with aluminium, zinc/aluminium for corrosion resistant projects, and lead/silver and cadmium/silver for projects on items that are operated at higher-than-average temperatures. The alloys are combined in such a manner that they melt at the same low temperature. Melting at a low temperature helps protect the items the solder is applied to, so that the solder is liquefied for smooth application.
Flux
One of the issues that can cause a solder joint to fail is that the solder does not adhere to the metal being joined. In most cases, this is because of some type of foreign object, such as dirt, sand, or sawdust, oils, or oxidation of the metal. By applying flux to the metals being soldered, oxidation is limited, and the joint adheres to the solder much better, making for a stronger bond.
Needle-Nosed Pliers
Needle-nosed pliers are one of the more useful items of tools to have on hand when working on soldering projects. These pliers come in different sizes and tip lengths, so finding sets to use with different projects is easy. Since people typically use the pliers one-handed, it is a good idea to buy needle-nosed pliers with spring-loaded handles; this aids greatly in manipulating the pliers and the objects being soldered. Additionally, it is a good idea to purchase needle-nosed pliers with insulated grips. Not only can they help prevent accidental electric shocks, but they also improve the user's grip.
Haemostats/Tweezers
Haemostats and tweezers are often used in place of needle-nosed pliers when extremely finite work needs to be done. This is needed for electronics work on circuitry, computer motherboards, and jewellery craft. Specific models of haemostats and tweezers that are intended for use with electronics projects have insulated grips.
Mounted Magnifying Glass
Also needed for projects that are minute in physical size, these magnifying glasses come in various strengths, some adjustable, and generally mount to the side of a table or workbench. This is attached to two or more hinged sections that can be manipulated as needed to focus on the project. The size of the magnifying glass can vary between styles and brands, and some even come with illumination accessories.
Clamps/Portable Vice
Depending on the job being performed, the items being worked on may need to be held at particular angles. Since one hand is likely to be occupied with a soldering gun or iron, and the other may be used to hold pliers, tweezers, or haemostats, a vice or set of adjustable clamps is a must. This not only holds the objects being soldered exactly as they need to be, but it also makes the process much safer.
Shopping for Soldering Equipment on eBay
After you determine what soldering equipment is needed to perform the planned project, you can search for them on eBay. It is important to read the descriptions on each listing to see if the product listed meets your needs. Check with different eBay sellers and shops that specialise in business and industrial tools to who has the all items you are looking for; if so, then you can possibly bundle the items into one shipment and save shipping and handling charges. As well as knowing if bundling is possible, look closely at the other seller information such as the accepted payment options so that you are making an informed purchase.
Each seller on eBay has a profile that buyers can view in order to determine if they want to do business with the seller. In looking at a seller's profile, you can look at the seller's history as well as feedback the seller has received from other buyers. Reading about their experiences with the seller and determining the quality of items sold and the delivery can help you gauge if the seller is someone you can work with.
Conclusion
Soldering equipment is extremely versatile in the applications it is regularly used for. Whether repairing a radiator or creating a beautiful piece of artisan jewellery, having the right pieces of soldering equipment is a necessity. For some jobs such as plumbing, automotive repair, and HVAC installation, a soldering gun, with its heavy duty pistol grip design is the right way to go, while electronics projects and jewellery design and repair need the more manoeuvrable benefits of a soldering iron. It is also very important to get other pieces of soldering equipment, such as needle-nosed pliers, stands, flux, as well as clamps and vises, that may be needed for a particular project.
To find great deals and a wide selection of soldering equipment, search online at eBay. The website's large network of sellers and user-friendly functionalities make finding the right kind of soldering equipment relatively easy. Be sure to check out the many options, the seller's information, and the applicable shipping and handling charges before initiating a purchase.