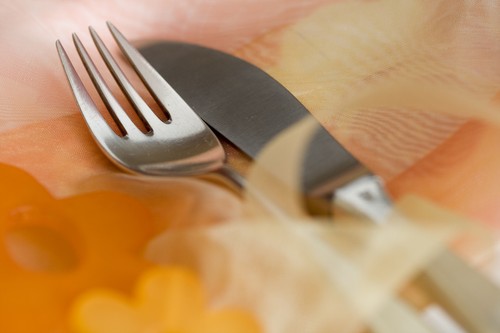 Silver cutlery adds a touch of glamour and a sense of refinement to any dinner party. Because of the durability of the metal, quality solid silver cutlery can last for generations. Antique solid silver cutlery includes handcrafted items that are over 100 years old, and they remain a widely popular and valuable collectors' item today. There is a wide range of choice when it comes to solid silver cutlery pieces and styles, many reflecting the current trends of the days when they were created. This guide identifies several factors to consider before purchasing solid silver cutlery, including the number of pieces to buy, common popular designs and styles of cutlery, as well as tips on how to take care of solid silver cutlery to ensure it retains its lustre and finish.
History of Solid Silver Cutlery
Silver has such a deep involvement in human history that it is unclear when the precious metal was first discovered. Silver that has been used as a form of currency, as household ornaments, and even as medicine has been recorded in history for centuries. Before the 18th century, people would bring their own cutlery to dinners. Solid silver cutlery was only available to those who could afford it. The industrial revolution and the advent of factories led to the mass production of silver cutlery, once a handcrafted trade of silversmiths. In 1842, silver plating was invented and was first used with cutlery by Elkingtons of Birmingham. Today, most cutlery and flatware is made from stainless steel.. To this day, silver's place in society as a luxurious item is still widely-upheld.
Discover Solid Silver Cutlery
Silver has a great ability to reflect light, even more so than gold,, and this quality is what makes silver cutlery so precious and beautiful. Silver is a soft, malleable metal which is why it is often mixed with 7.5% copper to harden it and make it practical as a household item. With a bit of care and attention, the brilliance of silver is easy to maintain and upkeep. As such, silver cutlery makes for a long-lasting investment for any family. In general, when buying silver cutlery, it is safer to buy pieces made by a well-known manufacturer in order to ensure that it is genuinely solid silver and not simply silver-plated..
Parts of a Solid Silver Canteen
In buying and building a silver canteen or set (sometimes referred to as a service), the number of people in the household and they types of courses to be served should be considered. Typically, there are six items per place setting and twelve place settings per canteen. A full canteen can be bought first, and other items can be added to over time or for smaller households. A half-canteen can also be an option. Below are some items that are typically found in a canteen, followed by some popular extra items that can be added to a silver collection.
| Item | Description |
| --- | --- |
| Table Knife | Used to cut items during the main courses. |
| Table Fork | Used to spear, hold, and cut items in main courses. |
| Soup Spoon | Used during the soup course. |
| Dessert Spoon | Used with dessert courses. |
| Dessert Fork | Used with dessert courses. |
| Teaspoon | Helps stir and remove teabags from a teacup. |
| Butter Knife | Small knife used to spread butter. |
| Pie/Cake Server | These items varied in size and made both cutting and serving simple processes. |
| Relish Fork | Can pick up chutney and condiments while allowing liquid to drain. |
| Seafood Fork | Used with seafood and designed to removing meat from a shell. |
Types of Solid Silver Cutlery Canteens
The following list describes types of solid silver cutlery canteens or sets.
Full Canteen - consists of 12 place setting
Half-canteen - consists of six place settings
Double canteen - consists of 24 place settings
Straight canteen - consists of components of the same pattern, the same maker, and generally the same date
Mixed canteen - consists of components of the same pattern, but not necessarily by the same maker or same date
Eclectic canteen - consists of competes of any patter, any maker, and any date.

Factors to Consider When Buying Solid Silver Cutlery

Budget – a solid silver canteen can cost anything from hundreds of pounds to thousands of pounds depending on age, style and condition. Depending on budget limitations, purchasing solid silver cutlery piece by piece may be a more cost-effective solution to building a set.
The number of pieces – It is important to consider how many people are in the household and the frequency of which special occasions and entertaining dinners will be held when determining the number of solid silver cutlery pieces to purchase.
The design of the cutlery – Solid silver cutlery can reflect styles that are ornate or simple and refined. Designs on silver cutlery can be detailed, with curves, ridges and indentations and some are even mixed with different materials such as bone or ivory. Style preference is often a matter of personal taste; however, some patterns and styles of solid silver cutlery may be considered more valuable than others.
Quality and feel of the cutlery – In general heavier solid silver cutlery pieces are made of better quality, although the ideal weight for a piece of solid silver cutlery is often a personal preference.
Typical Designs of Solid Silver Cutlery
1. Old English Pattern
This is considered one of the simpler, yet classic designs of solid silver cutlery. The stem of the handle widens from the middle, then curves down slightly towards the end and finishes with a rounded terminal. Old English is one of the most commonly found designs of silverware. This pattern was popular towards the end of the 18th century.
2. Fiddle Pattern
The Fiddle Pattern eventually gained popularity over the Old English pattern. This pattern is also known as the Oar Pattern, as the handle of the piece is shaped like an oar. Fiddle Pattern is also considered fairly simple and was widely produced in the 19th century.
3. Hanoverian Rattail
Cutlery bearing this design sometimes has a ridge like a rat's tail on the underside. This style of cutlery typical has a ridge running down its stem as well. This is quite a plain pattern and was made throughout most of the 18th century.
4. Kings Pattern
Kings Pattern is considered ornate and can be intricate. There are three main types of Kings Pattern, namely Kings, Queens, and Hourglass. These three types all have a similar shoulder at the end of the handle, but bear different designs on them. Queens is the most ornate and Hourglass the plainest of the three. As a whole, Kings Pattern was made from the early 19th century.
How to Care for Solid Silver Cutlery
The best way to minimise corrosion on solid silver cutlery is to rinse cutlery immediately after use with warm water and wash it with soap to get rid of any chemicals that could interact with it to tarnish it. Eggs and cheese contain high levels of sulphur and can cause corrosion. Immediately after washing and rinsing the cutlery with soapy warm and a non-abrasive sponge or cloth, dry the silver pieces completely with another soft, lint-free cloth. Hand washing is preferable to using a dishwasher when cleaning solid silver cutlery.
If the silver is showing signs of becoming tarnished, try polishing first with a special-purpose silver cloth. Wipe firmly but without excessive rubbing. There are also several types of cleaning products that all work in the same way to remove tarnish. These cleaning products include foams, liquid dips, sprays and granules that can be dissolved in water. For each of these methods, follow the manufacturer's instructions closely to ensure that the silver cutlery does not become damaged in the process of being cleaned. Clean individual solid silver cutlery pieces on their own to ensure they are not scratched, and make sure to remove all traces of silver polish and cleaning solutions.
Popular Solid Silver Cutlery Manufacturers
The following list outlines some popular solid silver cutlery manufacturers.
Arthur Price
CJ Vander
Elkington and Co
Georg Jensen
Mappin and Webb
Wakely and Wheeler
Walker and Hall
Wood and Hughes
Finding Solid Silver Cutlery on eBay
Once you determine the type of solid silver cutlery that you want to purchase, visit the Home and Garden portal on eBay, click on `Cooking & Kitchen Fittings´ and start searching item listings. The Categories list on the left-hand side of the eBay page helps to narrow the search.
Searching for Solid Silver Cutlery on eBay
Search eBay listing titles for specific words when shopping for solid silver cutlery. For example, to find a Georg Jensen solid silver spoon, type `Georg Jensen Silver Spoon´ into the search box, and then click the Advanced button to customise the results. Also visit eBay's Search Tips ppage for more advice on searching for solid silver cutlery with keywords. If you can't find the exact piece of solid silver cutlery you want, try shopping eBay Stores<.
Conclusion
Solid silver cutlery is a worthwhile investment that is a great to add old-style charm to any special occasion table setting. A deeper understanding of the types, styles, and designs of solid silver cutlery can help make the purchasing process an easy and hassle-free experience. Once you have collected this information, you can buy a piece or an entire canteen of silver cutlery safely and securely on eBay..