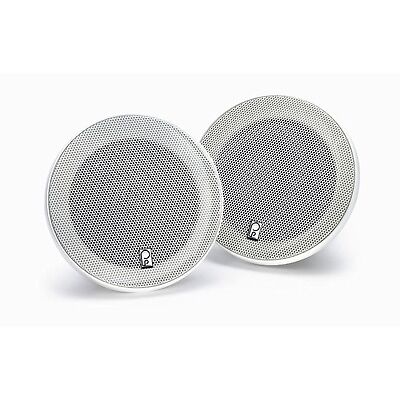 In the field of professional audio equipment, speakers can, in addition to being used in amplification of electronic instruments, be used as components of public address systems, and for studio monitoring. This article will consider the latter two applications, and look at factors to be considered when buying speakers for these purposes on eBay.
Public Address (PA) Systems

In the context of professional (pro) audio equipment, the term public address (PA) system is generally taken to indicate a system with a central mixing desk, allowing microphone and musical instrument inputs to be taken from a stage, and delivered to a matching amplification and speaker system to project them to the audience. Various configurations are available, with the amplification built into the mixing desk, known as an active mixing desk; with the amplification built in to the speaker system, known as active speakers; or with entirely segregated components, a passive mixing desk, separate amplification system, and passive speakers. Traditionally, this last setup would be found in most situations.

In earlier PA systems, speakers were divided according to their frequency range – low, mid, and high – with large cabinets, or bass bins, for the low end, smaller cabinets for mid-range, and smaller still for treble. Each range would require separate amplification, and the overall signal would be split into the frequency ranges by separate crossover networks. However, in recent years, the PA field has seen the growth of the full-range cabinet – a single cabinet fitted with two, three or more drivers, covering the full audio range. This has led to PA systems becoming more compact and hence more portable. Full-range, part-range, active, and passive PA speakers can all be found in the PA Speakers subcategory.
Amplification Considerations

When purchasing PA speakers on eBay, consider the mixing desk or amplification to which they will be partnered. An active desk, or a desk already matched with an amplifier setup, should be partnered with passive speakers. A passive desk, with line-level outputs, should be partnered with active speakers. When purchasing passive speakers, they should have a power rating broadly in line with the power output of the amplification system being used. Active PA speakers will have inbuilt amplifiers to match their speakers, and the overall power output should then be selected according to the size of the venue(s) in which they will be used.
Many makers offer all-in-one systems, sometimes with microphones included as part of the package. In many of these cases, compactness and portability is the key selling point, as they're generally aimed at solo artists or small ensembles. Alternatively, buyers can take a mix-and-match approach, perhaps sourcing a mixing desk from one maker, amplification and/or speakers from another, perhaps if either of them has specific features not catered for by an all-in-one system. However, this approach obviously requires more care in selecting components, and ensuring they will match into a well-performing system. Most inputs and outputs have been standardised across the industry, so it's unlikely that a mixing desk from one maker will be found which, say, grossly overloads an amplifier or active speaker from another; but there may well be benefits to sourcing components from one maker.
Foldback

Most bands or performing groups will need some form of on-stage monitoring, or foldback, allowing the musicians to hear themselves or other musicians onstage directly, rather than relying on reflected sound from the main PA system. In its most basic form, one foldback mix is provided over the whole monitoring system. In more advanced and flexible systems, the monitor engineer can tailor the mix to the individual musician's requirements. Traditionally, these speakers are made in a wedge-shaped cabinet form, the intention being that the speaker is placed on the floor at the front of the stage, reducing the visual impact on the stage set as well as angling the speaker toward the performer. In professional circles, monitor speakers have been largely replaced with wireless in-ear monitor (IEM) systems. Foldback speakers can be found in the Stage/Wedge Monitor subcategory.
Studio Monitors
In the past, studio monitors tended to be large and unwieldy, or built into the fabric of the studio at the design and build stage. The recording landscape has changed significantly since the 1980s, with the parallel growth of personal computers and music recording/sequencing software leading to an upsurge in home recording. Since the workspace in the home is likely to be far more compact than a professional studio, this has led to a demand for more compact studio speaker systems.
Passive and Active Studio Monitors

Broadly, studio monitors come in two types – passive and active, and the choice between the two will, as with PA speaker selection, depend on what equipment they are to be partnered with. Where an 'active' mixing desk (with built-in amplification), or a mixing desk and separate amplifier combination has already been selected, passive speakers will be required. If the mixing desk has line-level outputs, with no built-in amplifiers, active speakers will be required. Active speakers will, as well as having amplifiers and speakers matched by the manufacturer, have the added benefit of reducing the equipment 'footprint' in the studio, and reducing the amount of wiring required. In many cases, size will be the over-riding factor in the choice of a studio monitor. Many home-recording musicians or producers will be limited by the size of their workstation, which may have speaker platforms of a certain size, limiting the size of the speakers that can be installed.
Since studio monitors are, by their nature, practical, working items, there's very little variation in finish. Unlike domestic hi-fi speakers, they very rarely come with a choice of finishes, as it's generally felt they should be heard and not seen. Matt black is generally the preferred finish.
Subwoofers (for PA and Studio Use)

In both professional and domestic situations, the subwoofer has come into more common use, and warrants its own subcategory on eBay. Bass frequencies are generally non-directional, and this gives flexibility in the placement of low-end speakers, which to a certain extent can be located anywhere in the room or performance space. The use of a separate subwoofer allows the main speakers to be reduced in size, as their low-end requirement will be reduced, and the bass speakers in their cabinets can be of a smaller design.
As with PA and studio speakers, subwoofers come in active and passive types, and selection between these types will depend on the partnering equipment. If the mixing desk in use is designed with a line level output for a subwoofer, an active type will be required. Alternatively, if the subwoofer is being driven from an amplification system, a passive type should be selected.
How to Find Speakers on eBay

From the eBay home page, select Categories, or Buy, and Browse Categories. Select Musical Instruments, and Pro Audio Equipment. There are two categories within – Speaker Drivers and Horns (for chassis speakers), and Speakers and Monitors (for all types of fully-assembled speakers in cabinets).

Within the latter category, there are options to search by Type (PA Speaker or Studio Monitor, for example), or by Active/Passive designation (Active, Passive or Hybrid).
Conclusion

There's a wide range of both PA and studio speakers in the Pro Audio Equipment category on eBay, and there's most likely to be something suitable for most mainstream applications.
However, before making a purchase, research the requirements, and make sure the seller's listing is clear on what is being offered, and whether it meets those requirements. Research the seller, looking at how many sales they've made in the past, whether or not their previous sales have been of similar products to those under consideration, and their feedback rating from those sales.
Read the listing carefully, and study all the pictures. If necessary, use the 'Ask Seller a Question' option to clarify. Many PA and studio speakers are bulky items, so ensure that delivery costs or collection arrangements are absolutely clear before bidding.
If successful in winning an auction, or securing an item with a Buy It Now listing, be sure to complete the transaction on eBay to benefit from their buyer protection programs. Likewise, when paying, the use of Paypal enables completion of the sale without buyer or seller seeing each other's bank account or credit card numbers, with Paypal offering additional protection against fraudulent transactions.