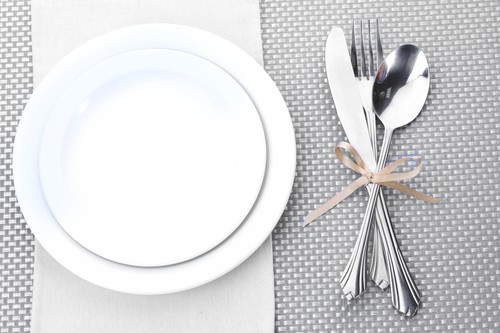 Cutlery is the Western world's name for any hand held tool or implement that is used in the preparation of, and particularly, in the eating of food. The name comes from the Middle English word cuteler, which is derived from the French word for knife. The word cutler, meaning someone who makes cutlery, was first seen in a tax return from 1297, referring to a Sheffield knife, and many 14th century knives can be seen in the Cutlers' Hall, which is a grade 2 listed building in Sheffield, the traditional home of cutlery makers. The British cutlery making industry centred on Birmingham and Sheffield, but the former began focussing on swords, whereas Sheffield moved towards making knives.
Historical Materials
High quality cutlery was generally made from silver, although knives made of steel were produced due to the harder quality of the metal. This produced greater longevity of the blades of steel knives that were in everyday use. Cheap spoons were sometimes made of pewter. Nowadays, most cutlery is made from stainless steel, which is cheaper and more durable. The metal Melchior, which is a copper and nickel alloy, may also be used.
Spoons
Early spoons have been found fashioned out of bone or which were simply a shell with a stick for a handle; bronze spoons are very rarely found, and iron was difficult to manipulate into a spoon shape. The Romans introduced more sophisticated spoon designs, and the Saxons and Vikings created decorative spoons; the Puritans and Cromwell disapproved of this frivolity and spoons became plain and functional under their influence.
Forks
Forks were a relatively modern invention; the first ones were seen in Britain in the late 1500s, they were used in Italy for about half a century before their arrival in Britain and are believed to have evolved from a small knife that was used to hold a piece of meat in place for carving.
Cutlery Materials
Stainless steel has taken over from silver for the majority of cutlery, mainly due to the cheaper price and greater durability of the steel. Stainless steel is an alloy with at least 10.5 to 11 per cent chromium content. This mixture creates a metal that does not easily corrode, nor is it as susceptible to water staining or rust as plain steel is, although it is not completely immune. Stainless steel under conditions such as high salinity or low oxygen may succumb to staining. Stainless steel used for cutlery is an 18/10 alloy of iron, nickel, and chrome, creating functional utensils that are dishwasher safe and do not need polishing as silver would.
Choosing Stainless Steel Cutlery
There are many different types of cutlery sets available, so a bit of thought should be put into any purchase, especially for those that are intending to spend a little more and are aiming for durability and quality. The following are important considerations before buying a new set of cutlery.
Design
Contemporary designs may seem like a good idea at the time, but with ever changing fashions and tastes, it is important not to choose a design that will become out-dated quickly, as this will also make it difficult to replace missing pieces in the future if a design goes out of production due to lack of demand. Comfort of use is another thing to consider when choosing a design; many people find chunky handles easier to use, and a shape that would feel comfortable in the hand is a good choice. Square or angular handles may look cutting edge and a bit funky, but they may be uncomfortable to actually use. A decent weight also feels good to handle for adults, but children may find heavier pieces hard to manage and big handles too large for small hands. It is important to consider who will be using the set before any purchase. There are lots of different styles available, browse through the listings for cutlery sets at eBay to get some ideas and inspiration. Different colours and materials of handles can also be found; these have the same problem as contemporary patterns. Matching cutlery to decor is fine until it become time to redecorate.
Number of Place Settings
A table laid for dinner looks significantly better if all the settings have matching cutlery, and this is surely the point of buying a cutlery set. The number of people eating on a daily basis is more important, although those who like entertaining should consider the number of people that can fit around their dining table as the ideal number of place settings to buy. It is, then, important to consider the ease of sourcing any replacement pieces that may be lost, so consider getting a few extra place settings just in case. Sets usually come in multiples of four, with 16 piece (4 settings) and 32 piece (8 settings) being the most common and popular amounts.
Components of Sets
Standard cutlery sets comprise of knives, forks, dessertspoons, and teaspoons. Other types of implement can be included; sets with steak knives or soup spoons are readily available, and some buyers may want to include small knives and forks for the starter course, as well as matching serving spoons. Anyone looking for a cutlery set should consider carefully what type of cutlery needed. Only those that entertain are likely to need cutlery for a starter course. Steak knives can also be purchased separately, so this is something to consider for those that do not mind if their steak knives are not an exact match to the rest of the place settings; this is also true for serving spoons and soup spoons. Those individuals that throw dinner parties on a regular basis will probably want to include small knives and forks for starter settings or bread knives to keep their table settings matching, so they will probably be looking for 54 piece sets. It is possible to combine different sized sets of cutlery in order to get the right amount of settings, or to find some settings with soup spoons, steak knives, and side cutlery if these extra pieces are not required with every place setting.
Storage
There is a range of storage options also included with many cutlery sets, especially the larger or more expensive ones. If the set is being bought as a special occasion treat, then having a separate storage box for it is a good idea. This avoids the cutlery getting mixed up with everyday pieces and potentially getting lost. Some sets include an inset for a cutlery drawer which is ideal for kitchens with the space, or if the cutlery will be a set out for day-to-day use. For sets that will be stored elsewhere, carry boxes are available with many styles and sets. There are some very fancy storage boxes that come with the more expensive sets, and these will protect the cutlery from discolouration and staining more effectively than if they were stored in a kitchen drawer. Check the listings on eBay for an idea of what stainless steel cutlery is available in different price ranges.
Finding Stainless Steel Cutlery on eBay
To find cutlery sets on eBay, first click on the 'All Categories' tab on the left side of the eBay homepage. From there, scroll down and click on 'Home, Furniture & DIY'. On the left side of that page, the 'Furniture & Living' tab will be visible; hover over that, and from the menu that appears, click on Cookware, Dining & Bar. Finally, under 'Categories', click on 'cutlery'. There are all kinds of cutlery sets and single pieces on eBay, so it is advised to get an idea of what is needed in advance. Browse a few of the cutlery categories to see what styles and combinations are available and what sort of price there are; this makes setting out the final criteria easier. Second-hand cutlery sets are available, and whether to include these or not is an individual choice; there is no real reason not to, as long as the quality is of good standard. Filters allow buyers to select the colour, style, and number of pieces in a set of cutlery, although anyone with a specific design in mind should include this in the search text. Searching for a specific piece to make up part of a missing set is possible, although it is important not to narrow the search results too much, as sellers may not have used exactly the expected description.
Conclusion
Stainless steel cutlery has a wide range of styles and designs, and may be more suitable for family day-to-day use. Good quality stainless steel cutlery will last for many years, so the choice of design and number of pieces, including a strategy to replace any missing parts, is very important to determine before purchasing it. As it will be around for many years, it should be chosen to withstand changes in taste, décor, and the number of diners to be provided for.