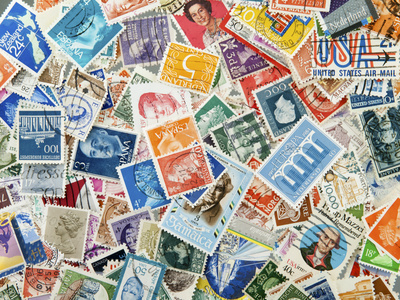 Stamps were first issued in Great Britain as a means of prepayment for the delivery of a letter. The first stamp was issued in 1840, and stamp collecting was born along with it. Collecting stamps is now one of the most popular indoor hobbies in the world. Though the advent of electronic communications has decreased stamp usage, there are still an estimated 200 million collectors worldwide.
Stamp collecting can be much more than a hobby. Rare stamps are one of the most portable tangible investments one can make, and some stamps are worth hundreds of thousands of pounds. In fact, the market for stamps has been estimated at five billion pounds per year.
Collectors can obtain stamps from the Internet, stamp dealers, stamp investment firms, other collectors, and at auctions. Before investing in rare, potentially valuable stamps, collectors must research the stamp market, and understand the value and condition of a particular stamp.
Collecting Stamps
Though the words "stamp collecting" and "philately" are sometimes used interchangeably, stamp collecting is actually just a part of philately, which is the broader study of stamps. Stamps are often used to commemorate events, people, or a country's special characteristics. Stamp collectors preserve a piece of history, whether it is an event, a celebrity, or even the progress of the postal system over the years. Some collectors focus on stamps of a particular country, a particular topic (e.g. aeroplanes, birds, or royalty), or a particular time period. Some collectors even focus on a particular shape of stamp.
Though many people collect stamps as a hobby, it can also be a worthwhile financial investment. When stamps are collected as a financial investment, it is called a philatelic investment.
The Advantages of Philatelic Investment
Many investors now view investing in rare stamps as a sound investment. The GB 30 Rarities Index (a list of the top 30 rare Great Britain stamps) has seen consistent growth, year after year, while other investments (including gold) have experienced ups and downs. In the 40 years from 1970 to 2010, the GB 30 Rarities Index grew 6403 per cent, and has not once dropped in value. If a rare and valuable stamp is added to a collection, there is a good chance that it can be sold for a considerable profit. A few other advantages of philatelic investment are as follows:
Stamps are easy to transport.
There is a global market for stamps.
Limited supply of classic stamps
A comparatively confidential investment
Stamps may perform better than cash during periods of high inflation
The Risks and Disadvantages of Philatelic Investment
Though philatelic investment can increase greatly in value, it requires specialised knowledge of rare and historic stamps for collectors to be successful. Inexperienced collectors may run into a number of pitfalls, and face quite a few risks.
The return is not guaranteed
The cost of buying is high
May need to be taken to an expert to determine authenticity
Stamps are tangible items and may need to be insured
Stamps can deteriorate and be physically damaged
Stamp investment is relatively unregulated
Stamps do not generate interest or dividends
"Investment portfolios" may be sold at prices that are higher than market value
Stamps may take time to be sold unlike other investments
Stamps are a long term investment
Additionally, the future market for stamps and other philatelic items is uncertain. Collectors are the main source of demand for stamps, not investors. Most collectors in western countries are over age 50, and younger collectors in these countries are relatively few.
What a Stamp Investor Needs to Know Before Investing in Rare Stamps
To make a successful investment in rare stamps, collectors need to be highly knowledgeable about stamps, their history, and their value. Collectors must be certain they are well versed in the following areas before making a large investment in stamps.
Classification
There are four main stamp classifications: type, purpose, format, and condition.
Stamp Types
A stamp can be of either the definitive or commemorative type. A definitive stamp usually portrays a famous figure, many times a monarch or head of state; it may also depict a nation's flag or a monument. These stamps are available in different denominations, and are reprinted to maintain supplies.
Commemorative stamps, on the other hand, are generally larger, and are printed in smaller numbers. They usually depict historical events, and are not reprinted when supplies become depleted.
Purpose
The purpose of a stamp is what the stamp is for. Some stamps are for postage. Others are exclusively for airmail, while still others are used as a taxation method.
Format
The format of a stamp refers to the method in which it was originally issued. Stamps are originally issued in one of four formats: sheets, booklets, coils, or panes.
Condition
The physical state of a stamp is called its condition. This is the most important factor in determining the value of a stamp, and is therefore discussed in detail below.
Stamps are classified differently when they enter a collection. They might be classified by country, date of issue, subject matter, or any other common factor.
Stamp Condition and Grading
The condition of a stamp is a description of its physical condition and characteristics. Such characteristics include the stamp's faults, which are details or colours that have been damaged or changed, non-postal marks, and holes or missing pieces.
Stamp Grading
A stamp's grade refers specifically to the centring of the stamp's design between its borders and perforations. The complete list of stamp grades is as follows:
Poor grade (P)
Average grade (A)
Fine grade (F)
Fine to very fine grade (F-VF)
Very fine grade (VF)
Extremely fine grade (XF) or Extra fine (EF)
Superb Grade (S)
Gum Condition
In the case of mint stamps (stamps in excellent condition that have not been used), collectors should pay particular attention to the condition of the postage stamp gum. The various possibilities are listed below:
Gum Condition

Abbreviation(s)

Description of Gum Condition

Mint never-hinged

MNH, Mint NH, NH, u/m

Unused stamp

Full original undisturbed gum

No damage by stamp hinge

Lightly hinged

LH

Mint stamp that was hinged

Only slightly disturbed gum

Heavily hinged

HH

Mint stamp that was hinged

Damaged by the hinge

Hinge remaining

HR

Mint stamp that was hinged

Part of hinge remaining on stamp

Original gum

OG

Stamp with original gum

Deteriorated by age

No gum

NG

Stamp gum washed off

Stamp issued without gum (rare)

Regummed

RG

Fresh gum applied to stamp

Thinned

-

Gum removed including some of the paper
After reviewing a stamp's condition and grade, collectors should examine the condition of the stamp's perforations.
Stamp Perforations
Perforations were first introduced in 1854 to allow pages of stamps to be easily separateds. Just as with stamp grade and gum condition, there are several perforation conditions and errors (called "misperfs"):
Short or "nibbed" perfs are undesirable
Bent or creased perfs are undesirable
"Blind perfs" occur when a hole is not completely punched out
"Off Centre perfs" cut into the design of the stamp
Two or more stamps are "imperforate between" if they are not separated on all sides
Collectors can make use of a perforation gauge to measure a stamp's gauge, called its "perf". A "Perf 10" stamp has 10 holes every two centimetres. Sometimes a stamp's "perf" can make it more valuable (e.g. if a Perf 12 version of the same stamp is rarer than a Perf 10). When stamps have different horizontal and vertical perforations, the horizontal perf is listed first, and then the vertical. This is known as a "compound perforation".
Collectors who are not comfortable appraising stamps on their own can obtain a professional appraisal. The value of a stamp is largely determined by its condition.
Philatelic Literature
The published results of philatelic and postal history are known as philatelic literature. Philatelic literature is divided into the following sections:
Stamp catalogues (Country, worldwide, geographic area, time period, or specialised)
Periodicals
Auction catalogues
Books
Bibliographies of philatelic literature
Background material useful to stamp collectors
Collectors must be informed of the stamp market and capable of handling and storing stamps appropriately.
The Most Valuable Stamps from Great Britain
Stamps were invented in Great Britain, so it is no surprise that some of the most valuable stamps originated there. The GB 30 Rarities Index is a list of 30 of Great Britain's most valuable stamps.
| Number | Description | Condition |
| --- | --- | --- |
| 1 | 1840 2d. blue | Unused |
| | 1851 2d. violet-blue | Unused |
| | 1862 9d. Bistre (Hairlines, Plate 3) | Unused |
| | 1862 1s dp green (Plate No.2 = Plate 3) | Unused |
| | 1867 10d. red-brown (Plate 1) | Used |
| 6 | 1869 6d. Mauve without hyphen (plate 10) | Used |
| 7 | 1867 10d. dp red-brown (Plate 2) | Unused |
| 8 | 1867 2s. cobalt | Unused |
| 9 | 1880 2s. Brown (Plate No. 1) | Unused |
| 10 | 1878 10s. greenish grey (Plate 1) | Unused |
| 11 | 1878 £1 brown-lilac (Plate 1) | Unused |
| 12 | 1882 5s. rose (Plate 4) | Unused |
| 13 | 1883 10s. grey-green (Plate 1) | Unused |
| 14 | 1882 £1 brown-lilac (Plate 1) | Unused |
| 15 | 1882 £5 orange (Plate 1) | Unused |
| 16 | 1882 5s. rose (Plate 4) - white paper | Unused |
| 17 | 1878 10s. greenish grey (Plate 1) - white paper | Unused |
| 18 | 1882 £1 brown-lilac (Plate 1) - white paper | Unused |
| 19 | 1873 2½d. rosy mauve | Unused |
| 20 | 1s. pale green (Plate 14) | Used |
| 21 | 1876 4d. vermilion (Plate 16) | Used |
| 22 | 1884 10s. Ultramarine | Unused |
| 23 | 1884 10s. cobalt | Unused |
| 24 | 1884 10s. cobalt - white paper | Unused |
| 25 | 1884 £1 brown-lilac | Unused |
| 26 | 1888 £1 brown-lilac | Unused |
| 27 | 1840 1d. black official | Used |
| 28 | 1902 10s. ultramarine official | Unused |
| 29 | 1902 £1 blue-green official | Unused |
| 30 | 1903 10d. dull purple & carmine official | Unused |
The GB 30 Rarities Index is the most well-known list of valuable and rare stamps from Great Britain, but many other stamps are also of great value. Another comprehensive list of the top 100 most traded stamps is compiled and maintained by Stanley Gibbons (one of the leading stamp collecting companies in the United Kingdom), though this list is not limited to rare Great Britain stamps.
The Basics of Stamp Auctions
Many stamp auctions are held regularly at stamp auction houses in the United Kingdom. In most cases viewing is allowed beforehand, either through a catalogue, in the auction house, or both. Stamp auctions let collectors purchase entire collections, and usually are an excellent source of rare stamps. Besides stamps, collectors can also bid for covers and other philatelic material. In a stamp auction, items are divided into lots. Each lot may contain an individual stamp, a group of stamps, or even an entire collection. The highest bidder for each lot wins the auction and makes the purchase.
How to Buy Stamps on eBay
Collectors looking for British stamps to start a new collection (or to add to an existing collection) can find a diverse collection on eBay. To begin a search, buyers should visit the eBay home page and enter a relevant term into the search bar. For a specific item, buyers can add descriptive keywords to the search term. For example, a search for "George VI stamps" displays all items currently available on eBay that relate to George VI stamps. Search results for stamps can then be fine-tuned by such categories as the era of the stamp, the printing method used, or the theme of the stamp. Stamp collectors can also find accessories and tools, such as stamp books, hinges, tongs, and magnifying glasses.
When purchasing rare stamps on eBay, buyers must ensure that sellers are willing to take returns if the stamps do not meet expectations. Buyers should also be aware that some replicas of rare stamps are also available on eBay. These items should be clearly marked as such.
Conclusion
The first stamp was issued in 1840 as a means of prepaying for the delivery of a letter, and the hobby of stamp collecting sprang up with it. The hobby is popular and widespread, and despite a slight drop in numbers, there are still an estimated 200 million collectors worldwide. Besides being a hobby, stamp collecting is also proving to be a sound investment. The value of rare stamps has risen consistently, even when other investments have experienced ups and downs.
Stamps were invented in Great Britain, and there are many rare and valuable Great Britain stamps that collectors can invest in. The top 30 Great Britain stamps are listed in the GB 30 Rarities Index. Before investing in rare stamps, collectors must understand the factors determining their value. Buyers looking for stamps to expand their collection can find a vast and interesting collection on eBay, along with tools and accessories to handle and protect the stamps.