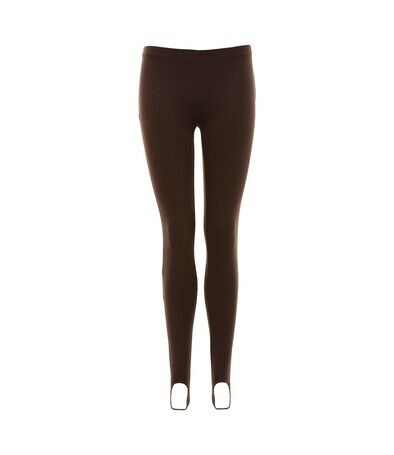 Leggings offer women a versatile look that they can use in many different ways. Celebrities and fashion designers around the world use them consistently. Although they are not a replacement for regular trousers, they can give any outfit a completely new look. An old shirt that a woman is tired of can be renewed by wearing it with a pair of leggings, a decorative belt, and high heels. They can be worn under a long shirt, skirt, or even a dress to create a fashionable city look.
Leggings are tight leg coverings that are made with stretchy material. Both men and women wear them but they are most commonly seen on women. They come in all colours, patterns, and fabrics including sassy faux leather. Stirrup leggings in particular are full length and have a loop at the bottom that the feet fit through. This keeps the leggings in place and stops them from riding up while walking or sitting. Since they are lightweight, they are easy to wear during the summer as well as the cooler months when it is not quite cold enough to put on trousers and a coat.
There are some things to consider before going out and shopping for leggings because of specific fashion rules that exist when wearing them. The following sections will show women how to prepare for and shop for leggings that will enhance their wardrobe and flatter their figure.
History of Leggings
Even though the modern day leggings were not very popular until the 1980s, they have been in existence since the 13th century. They were particularly popular among men during the renaissance period who wore them with fancy tops and shoes.
Not all leggings were made with stretchy materials similar to today's tights, though. Native Americans and French fur trappers made leather leggings with attached shoes that reached up to their thighs. These offered extra warmth and protection from the elements. Cowboys also also used buckskin leggings to minimise chafing when riding their horses.
The modern day leggings seen today evolved from the capri trousers worn by women in the 1960s. With each passing decade the trousers got tighter and tighter until they turned into leggings made with thin, stretchy materials.
How Stirrup Leggings Should Fit
Stirrup leggings are meant to hug the body but are not meant to be entirely skin tight. They should fit snugly throughout but should not be restrictive. Leggings are intended to be slightly more loose than a pair of tights.
When it comes to finding a size, each manufacturer tends to have their own measurement method. Some companies use a generic method such as S, M, or L, while others have a unique system where they go by A, B, or C. Regardless of the size classification, though, all manufacturers go by height, weight, and hips to determine their sizes. Below is a general sizing chart that lists common sizing methods.
| UK Size | Height (cm) | Height (ft) | Hips (cm) | Hips (in) | Weight (kg) |
| --- | --- | --- | --- | --- | --- |
| S | 162 | 5'4 | 92 | 36 | 52 |
| M | 170 | 5'7 | 100 | 40 | 65 |
| Tall | 175 | 5'9 | 110 | 44 | 75 |
| X Tall | 185 | 6'1 | 120 | 48 | 95 |
| Extra 1 | 150 - 175 | 4'11 - 5'9 | 119 - 137 | 47 - 54 | 70 - 110 |
| Extra 2 | 155 - 180 | 5'1 - 5'11 | 137 - 152 | 54 - 60 | 70 - 110 |
| S/M | 150 - 170 | 4'11 - 5'8 | 177 - 102 | 30 - 40 | 40 - 60 |
| L/XL | 150 - 185 | 4'11 - 6'1 | 97 - 122 | 38 - 48 | 45 - 90 |
One-size-fits-all leggings are generally best to avoid because they do not fit all women. Typically one-size leggings will fit a women that is 178 cm tall with hips that are 106cm.
Preparing to Shop
Before shopping for leggings women must first figure out what clothing items they have that will go with the leggings. To do this, women can lay out their wardrobe on the bed or floor to go through everything. Here are the fashion rules to keep in mind when pairing up outfits.
Finding the Right Tops
The main rule when wearing leggings is to never use them to replace trousers. Therefore, the rear and upper thighs should always be covered by a top, skirt, or dress. To remember this rule, think of the leggings as tights which are only an accessory piece to the rest of the outfit. More of the legs can be revealed with leggings because they are opaque, but they are still an accessory item to the top.
Coordinate Colours and Textures
Like any clothing, the leggings need to match the top and shoes in both colour and texture. Some leggings come with colourful patterns such as animal print or flowers. Make sure that they will not clash with the existing tops in the wardrobe, or be prepared to purchase new tops.
The shoes also have to match the top and the leggings. Coordinate the colours and make sure they all have the same level of dressiness. High heels are generally the best option when wearing leggings because flat shoes tend to make the legs look short and squat. Keep in mind that it is generally not fashionable to wear open shoes with stirrup leggings because the stirrup is visible. Only choose shoes that hide the stirrups.
Use Accessories
Because of the overall spunky look of leggings, they always seem to look their best when they are paired up with accessories. Belts in particular draw the waist back in since the top is usually more loose. Big bracelets and necklaces also help offset the tightness of the leggings, and scarves around the shoulders or the neck add a soft touch to the outfit.
Flatter the Figure
Many women avoid leggings because they are self conscious about their figure and do not want to wear any tight clothes. If worn correctly, though, leggings can actually slim a figure down. Those that are bottom heavy can put on a longer, loose top with a belt around the upper waist. A scarf around the neck will also help even out the weight distribution.
Women that are top heavy can balance out their figure by wearing a skirt over the top of the leggings. For those with a larger midsection, a loose fitting top or dress without a belt over it will work just fine.
Ladies that have a rectangular figure can add curves by selecting a top with volume and then putting a belt around the waist just above the hips. This will create the illusion of an hourglass figure.
Finding Stirrup Leggings
Stirrup leggings are not as common as they were in the 80s so they are a little harder to find in local shops. The larger shops around town are the most likely to carry them. Keep in mind that once they are found, the shops usually only have one or two options such as solid black or brown. To see more of a variety, women tend to have more luck shopping online at websites like eBay where they have access to thousands of products in one place. It is much easier to find the perfect pair when there are more options to look at.
Purchasing Women's Stirrup Leggings on eBay
eBay has an enormous selection of women's apparel items such as leggings, tops, shoes, and accessories. Take advantage of eBay's easy to use layout by simply typing the name of the item you want into the search box which is located on every page of the site. For example, you can type "Stirrup Leggings" and then click the Search button. eBay will now show you all of the thousands of stirrup leggings for sale on their websites. If the options are overwhelming, try doing a more specific search such as "Grey Stirrup Leggings". This will save you time by eliminating the products you would not be interested in looking at.
Because leggings are a relatively inexpensive item, you can make your wardrobe even more diverse and save money at the same time by ordering several different colours from a seller. If there is charge for postage, sellers often discount the rate for multiple items because they are being shipped together, or, you can also choose to only view the listings which offer free postage.
Conclusion
Fashionable clothing gives women a way to express their unique personality and enjoy their lifestyle. Stirrup leggings are so versatile that they have become more and more common in women's wardrobes across the world. They are easy to match up with tops and shoes and for the most part, they are universally flattering as well as stylish. Dressing nicely sets the tone for the rest of the day and gives ladies a boost of confidence as they go about their business. Women can enjoy all the benefits of stirrup leggings by following the advice offered in this guide and then shopping for them on eBay where they can get everything they need without stepping outside of the house.