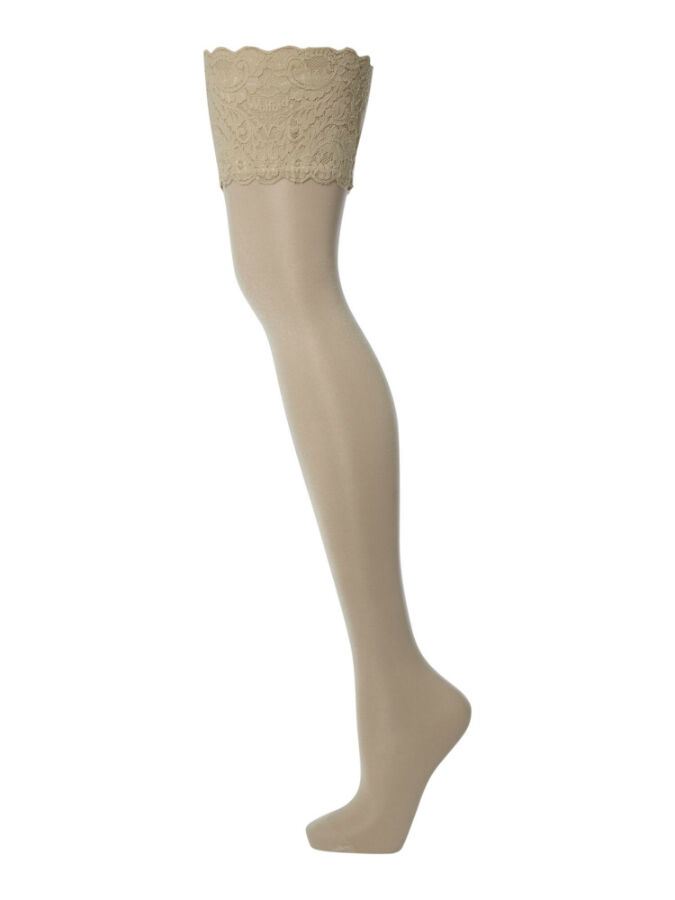 Stockings, also referred to as pantyhose or simply hose, are skin-tight elastic apparel that typically cover some portions of the feet and legs, although there are options ranging from footless to thigh high available. They are used to keep warm, create a more professional appearance, or to cover blemishes such as varicose veins.The upper band is often made of a thin, silicon elastic to keep the stockings from sliding down. Stockings come in a variety of colours, prints, and patterns, and are usually made from nylon, cotton, silk, or knitted wool. Some stockings come in transparent shades from nude to tan, while others are colourful, opaque, fishnets, or textured. Once women have determined a which style of stocking she needs, they will need to use a sizing chart to determine which pair will fit best. Women can find a wide variety of stockings at department stores, apparel websites, and online auctions such as eBay.
About Stockings
Stockings are popular garment options for women of all ages, and they are worn for several reasons. Sheer stockings in neutral colours are most often paired with skirts or dresses to give legs a smooth look; they can cover up scars, blemishes, and other marks on women's legs. The even look produced by stockings make them favourites for creating a polished, professional appearance. Thicker stockings can also be worn in winter months under pants for warmth. Coloured or patterned, opaque tights come in an array of styles and can be paired with skirts and dresses for a fun fashion statement. Thigh high and lace stockings are popular choices for lingerie, with black being the most common colour. These stockings are often worn with corsets and garter belts for a sultry, seductive look. There are even stockings available for medical advantages; for example, compression stockings are used for additional foot support for minimising varicose veins.
When buying stockings, women should pay attention to the "denier" count. Denier refers to the thickness of the stocking's material. Sheer stockings are listed as 15 or less denier, and opaque tights are ranked at 15 and higher.
Types of Stockings
With so many reasons and occasions to wear stockings, women have the opportunity to choose from nearly every colour and design imaginable. Thigh high stockings are typically worn with knee high dresses and skirts, and often secured with a garter belt. Intricate lace patterned stockings is worn with formal wear or lingerie. Women pair sheer, neutral shade stockings with dresses and skirts for a professional look. Because no skin is shown through opaque stocking, these tights come in a spectrum of colours and designs. Fishnet stockings are often used with costumes or layered overed opaque tights. Textured stockings refer to any stocking not smooth to the touch; the texture could refer to lace, embroidery, applique, and more.
Thigh High Stockings
Thigh high stockings are sold as two separate pieces; they stretch from the toes to the mid thigh. Thigh highs are typically sheer and made of nylon, but more expensive ones may be silk. Some thigh highs have a thin silicon layer at the top of the stocking to keep them in place; others require the use of a garter belt to hold them up. Thigh high stockings are mostly available in nude, black, navy, and other neutrals; white thigh highs are often worn by brides on their wedding.
Lace Stockings
Lace stockings have delicate lattice patterns woven into their design. Lace stockings are typically elastic and made from cotton, silk, or other synthetic materials; they available in thigh high and full length options. Black is one of the more popular colours, but whites, neutrals, and reds are readily available. While some women include lace stockings in lingerie outfits, others will pair them with a bright opaque pair for a fashion forward look.
Sheer Stockings
Sheer stockings refers to any type of stocking where the skin shows through. They are rated at 15 denier or less. They are ideal for hiding scars, blemishes, and other superficial flaws, making women's legs appear satiny and smooth. The most popular colour for sheer stockings are nude and black, but dark brown, navy, and off-white are also sold.
Opaque Stockings
Opaque stockings are listed as 15 denier or higher, and no skin shows through the thick fabric. Opaque tights come in neutral shades, brightly coloured, or patterned. Opaque tights are available in stripes, florals, polka dots, holiday-themed, and more. Opaque tights are often made of thick cotton, knitted wool, or lycra. Opaque stockings can be layered with fishnets or lace stockings.
Fishnet Stockings
Fishnet stockings get their name because their woven mesh resembles a fishnet. Fishnet holes range from tiny to several centimetres wide, and only the tiniest of woven fishnets are work appropriate. Larger woven patterns are more appropriate for nights out with friends. Though fishnets are available in a variety of colours, black, red, and nude are the most popular. Fishnet stockings are often used in sexy or glammed out costumes.
Textured Stockings
Textured stockings are any pair that have any sort of pattern such as lace, applique, or embroidery. Textured stockings may have raised designs like polka dots, stripes, or flowers. Women can wear a pair of textured stockings in conjunction with a plain coloured top and bottom to add some flair to their outfit.
Sizing Stockings
In addition to knowing the colour and style of stocking, women will need to buy stockings that fit properly. While some stocking companies use a small to tall or large scale, others prefer an alphabetical sizing system. It is important that women buy stockings the correct size, and the charts below will help women purchase stockings that will not only look great but fit well too.
| Size | Weight (Kg) | Height (cm) | Hips (cm) |
| --- | --- | --- | --- |
| Small | Up to 52 | Up to 162 | Up to 92 |
| Medium | Up to 65 | 170 | Up to 100 |
| Tall | Up to 75 | 175 | Up to 110 |
| X Tall | Up to 95 | 185 | Up to 120 |
| 1X | 70-110 | 150-175 | 119-137 |
| 2X | 70-110 | 155-180 | 137-152 |
| S/M | 40-60 | 150-170 | 87-102 |
| L/XL | 45-90 | 150-185 | 97-122 |
In addition to these sizing charts, some stocking manufactures use a different sizing chart; the alternative sizes are listed below.
| Size | Weight (Kg) | Height (cm) | Hips (cm) |
| --- | --- | --- | --- |
| A | 40-60 | 145-170 | 77-102 |
| B | 50-77 | 145-178 | 97-112 |
| C | 53-95 | 152-183 | 107-122 |
| A/B | 40-77 | 145-170 | 77-104 |
| B/C | 54-95 | 147-183 | 104-122 |
Some stockings are sold in a one size fits all, and they accommodate women up to 178 cm tall and 98 cm hip width.
How to Buy Stockings on eBay
After you have decided on the type of stockings you are looking for, you are ready to begin your search on eBay. In addition to the auctions, check out sellers' shops to see eBay's extensive selection of stockings. Type in "stockings" to see all available items. Including keywords in your search such as the colour, style, or size to limit the scope of your results. "Black lace thigh high stockings" and "small sheer stockings" are good examples of effectively using keywords. Check out eBay's Search Tips page for even more help optimising results.
While many women are looking for similar types of stockings, not all are shopping with the same priorities. Fortunately, eBay makes it easy for buyers to custom sort their results to fit their budget and needs. Arrange stockings from lowest to highest prices to find eBay's best deals; eBay will even factor in shipping to guarantee the lowest price. If you are interested in buying several pairs of stockings in a single listing, sort results from highest to lowest price. Additionally, buyers can list items by time left in auction and distance from seller.
Once you have found an auction item that appears to meet your standards, read the entire listing, including the terms and conditions, to understand what you are buying. Do not hesitate to Ask a Question to the seller if any part of the listing needs clarification. It is also imperative to check into the seller's history on eBay to see how past transactions have been conducted. Pay close attention to the seller's approval rating and feedback;; only buy from seller's with a high rating and positive comments. eBay awards trusted seller's with top rated seller status; for superior customer satisfaction, look for the top rated seller icon next to the seller's username.
Conclusion
Women can buy stockings that are full length, thigh high, footless, toeless, sheer toe, and more. Most stockings are made from nylon, cotton, knitted wool, and silk. Whether it is to achieve a more polished appearance or for warmth, women have a variety reasons for wearing stockings. Sheer stockings are usually made from nylon and paired with dresses and skirts and give womens legs a more even tone and hide blemishes and scars. Opaque tights are fun fashion accessories and also used to layer and provide warmth under pants; they are typically made of cotton or other knitted materials. Thigh highs and lace tights are often worn as lingerie and in conjunction with garter belts. Stockings are fragile garments, so it is important to handwash them and check them periodically for picks and runs. Stockings are available in a variety of materials, colours, and patterns at department stores, designer apparel websites, and online marketplaces such as eBay.