Going to the beach requires a special kind of attire. Although wearing a bathing suit makes sense, some people prefer to cover up at least part of the time. This is where cute and stylish beach dresses come into play. They feature lightweight materials, short lengths, and attractive designs, and they keep the body covered just enough to make women feel comfortable without needlessly weighing them down in yards of material.
Beach Kaftans
The kaftan is the epitome of feminine beauty. The style originated in Pakistan, Persia, and other Middle Eastern countries. The original kaftan dresses were full length with yards of flowing, lightweight fabric. Beach kaftans, however, are much shorter and have less fabric. Some are even see-through, which is perfectly suitable when worn over a bathing suit. Some beach dresses have large pockets that blend into the sides, and most beach kaftans have sleeves that reach the elbows and billow out. They come in all sorts of vibrant colours and patterns for the summer.
Maxi Beach Dresses

Maxi beach dresses are long and come in a variety of styles. They reach the ankles and feature lightweight fabrics like cotton and cotton blends. Some are strapless, and halter tops and spaghetti straps are also common. Ladies can go as simple or as elaborate as they want with everything from solid coloured dresses to styles featuring bright, floral patterns. They are quick and easy to pull on over a bathing suit, and many women wear them for other activities, such as shopping with friends or going on casual dates.
Beach Sarongs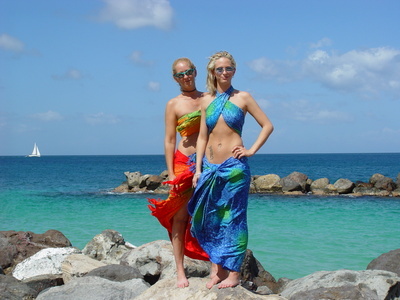 The sarong is a quick and easy cover-up that transforms into a dress or skirt. Beach sarongs typically feature colourful, lightweight fabrics. Affordable versions come in cotton, but luxurious silk sarongs are also available. Standard sarongs are around 3 yards long and 1.5 yards wide, but ladies can find larger or smaller versions. Putting one on is as simple as wrapping it around the waist and tying it on the side of the hip. For additional cover, women can wrap sarongs around their bodies and knot them in front of their chests.
Beach Tube Dresses
Tube dresses feature stretchy bodices that hug the chest. They are either strapless or have spaghetti straps, and women like them for their flattering look on most body types. The fabric falls in a straight line from the bodice, so the fabric does not cling. Tube dresses are lightweight, attractive, and easy to pull on over bathing suits.

If you're all ready for the beach but on a tighter budget, take a look on eBay for some used fashion pieces.