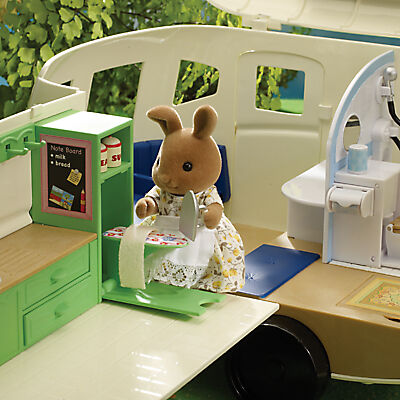 Sylvanian dolls were launched under the Sylvanian Families brand in Japan in 1984. Since then they have become one of the most popular toy brands in the world. It has even lead to a theme park being built that is based upon life-size versions of Sylvanian dolls. They are highly sought after toys that run on a production system that differs greatly from mass-produced toy manufacturers.
They started selling their dolls in the United Kingdom in 1987 but under a different approach than what they had done in Japan three years earlier. Some of the earlier sets that were released in the United Kingdom were launched in limited numbers.
Sylvanian Families dolls are considered collectable and collectors will invest large sums of money in acquiring rare dolls. The global presence of eBay has opened up new avenues of acquiring these items.
Rare Sylvanian Dolls
The nature of Sylvanian dolls and the limited production runs they receive means that rare models are commonplace. Throughout the history of Sylvanian Families there are some sets that are considered rare by all collectors. Acquiring these sets would not only be advantageous for collectors but for investors as well due to their ever increasing value.
Oakwood Squirrels – First released in Japan in 1985 these dolls are extremely rare due to their golden brown tails. Would be released in the UK several years later with a dark brown tail.
McBurrow Moles – Created in 1986 they were yet another set that was intended for the Japanese market only. Rereleased in 2011 but the original versions are still considered a rare find.
Meadows Mice – Were only available with the purchase of certain accessories. Never fully released in individual form and once acquired can attract hundreds of pounds at auction.
During initial production runs and shortly after, clothing would be released as accessories. Much like some sets, original accessories can be hard to find and command a high price if in good condition. However with the advent of eBay many sellers have taken to releasing their own custom clothing, which offers buyers an interesting alternative.
Alternative Sylvanian Doll Brands
Sylvanian Families are the main brand when it comes to Sylvanian dolls, as they own the rights to almost the entire sector. Although from time to time toys from other makers may appear online. Due to the popularity of the field in the late eighties and early nineties many manufacturers entered the field prior to trademarks and patents being officially filed. Shoppers may come across the following brands from time to time:
Forrest Families
Maple Town
Toys from such brands are inspired by Sylvanian Families and clothed in a similar fashion. In some instances buyers could be fooled into thinking they are the same. These brands offer (if they can be found) more exotic animals; expect to find the likes of parrots, hippos, tigers, leopards and parrots. Be wary that even though these dolls are appealing they may not offer the same build quality as Sylvanian Families offerings.
Doll Condition and Damage
The large majority of Sylvanian dolls on eBay are of the highest quality as most owners take care of the ones they own. However that does not stop damaged dolls appearing on eBay every once in a while. The following is what buyers should look out for when buying Sylvanian dolls:
Tears – Tears are one of the most common issues with toys of this kind. If they occur to the main material of a toy any repairs done will be visible.
Rips – Rips occur in a toys stitching and are a simple repair. However they are never as strong as the initial manufacturer condition.
Damaged Limbs – Dolls that are missing limbs such as arms or legs are extremely difficult to repair, no matter what a listing states they are pretty much useless.
Missing Parts – Some Sylvanian dolls are sold in families so buyers will be sure to come across sets that are not complete. If the parts missing are not available individually such issue can be detrimental to its value.
Sylvanian dolls that are significantly damaged or have been repaired poorly have little to no value. They should only be purchased for aesthetic reasons and will mostly appeal to collectors. Repairing Sylvanian dolls and obtaining replacement parts can be tricky; from time to time parts do appear on eBay. Usually collectors will have to contact the manufacturer or distributer direct in order to obtain what they are after.
Flair - UK
International Playthings – North America
Tomy - Australia
It is worth knowing where to purchase replacement parts from should any issues arise with your Sylvanian dolls.
Sylvanian Doll Tips
Buyers who are looking towards eBay as a source for Sylvanian dolls should bear the following in mind when browsing through listings:
· If buyers are looking to purchase enough dolls that would constitute a collection it may be worth buying smaller lots. These will be more affordable than paying more for one single large collection. This will help buyers avoid purchasing duplicates and help them have some degree of control over what dolls they acquire.
Ask sellers to send through individual close up pictures of dolls, this will help buyers spot any blemishes that may not have immediately been visible.
Try and buy items that come in their original boxes as this will help ensure the dolls future value. This also gives an indication of how much care the seller has given to the doll in question.
Those who are new to Sylvanian Dolls will be unaware of how rare and sought after some dolls may be, this can benefit shoppers. Research the seller and see if they have sold such products before. If they have not there is a chance that they are unaware of the dolls value and could be underpricing it.
Be cautious of sellers selling large collections at suspiciously low prices. They could be unbranded dolls or arrive not as described.
The above tips may seem simple but they are undoubtedly effective in the online auction environment.
How to Buy Sylvanian Dolls with eBay
Sylvanian dolls are both collectable and sought after. Their popularity in the toy industry is unrivalled and has made a eBay a hotbed for such products. The site offers a unique approach to the shopping experience and it allows buyers to create an environment that suits them.
In order to browse what Sylvanian dolls are up for auction locate the toys and games section on eBay's home page.
From there locate dolls and bears and finally Sylvanian. This will display all Sylvanian dolls that are currently up for sale.
If you have a particular set or doll in mind use the search function at the top of the page.
The advanced search function will help narrow the results down further.
eBay Shops
eBay shops are a great place to start if you are just openly browsing. Sellers who have an above average amount of stock run the stores and they have become great places to find bargains. In order to find an eBay shop use the eBay shops option at the bottom of the home page. When buying items from eBay especially collectable toys be careful to pay attention to seller feedback ratings, they will provide a great indication as to the reliability of a seller.
Delivery
Sylvanian dolls have a worldwide presence so if purchasing from abroad buyers should take into consideration both international postage and custom charges. They can also be delicate items so delivery is a key part of any transaction. Those looking for the highest amount of security and care should use an insured courier for delivery. Such services also provide financial cover should an item be either damaged or lost in transit.
Conclusion
Sylvania Dolls are not only collectable but have a huge worldwide fan base. Since their inception in 1987 they've developed a following that is arguably the most loyal of any toy range currently being sold. Their popularity began in Japan but has grown into a company that has branches in Europe, America and Oceania. Sylvanian dolls are released sparingly and in limited numbers, it means that there is a scramble when a new set is released.
Many dolls were only released in Japan with few reaching European shores. In instances were they did reach Europe it wouldn't be until well over a decade later. These sets have been re-launched on a larger scale in recent times but do not contain the exact contents of the original Japanese release. Each country has their own exclusive dolls being offered by the top brand in the field.
For those looking to add to their collections eBay has become the go to resource. No matter whether you're a fan, collector or investor shoppers sure to find a bargain that suits their tastes.