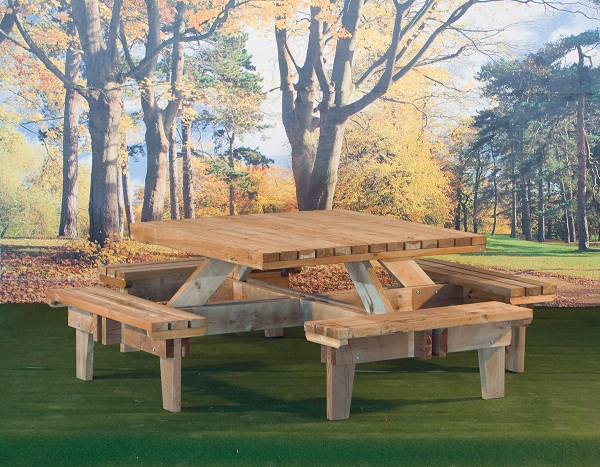 Garden furniture is a really important element of outdoor decor, both in terms of function and style. In choosing garden pieces, one must therefore balance budget and space along with concept and design. And, as the centrepiece of any garden, table and chair sets are the epitome of this balance of style, function, and price. Therefore, learning how to buy table and chair sets for your garden on eBay is a multiple step process that involves far more than a few quick search tips.
This guide is designed to help consumers purchase table and chair sets on eBay in a simple and straightforward manner. This starts with paying attention to the types of table and chair sets available (their function) in addition to the material from which they are made (their style). It is these two elements, function and style, which will dictate the pieces one should consider in the searching and buying process that follows
Finally, as no "how to" process is complete without instructions for the location and purchase of these pieces, this guide will end with simple eBay buying tips. This is because, though eBay is an excellent place to buy table and chair sets for your garden, proper use of the site and its search features is essential. Through following these tips one can get the best deal in the least amount of time.
Considering Function: Types of Table and Chair Sets
Table and chair sets for your garden come in two basic design styles. The first is a classic dining table-like setup whereby upright chairs surround a table. The other is the lounge setup. This includes heavily cushioned, lower chairs and low tables. Because of the inherent differences between these two designs, deciding on the proper type of table and chair set for your garden is the first important step in the buying process. This is because asking this question forces buyers to consider the set's function.
The Importance of Function
When it comes to garden furniture, style is nice and definitely important, but function must trump it. In fact, purchasing a piece of garden furniture without function in mind can lead buyers to bringing their piece into the garden only to find that it doesn't fit or have enough seating to accommodate the whole family. Therefore, there are two major points to keep in mind when assessing function: needs and space.
Assessing Needs
When choosing garden furniture, it's important to consider the needs that the furniture will serve. While a garden gnome placed in a flower bed only serves the purpose of delighting passers-by, table and chair sets are more than a mere decorative element, but rather an important piece that will be used daily during nice weather.
Therefore, users will need to consider a table and chair set's intended use. Those who wish to dine outdoors, for example, will need to look for a table and chair set large enough to seat all members of their family and any visiting friends. Others who see their garden as a general relaxation area may want to look for a table and chair set more focused on luxury, such as a garden couch or lounge and matching table.
Measuring Space
After considering the intended use of your table and chair set, the next consideration is the actual space of the garden itself. While most of us understand that garden furniture must fit into the outdoor area, the exact dimensions required for certain pieces do vary. What's more, space needs go beyond whether or not a table and chair set will physically fit into a required area. They still must be useable while leaving the rest of the garden accessible at the same time.
Here are two important ideas to keep in mind for the most common type of table and chair sets purchased: standard dining tables and lounge sets. First, a typical table and chair set with upright chairs will need to have a clearance of at least 60 cm all around in order for users to comfortably sit and eat as well as manoeuvre in and out of their chairs. Lounge sets, on the other hand, tend to be bulky. Their placement will need to leave ample surrounding space for walking and manoeuvering around them, both when in use and not.
Considering Style: Table and Chair Set Materials
Once you have decided upon the type of table and chair set to buy for your garden based on its function, it's time to begin the fun part of the buying process: considering style. Unlike indoor home decoration, garden decor does not fall into style types like Baroque or Modern. Instead, most people decide upon the style of their garden based on the material from which the furniture is made. To do this, one must consider the three major materials used to make garden furniture: wood, wicker, and metal.
Wood Table and Chair Sets
Wooden garden furniture is a great option for people who like a more "natural" look to their decor. However, the look of wood will vary according to the type of wood used. The table below lists and describes the general look as well as the positives and negatives of the four most popular types of wood used to make garden furniture:
| Type of Wood | Description | Positives | Negatives |
| --- | --- | --- | --- |
| Cedar | Pale brown softwood that ages to pale grey unless treated and sealed | Resists cracking; dries quickly; high amount of natural oils causes it to weather well | Wears faster than hardwoods |
| Eucalyptus | Hardwood; sapwood is pale brown where heartwood ranges in colour from dark red to white. | Naturally resists moisture and insects; fast-growing and earth-friendly | If untreated, decomposes quickly due to a lack of natural oils |
| Mahogany | Reddish or deep brown hued hardwood | Weathers well; stable timber that keeps its strength | Needs a protective finish to last; pricey |
| | Dense-grained tropical hardwood that begins pale brown, but weathers to a pale grey | Resists rot, shrinkage, and swelling; naturally high in oil requiring no varnish | Trees are slow to grow causing a high price and environmental impact |
Clearly, there are some big differences between each type of wood, which will be up to the individual buyer to evaluate. Plus, there are still three other major materials for buyers to consider.
Wicker Table and Chair Sets
The woven appearance of wicker furniture creates a much more "classic" look in comparison with any of the other materials presented here. Though the weaves and colours of wicker tables and chairs can vary greatly, there is also a distinct difference between traditional and all-weather wicker that buyers should consider.
Traditional Wicker
Traditional wicker, which includes natural rattan and bamboo, creates a beautiful and simple look. However, the delicate nature of these plants means that traditional wicker table and chair sets for the garden can only be used in covered areas. This is because the sun as well as wind, rain, and other moisture will decompose the wicker and wear it out quickly. Traditional wicker chairs, when wet, will also permanently stretch if sat upon. Traditional wicker also needs to be painted periodically in order to refresh its look.
All-Weather Wicker
In contrast, all-weather wicker is actually made from synthetic, plastic-based fibres that are designed to stand the tests of time and the elements. These synthetic materials are actually also woven around a weatherproof frame that helps to preserve the integrity of the furniture and extend its life. Weatherproof wicker furniture is appropriate for all areas of the garden, including alongside a pool, but it should be covered when not in use to protect from sun exposure and warping.
Metal Table and Chair Sets
Different metals represent the final class of materials for garden table and chair sets that most buyers consider. A durable, versatile, and comfortable option, there are three major types of metals used in garden furniture: aluminium, steel, and wrought iron.
Aluminium
Aluminium is lightweight and practical and is amongst the most popular material used for garden furniture that will need to be moved around a lot. Also, unlike other metals, aluminium does not naturally rust, though any paint applied to it will peel. It also retains heat, meaning that users will need to put aluminium garden furniture in the shade, perhaps under a parasol, on especially sunny days.
Steel
Steel is the perfect "middle ground" metal for garden furniture. It is heavier and sturdier than aluminium, but lighter and better weathering than wrought iron. Generally, steel garden furniture is treated with a powder coat to ensure weather protection.
Wrought Iron
Wrought iron is the most formal of the metals used for garden furniture. Both heavy and subject to rust, wrought iron is the only metal that can be easily cast into ornate designs. What's more, the heavier weight makes wrought iron garden furniture far more appropriate for windy areas as it will not need to be anchored down as often as lighter aluminum and steel furniture. Like steel, iron is usually powder coated to prevent rust.
Successfully Using eBay to Buy Table and Chair Sets
Once buyers have decided upon the function and style of the table and chair set for their garden, the eBay shopping process can begin. eBay is a great, functional website that allows its users a great deal of options in terms of search features and buying power that make it an excellent choice for the purchase of garden furniture.
Searching eBay
Once you are a registered user, searching eBay for table and chair sets for your garden can begin on any page. Through using the general search bar, users can enter basic or specific search terms to meet their needs. Therefore, start with "garden table and chairs" but also consider "wooden garden table and chairs" for more targeted results.
Using eBay Listings
In addition to proper search techniques, eBay users should educate themselves about the way to read and respond to item listings on the site. Unlike traditional store websites, eBay unites sellers from all over the world who each operate independently. Therefore, users need to read the fine print regarding postage fees as well as the seller's feedback and reputation in order to find the best deal as well as the best seller to offer it.
Conclusion
Learning how to buy table and chair sets for your garden on eBay can be a tough and complicated process. There is more to it than running a simple search if buyers want to be prepared. This starts with two major evaluations in regards table and chair sets: function and style.
Whereas function asks buyers to consider practical aspects of their purchase such as how the table and chair set will be used and the space it will be placed, style is a much more personal issue. There are three major materials from which table and chair sets for the garden are made: wood, wicker, and metal. Each of these has additional subtypes that buyers should also consider. Ultimately, this final choice is merely a matter of personal preference, however.
At the conclusion of the function and style debate, buyers are finally ready to move on to eBay. This website offers dozens of choices to buyers looking for table and chair sets for their garden. Therefore, using good search techniques and properly evaluating the listings that are generated from those searches is essential if they are to be a success.