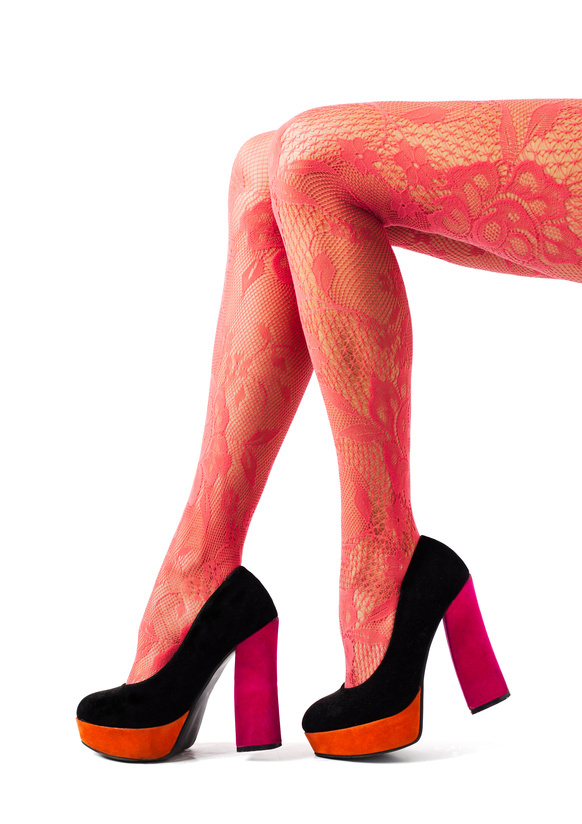 When choosing tights for a baby girl, it is important to choose a size that is comfortable and non-restrictive. A baby's skin is very sensitive. If the tights are too big, they can sag and move around and rub against baby's skin, causing chafing and skin rashes. Wearing tights or socks that are too small can cause discomfort by restricting proper blood flow to baby's legs and feet.
The first thing to consider when buying baby hosiery is the proper fit. Along with the baby's age. the parent should consider the child's height and weight. There are other factors to consider, such as the type of material, colour, and the style of tights. A parent should also consider what is involved in caring for a pair of tights. Baby girl tights are sold in the infant departments in stores and online venues such as eBay. This massive online market can boast thousands of current listings for tights for a baby girl.
Types of Tights for a Baby Girl
Cute baby girl tights are available in a variety of colours, styles, and materials. These items of baby clothing serve the primary function of keeping the baby's legs warm when it is cold outside and providing extra layering under outer clothing. Baby girl tights are often worn to accessorise frilly baby dresses.
There are two types of baby girl tights to choose from: footless tights and footed tights. Both are made using stretchy materials that are blends of natural and synthetic fibres. These materials may be sheer or opaque and come in a range of colours. Tights can be worn under trousers, jumpers, or sleepsuits, and can perfectly accessorise play clothes. Frilly bum footless tights look adorable under short dresses or skirts.
Materials for Tights
Infant tights are manufactured using a variety of materials. Most of the materials are blends that consist of synthetic, stretchy fibres like Spandex or Lycra that have been blended with another type of material, usually a natural fibre like cotton. Sheerness is a measure of material density and the lower the density, the sheerer the tights. Baby girl tights are not usually as sheer as adult tights, and tend therefore to be opaque. One cannot see through an opaque pair of tights. Because the material is denser, opaque tights have a thicker feel to them. Baby tights are denser because baby tights need to keep the wearer warm.
Microfibre
Microfibre is a material made from synthetic fibres such as polyester or nylon, or a blend incorporating one of these materials. There are many cute, pastel coloured microfibre tights available for baby girls, perfect for wearing with Easter dresses, church dresses, or for any occasion when baby is required to dress up a bit.
Cotton Blends
Cotton blends are stronger than 100 percent cotton, and clothing made with cotton blends are more breathable and often more eye catching. Cotton blend tights are perfect for winter days when it is cold outside and baby needs a little extra warmth. They can be paired with a jumper or worn under a pair of trousers to keep baby warm.
Lace
Lace is an openwork fabric, meaning that it has holes in the fabric that are intentional and created as part of the fabric when it is woven by hand or machine. Choose lace tights to wear with a party or church dress for semi-formal to formal occasions, or simply pair them with a jumper or dress.
Polyester
Polyester is a synthetic fibre, and fabrics made from the blending of polyester and Spandex or Lycra are stretchy and retain their shape well. Polyester blends are not quite as soft as other types of materials, although polyester blend materials often have superior weather resistance. Polyester blend tights are a good choice for wearing under baby clothes when the weather is cold outside.
Velvet
Velvet can be made from a variety of fibres, however silk is the most common fibre used. Velvet is warm, and keeps baby's legs toasty in cold weather. Because velvet has a very formal look and feel, velvet tights can be paired with velvet dresses or satin dresses trimmed with velvet for holiday or other formal occasions, when baby needs to look her very best.
Sizing Baby Girl Tights
In general, infant clothing is sized by age, although hosiery sizes often vary by manufacturer. The following table is a fairly standard sizing chart. Most tights come with a sizing chart on the back of the plastic package. This sizing chart should be consulted because not all babies of the same age weigh the same or are the same height.
| | | |
| --- | --- | --- |
| Age and Size | Height | Weight |
| newborn | up to 46 cm | up to 3 kg |
| 0-3 months | 46 to 58 cm | 3 to 5 kg |
| 3-6 months | 58 to 64 cm. | 5 to 7 kg |
| 6-9 months | 64 to 68 cm | 7 to 8 kg |
| 9-12 months | 68 to 74 cm | 8 to 10 kg |
| 12-18 months | 74 to 79 cm | 10 to 12 kg. |
| 18-24 months | 79 to 84 cm | 12 to 14 kg |
When determining the right size tights for a baby girl, remember that the weight of the child is more important than the age. If the baby girl's weight falls into a higher age category, then that is her correct size, regardless of her actual age or the size listed. And remember that a baby grows rapidly, making it necessary to re-weigh and measure the baby before buying tights if more than a month has passed since her last fitting.
Caring for Tights
Caring for tights is easy. However, the methods used depends on upon the material and opacity of the tights. Generally, the best method of cleaning tights is to hand wash them in mild detergent, rinse in cool water, and then hang to dry. To extend the life of tights, try freezing them. Freezing tights that are at least 15 percent Lycra or Spandex extends their life by strengthening the fibres. To freeze them, simply run the tights under cool water, wring them out and place them in a freezer bag. Place the freezer bag into the freezer overnight. When the tights are removed from the freezer, let them thaw at room temperature. Do not thaw the tights in the clothes dryer. If baby wears tights often, freezing the tights can extend the life of the tights significantly, as well as keep them in tip top condition for longer.
Where to Find Tights for a Baby Girl
A parent can buy tights for a baby at any high street infant clothing store, or in the infant and toddler sections of department stores. In addition, tights can be found wherever infant clothes are sold. For instance, buyers can look in a variety of locations such as flea markets, charity shops, consignment stores, garage sales, auctions, craft shows, and bazaars. Baby girl tights can also be found online on sites such as eBay. For a truly extensive collection of baby tights, eBay can boast thousands of listings. Traditional locations simply cannot compete with eBay's extensive range.
How to Search for Tights for a Baby Girl on eBay
To start searching on eBay for baby girl tights, simply type in keywords that describe what you are looking for into the search bar at the top of eBay's home page. For instance, if you type in a rather generic search query like 'baby girl tights' into the search bar, you can expect to be rewarded with hundreds of current listings for tights for baby girls. You can easily narrow the search to a specific type of fabric, colour, or design by using the search filters on the results page. In addition, you can choose to search by type of seller. To sort the listings such that only listings by Top-Rated Seller are displayed, simply choose that option on the results page. Top-Rated Sellers are eBay sellers with the highest feedback scores.
Be sure to read the item description carefully to determine if the tights offered for sale will suit your child. It is important to know your child's correct size. For reasons of hygiene, many sellers do not accept returns on baby tights that do not fit.
Conclusion
No matter what style, colour or type of baby girl tights a parent requires for their little girl, eBay has an extensive collection of infant tights from which to choose. Browse listings for baby girl tights from among a variety of fabrics, including polyester, cotton blends, microfibre, and velvet. Look at the styles available and consider the variety of patterns and prints. To ensure baby's comfort, it is important to buy the right size tights for a baby girl. Sizes are related to ages, but a parent should not just look at the age category when determining what size to buy. Babies grow at different rates, and although one baby may weigh a certain amount at a given age, another may not. To be certain of buying a pair of tights that fits properly, one should consider baby's weight and height. eBay's easy to use search engine allows a buyer to find a pair of properly-fitting tights for child with just a few clicks of the mouse.