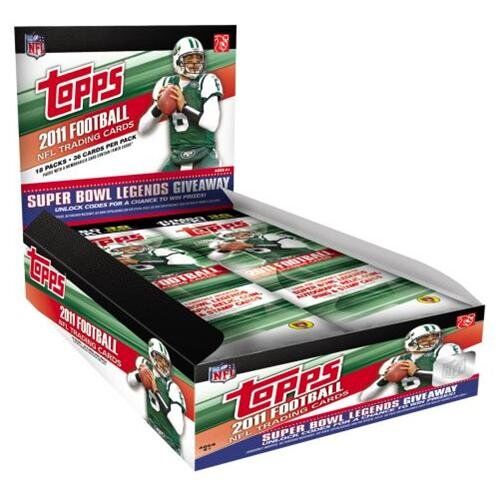 Trading cards have been around for decades. The hobby is popular amongst kids and is profitable for adult collectors in the United States and the United Kingdom.
Topps trading cards
have circulated in the memorabilia industry for decades and are available in different sports and genres in a range of prices. Whether the purpose for buying Topps trading cards is to build a priceless collection or to build a retirement fund, Topps trading cards are memorabilia items that only seem to appreciate with time. For collectors in the United Kingdom, buying Topps trading cards of footballers is very popular, however, there are trading cards available for a variety of sports and pop culture entities.
Trading cards can be purchased or traded individually, or they can be bought in bulk packs, boxes, or cases. Some trading cards cost more than others, based on the availability of the card or the depicted player. Valuable Topps trading cards are commonly sold online on websites like eBay . Looking for that next priceless rookie card or an autographed trading card for one's own collection is easily accomplished using eBay's search tools and global database.
What Are Topps Trading Cards?
Topps trading cards are an American brand of trading card memorabilia. These cards are created for different sports like football, American football, baseball, and hockey, and there are even special lines that depict various popular culture and entertainment icons. Originally a chewing gum business, Topps first created cards in 1949 with pictures of American baseball icons like Babe Ruth to go along with their gum. Over the years, Topps trading card sets went on to feature pop culture icons for fans of the entertainment industry.
Topps trading cards continue to be popular collectors' items, as well as children's trading items. Many collectors make money selling players' cards that have gained value over time. In fact, for many of them, making money on appreciated cards is the sole purpose for collecting. Trading cards can be kept in the family and passed down as family heirlooms for generations. Others hunt for trading cards with a high selling potential. No matter how one trades or collects cards, they can have a lot of fun engaging in this hobby.
Different Types of Topps Trading Cards
There are all sorts of Topps trading cards available for sale, from typical sports players and pop culture icons to rookie player trading cards, autographed cards, and memorabilia cards, which have a piece of a player's jersey or some other trinket attached. Each type of Topps trading card can be an excellent addition to any collection, and the opportunity to make a profit in trading cards can be found in any of these categories.
Type of Trading Card

Description

Sports

Popular amongst children and adult collectors

Some of the cards become more valuable over time as players and clubs succeed over the years

Collecting players from several clubs increases the chance of owning a valuable card

Cards come in several sports, including football, baseball, hockey, mixed martial arts, and American football

Pop Culture

Cards are also available with pop culture icons like musicians and actors or for specific movies and TV shows

More popular with kids than as collectors' items unless it is an autographed or memorabilia card

Rookie Cards

Topps releases a rookie player deck

Showcases each sport's newest set of rookies that may go on to huge success for professional clubs in upcoming seasons

Because each rookie player has the potential to become the next Most Valuable Player of the season, real money can be made with these cards

Autographed Cards

Another valuable form of trading card

Autograph increases the value of the card because of its rarity

Autographed cards increase even more in value if the player is particularly significant over the course of his career

Excellent collectors' items

May also become priceless gifts or family heirlooms

Memorabilia Cards

Cards that have an additional form of memorabilia, such as a piece of a player's jersey, attached to the card

Valuable because they are rare, similar to an autographed card

Great cards to serve as the centrepiece of a card collection

Memorabilia cards of a famous player may become very valuable over time

Low Serial Numbers

Not all mediocre players' cards are worthless

Low serial numbers indicate an original print, typically from when the player first joined a club

The lower the number, the higher the value
There are different types of Topps trading cards for a variety of collecting tastes. Fans may collect trading cards based on their favourite clubs, sports, or players, while other fans may collect Topps cards purely based on the potential increased value of the items over time. Whatever one's motives, there are cards that hold some type of value for everyone, and finding the right card at the right time could lead to something as simple as a happy child or as amazing as an early retirement.
Conclusion
Topps trading cards may have started in 1940s America with iconic baseball players, but the trend of collecting and selling valuable cards continues to be a popular industry, especially in the United Kingdom with football clubs and players. There are trading cards for fans of every sport, from football to hockey to American sports like baseball and mixed martial arts. There are even trading cards available for celebrities in pop culture. Collectors tend to purchase, trade, and sell Topps trading cards for a number of reasons, including to increase the monetary or sentimental values of their collections. On a monetary basis, the most valuable cards tend to be the rookie cards, autographed cards, and memorabilia cards, although almost any card with a low serial number appreciates in value, as well, because of its early print status.
Collectors and dealers in the memorabilia trading card industry often use websites like eBay to buy and sell trading cards. Whether the intent is to build a priceless personal card collection or to make a profit off the hobby of collecting, Topps trading cards make for an incredibly rewarding hobby, and they can be purchased with a series of simple mouse clicks on eBay.