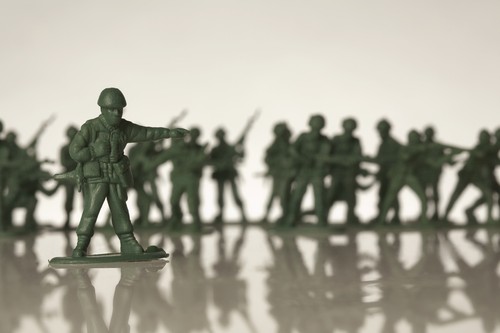 Toy soldiers are a great option for children and have been a popular feature in society for centuries. Model collectors also enjoy the figures as there are so many varieties, covering a huge range of historical events.
Miniature models of soldiers and military objects have also been used by military strategists in order to represent real army tactics as early as the 17th century. Their size, cost and durability made them perfect for being moved around extensively under different conditions.
Tin soldiers were introduced to Germany during this time and were then revolutionised by British toy manufacturer William Britain in 1893 – who began creation of the soldiers using hollow casting methods. This made the toys more affordable and lighter than previous military models.
These days, many variations and styles can be found in shops, online and at collector's shows – allowing for a creative play time or a rewarding hobby in adulthood. eBay hosts a number of these toy soldiers from manufacturers including brands such as Airfix, Britain's and many more.
Which Toy Soldiers Are Available?
Often made from plastic or metal, there are various types of toy soldier – such as plastic army men or larger tin soldiers. They are also often distinguishable due to their country of origin, with certain nations tailoring their models to their culture.
Toy soldiers are therefore produced in a range of styles and using various different materials. Some are also decorated using differing techniques – for example, some sets may be made using coloured plastic whereas others may have detail painted on. It is also possible to purchase sets in which can be painted at home.
These military figures can be purchased as part of a themed set or individually – depending on the style, materials and features.
Metal Soldiers
Toy soldiers that are made of metal are very different from their plastic counterparts and are often more desirable by collectors. They can be bought as individual scale figures as they are typically larger in size and feature better detail – making them more collectable.
Features
Can be solid or hollow – meaning weights can vary.
Figures are made from metals such as cast iron, lead alloy and aluminium.
Can be bought as a set or individually.
Detailed paintwork.
Models of soldiers are available from many different time periods.
Sizes vary, with different manufacturers adopting different scales.
Plastic Soldiers
Plastic toy soldiers and army men are typically less detailed and smaller in size than metal versions. These are popular amongst children as they come in large sets – often with accessories such as vehicles and equipment to maximise imaginative playing time.
Typically, they can be purchased in bags or boxes of multiple figures and are distinguishable due to their smaller size. These soldiers can be purchased either painted or unpainted and an excellent affordable option.
Features
Moulded plastic – making figures more lightweight than metal versions.
Soldiers come in packs or buckets of multiple figures.
Accessories are often included – such as vehicles and landscapes.
Modern military uniforms and accessories are common.
The positions of the figures are often fixed – meaning that their limbs cannot be moved. Sets often feature figures in different poses – such as crouching, standing, shooting and laying down.
Approximately 5cm tall – unless figure is crouching or not standing upright.
Toy Soldier Accessories
Many accessories are available for toy soldier sets – both plastic and metal - and often increase the amount of use and fun that can be had. While many plastic sets come readily equipped with extra accessories, collectible metal add-ons can also be found individually.
Accessories for both types of soldier can include:
Military Vehicles – Tanks, ambulances and trucks can be used to aid playing experience or add depth to a collection.
Battle Landscapes – Battle landscapes are useful in order to provide a setting in which children are able to construct battle scenes. Collectors may also use these in order to showcase their collections on a relevant stand.
Buildings – Large buildings, as with landscapes, can provide a setting in which children can play with their soldiers. These can also be convenient for storage.
Weapons – Features such as cannons and turrets provide more realism to a toy soldier battle scene and allows for more interaction.
Paint Sets – Paint sets are available for collectors that enjoy painting their own figures. These often come in a variety of colours and brush styles and allows for full customisation if desired.
Which Toy Soldier Themes Are Available?
Many toy soldier sets and figures are based around a certain period in time and include accessories that were common during that era. Themes that are popular include:
World War I and II
American Civil War
Napoleonic
Modern warfare styles
If adding to a collection, it is important to note the time period of the product and whether it would be an appropriate match. For example, purchasing soldiers based on modern warfare may not be a good match for an existing set based around World War II.
What to Consider When Buying Toy Soldiers
Different sets of toy soldiers can often be aimed at different age groups and interests. It is therefore important to consider various factors when deciding what to buy.
Age Different ages have different requirements when it comes to toy soldiers and military figures. Younger users, for example, are perhaps more suited to simpler variations with less small parts. Be sure to check the products age recommendation before purchasing.
Interests Toy soldiers can be purchased in a variety of different colours and themes and purchasing a set that appeals to the user is important to maximise the fun that can be had.
Space Before purchasing a set of toy soldiers, ensure there is enough space in which to use and store them.
Quantity When purchasing a set of toy soldiers, it is important to consider the quantity desired. For example, a large set of varied figures may be more appropriate for a child that does not currently have any soldiers. Smaller packs may be more suitable as add-ons for existing collections.
Price Be sure to shop around to find the best possible price when looking to purchase toy soldiers. If purchasing with eBay, do compare products from different sellers and take into account how much time is left on an auction – a great deal could be just a moment away.
Where to Buy Toy Soldiers
Toy soldiers are available on the high street at many toy stores. However, the options may be limited unless it is a particularly specific store or a collector's show. A wider range can be found online, however, giving the buyer access to the whole market and providing them with plenty of options that are within budget.
eBay has a large selection of toy soldiers that cover a broad range styles and needs. By typing in "toy soldiers" or "soldiers" into the search tool, for example, a broad range of products will be shown. In order to refine the search, include additional preferences if they are required:
Price Range
Style or theme
Condition (if applicable)
Specify additional extras –such as whether figures should be made from metal or plastic
Buying toy soldier products from eBay can be less expensive than buying through brick and mortar stores – and equal in quality. The advantage of buying on eBay is the wide selection and the flexible payment options which make the whole shopping process easier for the customer.
When deciding to go ahead and buy from eBay there are a few tips that will ensure a smooth and safe transaction:
Always read the item description carefully and any conditions that come with it.
Are the delivery conditions acceptable? If it is a 'collection only' listing, make sure it would be possible to travel to collect the item from its location.
Be sure to ask the seller a question if there's any doubts over the product.
Review the seller and their feedback rating in order to ensure that this is the best possible source to purchase the item.
Visit the Buying Tips page for more information.
Conclusion
Toy soldiers are an excellent way to keep children engaged and entertained for hours. They are also the perfect product for collectors as the broad range of styles, brands and accessories allow for a rewarding hobby.
Many can include additional features and the broad range of historical styles mean there is something for all age groups and people who enjoy collecting them as a hobby.
With very little maintenance required, plastic toy soldiers are the perfect gift for children and can even aid learning about elements of history.
When browsing, take into account this guide and consider the right toy soldiers and equipment. Decide which type is the most suitable and shop around online to find one at a price that is within a suitable budget. Make sure to read reviews of the product as discovering other people's first-hand experience is always invaluable.
eBay will generally provide many toy soldiers at an affordable rate and if deciding to go down this route, then take the recommended precautions and use PayPal to ensure a safe transaction.