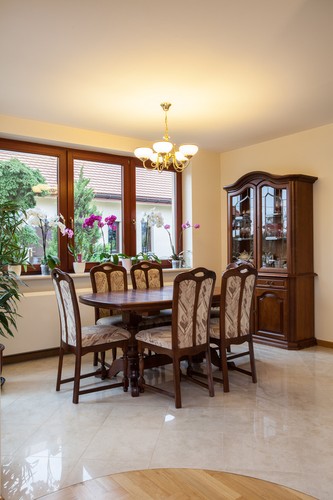 Dining room chairs are indispensable pieces of furniture, combining both form and function. They should provide a comfortable, inviting structure for guests to linger over long meals and conversation. They may even double as an office chair for those who work from home. Decoratively speaking, they are a prominent feature, and should be carefully chosen to harmonise with a room's decor. Finally, they must be durable enough to withstand years of regular usage.
eBay has a wide selection of traditional dining room chairs from which to choose, and the high volume of sellers means that prices are quite competitive. Whether shopping for new or used chairs, buyers can find a range of styles in quality construction. In order to find a set of chairs that suits a dining room's decor and fulfills their practical needs, consumers should plan ahead. Knowing what size, styles, and materials to look for will help smooth the buying process. Also, following a few basic steps helps ensure positive transactions over eBay.
Searching for Traditional Dining Room Chairs on eBay
Searching for traditional dining room chairs, or any furnishing, is a balance between knowing what to look for and finding inspiration from the products available. Consumers who are shopping for dining room chairs should have at least a rough idea of what they are looking for. Some may have a very specific chair in mind. Whatever the case may be, it is easy to conduct general or more specific searches on eBay's online auction website. Starting on eBay's home page, type in keywords to the search bar. Some examples of keywords include "traditional oak dining room chairs" or "traditional upholstered dining room chairs". eBay then lets you narrow the first set of search results by factors like price range, item condition, shipping methods, and more.
Searching can be done at any stage in the buying process: at the beginning it may generate ideas and help in determining a price range, while searching at the end of the decision-making process may lead quickly towards the perfect item.
Determine Quantity and Size of Chairs
It is very important to determine what size dining room chairs are needed for a particular dining space. The appropriate size chair allows the sitter leg room under the table, elbow room on either side, and enough space to pull out and draw in the chair without feeling cramped.
There are a range of dining room chair sets on eBay, so shoppers should know ahead of time what chair dimensions and quantity to look for.
Measure Dining Space and Dining Table
The first step is to measure the dimensions of the dining room and the dining table. There should be 1.2 to 1.5 m between the table and walls, and 61 to 76 cm between chairs.
Also measure between the underside of the table and the floor. This should include the height of the bottom of the apron, which is the piece of wood running between legs to support the table.
Chair Dimension Checklist
Once the above measurements are determined, shoppers can compare a chair's dimensions to see if it is the right fit. There are a few things to check.
Generally, most chairs should have no problem fitting under dining room tables. However, if choosing chairs with armrests, the armrest may prevent the chair from being pushed in completely when not occupied. People have different preferences about this issue; those who want their chair seats to fit completely under the table should look for armrests that are low enough to pass below the tabletop and apron, if applicable.
Chair depth should also be taken into account when shopping, as it affects how much space there is between the dining space and other furniture. Remember to factor how far the chairs can be pushed in when not in use. A last item of note: shoppers should consider the arrangement of the table's legs and decide how the chairs should be arranged so that guests have a comfortable amount of legroom.
Quantity of Chairs
To a large degree, the size of the dining room table determines how many chairs it can handle. If buying an extra chair or two in case of additional guests, shoppers should make certain they can fit at the table, and plan how and where to store them. Arrangements that include a flexible seating element like a bench or banquette are a good idea for those who may have lots of guests at a moment's notice.
Determine a Price Range
Deciding on an approximate price range is another step in the shopping process. eBay enables consumers to filter initial search results by price range, and to sort the results by price. Given the extensive range of options, knowing one's budget can help narrow the field.
Types of Traditional Dining Room Chairs
There are many styles from which to choose when shopping for dining room chairs. To find one that will be both functional and aesthetically pleasing, shoppers should keep in mind factors like comfort, detailing, materials, and the overall look of their dining room's decor.
With or Without Armrests
Traditionally, the chairs at the head of the table, called carvers, have armrests, while the chairs on the sides are armless. Such an arrangement has a practical aspect as well, since armless chairs take up less space than those with armrests. Shoppers may wish to adhere to tradition, or to branch out and opt for all armless chairs or armchairs. Chairs with armrests are useful for older people or those who have trouble getting in and out of a chair.
Windsor Dining Room Chairs
Windsor chairs are a classic style for traditional dining room chairs. They typically feature a semi-circular back supported by several vertical rods, turned, angled legs, and a carved saddle seat.
Queen Anne Dining Room Chairs
For a more formal traditional dining room, Queen Anne chairs are an excellent choice. They feature beautiful carved, curved legs, upholstered seats, and high, carved backs, which may be wood or upholstered.
Other Options
Shoppers should think about whether their traditional dining room setting is more casual or formal. Upholstered chairs can be quite comfortable and suit a formal dining room decor. All-wood chairs can also be comfortable, as long as they are well-constructed. Dark wood tones beautifully complement formal furnishings, while unstained wood has a rustic appeal. The shape and space of the room should also influence the chair's design. Smaller rooms may be better suited by delicate details and more open designs, while heavier, bolder chairs might look best in larger spaces. Simpler chair designs work with sparer decor schemas, while curvier designs fit in with opulent settings.
Wood for Dining Room Chairs
Most traditional dining room chairs are made of wood. Woods are botanically classified as either hardwood (flowering) or softwood (coniferous). These denotations can sometimes be misleading, as they are not always indicative of the wood's actual hardness. Softwoods are more common, and therefore tend to cost less.
Every wood has a certain grain, which is a pattern of lines that run lengthwise along the wood. The grain is determined by the wood's cell structure, and may be open, with a rough, porous texture, or closed, with a smooth, fine texture. There may be wavy or straight lines, swirls, mottled spots, and other markings. Woods with distinctive grains are often more highly valued than those with indistinct grains.
Colour is another quality of wooden furniture. Woods come in a range of colours, from pale white to deep purple. Their natural hue can be enhanced by stains, or simply coated with a clear finish. Alternatively, some wooden chairs are painted.
Oak and teak are very strong hardwoods commonly used in furniture. Other hardwoods include walnut, mahogany, and cherry. Softwoods like pine are less expensive and common for more informal pieces.
Chairs labeled as being bonded or veneer have a thin layer of a rare, attractive wood mounted onto a more common wood. While veneer pieces are an affordable way to get the look of highly attractive wood, they are often less durable than pieces in solid wood.
Checking eBay Items for Quality
A set of dining room chairs is likely to stay in the home for a long time, so sturdiness is essential. If financially feasible, buyers should invest in durable, well-made items that will last for years to come. Comfort is another important factor, since it allows people to sit for a long time without distraction or discomfort.
When shopping for dining room chairs on eBay, consumers should read the product description carefully, checking for details about the item's condition, construction, materials, and more. Some used items may be in need of repair; on the other hand, older chairs may be made from high-quality materials that are quite durable. If repairs are needed, buyers should consult with a local professional for an estimate before they bid, and consider those fees as they decide how much to bid on the item.
They should also be aware of what the seller's return policy is, and whether a guarantee is offered. If buyers have any questions about the item, they can contact the seller through eBay. The seller should respond promptly and thoroughly.
Compare eBay Sellers
Another step in the eBay bidding process is to research the seller before placing a bid. Every eBay seller has a positive feedback rating, and you can read comments left by previous customers. A high percentage of positive feedback, particularly from those who have purchased furniture, is a good indication that the seller is reliable and knowledgeable. Top-rated sellers have completed a high volume of transactions with excellent customer satisfaction.
Once an item is received, it is also very helpful if you leave feedback for the seller. It helps them know their strengths, and whether there are any areas which could use improvement in the future.
Delivery Options
When purchasing large items like chairs on eBay, shipping is a big consideration. Always read the postage options prior to bidding. Shipping costs are paid in addition to the bid, so keep that in mind when bidding on items that are costly to send.
Local Pickup
Some sellers may require local pickup, which can be an affordable option, under the right conditions. When arranging local pickup, you should verify that the seller is trustworthy by reading comments from other customers who picked up their items. For the safety and comfort of both parties, the pickup should always take place in a neutral, public place with a fair amount of traffic.
Conclusion
When shopping for dining room chairs on eBay, consumers have a tremendous range of choices, from antiques to the latest designs. Buyers should measure their dining room and table to determine what size chairs work in their space, and decide on an optimal number of many chairs. Next, they should work out a price range, which also allows them to narrow their search results on eBay. There are numerous styles of dining room chairs; shoppers should find a style that harmonises with the furniture they already have. Formal styles can opt for upholstered chairs with rich wood tones; more rustic or casual styles may be better suited by unstained wood with less decorative detailing. Woods themselves vary in durability and look; personal taste and affordability can help shoppers decide what materials to opt for.
There are a few steps to take before bidding on an eBay item. These include checking for quality and researching the seller and delivery options. By following these guidelines, shoppers should be able to find a set of dining room chairs that will be an attractive and enduring element in their home.