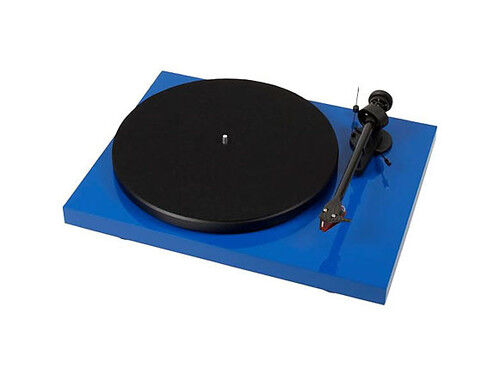 Whether buyers are looking for turntable accessories for a home record player or for a DJ turntable, eBay sellers have what they need. From cartridges and tonearms, to styli and platters, eBay sellers offer a huge variety of new, used, and vintage items at competitive prices. Items that are difficult to source elsewhere are but a mouse click away on eBay.
Before buyers start shopping, they should learn how to purchase turntable accessories on eBay. One of the most important steps in the buying process is learning how to search effectively using the search field and category classifications. Next, they should consider the turntable accessories available and the differences between household and high performance parts. Once buyers know what they are looking for and how to find it, they can learn how to evaluate items and sellers. eBay features, such as seller feedback and the item listing page, are designed to allow buyers to shop with confidence in a safe online environment.
Types of Turntable Accessories
Turntable accessories include styli, cartridges, tonearms, and platters. The accessories are all available in varying styles, which each affect the sound quality of the turntable. Research the best type and brand of turntable accessories for the buyer's requirements before shopping. To make sure that components fit properly and are compatible with the turntable, remove the existing part and look for a description or part number. Alternatively, research the options available through online sources. In some cases, the components supplied with turntables originally are of inferior quality when compared to alternative turntable accessories. If buyers cannot find a like-for-like replacement, for example, if the item being replaced is part of a vintage turntable, they can do some research before using a new part.
Styli for Turntables
Styli, or needles, come in a variety of shapes, sizes, and materials, and rest in the groove of a record to read the recorded sound. The shape of the stylus determines how much contact is made with the record. It can influence sound quality and record wear. Most styli are made of diamond. These last the longest and are the kindest to records. For normal use, an elliptical stylus produces better sound than conical or spherical designs. Usually, the smaller the stylus, the higher the sound quality as the needle fits into the groove better, making more contact with the record. However, bear in mind that some records, such as 78s, require a special larger stylus.
Cartridges for Turntables
The stylus is held by the cartridge. Modern turntable cartridges are described as either moving magnet or moving coil cartridges. Moving magnet cartridges tend to be cheaper, but moving coil cartridges produce a better sound. In some cases, cartridges and styli are sold together.
Tonearms for Turntables
The cartridge is attached to the tonearm via the headshell. Tonearms can be straight or S-shaped designs, and specific DJing styles may require particular tonearm shapes.
Platters for Turntables
Platters can wear out over time. While some listeners prefer to add slipmats to the platter to increase or decrease friction, investing in a new platter when necessary keeps the records looking and sounding their best.
Additional Accessories for Turntables
In addition to these common turntable accessories, buyers can also find new and used knobs and switches, faders and crossfaders, dust covers, power adapters, brushes, motors, and plinths. Accessories for older or vintage turntables may be slightly more difficult to find, but alternatives may be available.
Household vs. Performance Turntable Accessories
Household or audiophile turntables are essentially the same as performance or DJ turntables. Audiophiles often prefer belt-drive turntables while DJs prefer direct-drive turntables. In addition, DJ turntables have extra features, such as pitch control. Provided parts and accessories are compatible with individual turntables they can be used interchangeable. However, just because the accessories fit does not mean that they should be used.
DJ turntables work far harder than household models as they are used more often and in different ways. This means that DJ turntable accessories are more robust than those used for household devices. This is especially true of styli and cartridges. Those who use household turntables are more focused on clear and exact sound reproduction than most DJs. Household turntable accessories are not suited to the hard wearing needs of DJs.
DJ turntable accessories can be used on household turntables, although the sound reproduction achieved when using these components may not be at the standard required by the listener. In some unfortunate cases, the buyer may pay more for an accessory that does not perform the way that they expect it to. If the buyer is unsure of the best turntable accessories for their needs, they should ask other turntable enthusiasts or a sound and vision expert for help in choosing the right turntable accessories.
Buying Turntable Accessories on eBay
Before starting your search, learn about the types of turntable accessories available to make it easier to find the right parts. Then searching for turntable accessories on eBay is simple. Type a phrase, such as "turntable stylus", into the search bar, which can be found on every page, to see the items available from eBay sellers. All items tagged with the keywords in your search are then displayed. For popular items, click on the search suggestions offered.
Refine your search by choosing the most appropriate item characteristics, for example price and condition. Although the item that you are looking for can probably be found by using a search that generates the most listings, this is not always the case so take care when choosing a search phrase. For more control over the type and number of search results displayed, use the advanced search feature.
Evaluate the Item and the Seller
Once you have found the item that you are looking for, evaluate the item and the seller before making a commitment to buy. The information that you need to do this can be found on the item listing page. This page is accessed by clicking on an individual listing, and contains details such as the full item description and any photos of the product, buying options, the seller's accepted payment methods, postage and packaging costs, the seller's returns policy, and the seller's feedback information. Remember to add the postage and packaging costs to the item's selling price to calculate its total cost. You can contact the seller with questions about the listing by clicking on the "Ask a question" link.
eBay's Seller Feedback Feature
eBay's seller feedback feature makes it easy to get to know the seller. Access this information by clicking on the number next to the seller's username. Buyers are encouraged to leave feedback for sellers at the conclusion of each transaction. Feedback relates to a seller's products and customer service. More detailed information is supplied through the detailed seller rating section where buyers rate a seller's communication, the accuracy of the item description in the listing, the reasonableness of the postage and packaging costs, and how long it took for the seller to send the item. You can also see what items buyers bought and individual comments for each transaction.
Remember to leave feedback once you have received your item as this lets the seller know what he or she can do to improve the products and service provided. It also lets other buyers know what you experienced when buying from the seller.
eBay Shops
If you find a seller that you like, visit their eBay Shop. Many sellers specialise in particular types of merchandise and there may be more items that you need or like.
Conclusion
Due to the size and diversity of eBay's online marketplace, sellers offer a huge selection of turntable accessories at reasonable prices. This makes it easy for buyers to find exactly what they are looking for at a bargain price. To become a successful eBay shopper, buyers can find items by entering keywords in the search field and refining their results by selecting product characteristics. The advanced search function is simple to use and allows even more control over search results.
Turntable accessories are available for household and professional use. Understanding the types of accessories that are available and their particular role within the turntable helps buyers to find exactly what they need. Popular accessories are styli, cartridges, tonearms, and platters. Household use and DJ turntables work in the same way, but DJ turntables work much harder and should be used with performance accessories. Choosing the most durable accessories protects both turntables and records from wear and damage.
Before buying on eBay, take a moment to evaluate the item and the seller. Click on an individual listing to view the item listing page and on the number next to the seller's username to view his or her feedback information. Contact the seller directly if there are any questions. If the buyer likes a particular seller's products and customer service, they can visit the the seller's eBay Shop to see more great deals. eBay sellers offer a range of turntable accessories.