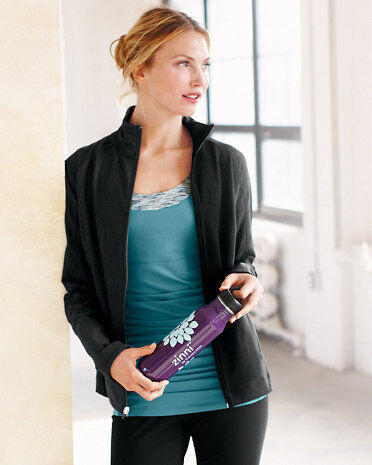 Buying used activewear can save money, but it's important to follow a few rules for purchasing high-quality garments in good condition. Considerations include original price and current quality, condition, and cleanliness. Activewear, sometimes known as sportswear, is any type of clothing that is suitable for exercise. Usually made of light, breathable materials such as cotton, Lycra, or combinations of the two, activewear should be comfortable, shouldn't hinder movement, and should wick away moisture to prevent rashes.
The most important consideration when buying used activewear is to ensure that it is clean, especially when considering underwear, socks, or anything that will be used around the face and mouth, such as ski masks. This guide explains how to choose used activewear on eBay, in second hand stores, and online, as well as how to ascertain it is as valuable as claimed and also sanitary.
What is Activewear?
Activewear is any type of clothing designed to be worn during an activity or exercise. This can include walking, running, yoga, boxing, wrestling, swimming, and a variety of other activities. In most cases, each type of activity requires its own type of activewear. Currently, activewear is also becoming very popular in fashion as many people wear track or yoga trousers, undergarments, tracksuits, and other activewear garments for everyday attire. It is not uncommon to see women wearing popular activewear brands as everyday garments, even if they do not exercise or engage in a sport. However, in most cases, activewear as fashion is reserved for well-known brands and styles rather than any article of clothing intended for exercise.
Fabrics and Stretch
Activewear is required to be comfortable, wick moisture, stretch, and sometimes have thermal properties. Because of this, most activewear is made of moisture-wicking fabrics, most commonly blends of cotton. Lycra is the preferred material for any activewear that requires stretch or that should absorb moisture. Several types of activewear include two layers of fabric with the outer being a type of net that helps moisture to quickly evaporate away from the body.
Most winter and diving clothing is also thermal in order to protect the body from changes in temperature or from extreme cold. Thermal materials include cotton, Lycra, and knitted microfibres, and are often very thin and flexible. Some activewear, such as wetsuits, include neoprene for waterproofing and abrasion protection.
Sportswear
Common sportwear includes tracksuits, sports trousers, shorts, polo shirts, bikinis, and jackets. The tracksuit is the most common type of sportswear used in both exercise and fashion. Tracksuits usually include a pair of pants and a jacket with slightly weatherproofed breathable fabric.
Other common sportswear includes the T-shirt, sports bra, running or exercise trousers, and shorts or capris. Activewear comes in a variety of brands including popular brands like Nike, Adidas, Puma, and many more. Non-branded, or budget brands, can also be purchased at lower but sufficient quality for most exercise needs.
Dancewear and Gymnastics Activewear
Dancewear has been in use for centuries and is now evolving into the very similar gymnastics wear. Clothing articles include leotards, stretch trousers, shorts, and capris. Women will normally pair them with a low to medium strength sports bra. Leotards, shorts, and other dance or gym wear should not restrict movements; therefore, they should be elastic enough to accommodate the sometimes strenuous stretches done in both dance and gymnastics.
Special Activewear
Some sports require special activewear including wetsuits for swimming, salopettes for skiing or snowboarding, trousers for cycling, keikogi (also known as Kendo jackets) for martial arts, and tights for skating, cycling, hockey and fencing. Some activewear also includes helmets and protective gear, but this is usually called sports gear.
Why Buy Used Activewear
High-quality activewear can be very expensive, which is why many people choose to purchase it second hand. Women's used activewear, especially when gently used, is generally as high quality as newer options and can be as little as a fraction of the cost of new activewear.
By purchasing second-hand activewear, it is possible to be able to afford higher quality garments. For example, budget brands will often be affordable by everyone, but might not stand up to the rigours of a strenuous exercise. Another reason that many people purchase used activewear is in order to support a cause. Many second-hand stores and eBay offer the option to donate to a cause during purchase.
Seek Out Quality When Buying Used Activewear
While it is true that second-hand activewear can usually be purchased cheaper than new activewear, it's important to consider the quality and the condition before purchase. For example, a top brand such as Adidas might sell at less than half the original cost when used but the worse the condition the activewear is in, the less it will sell for.
It's important to ensure that the clothing being purchased matches up to the quality being sold. For example, it is important to look at photos or the garment in order to ensure there is no unspecified damage. It's also usually a good idea to look up the original price of the garment to determine if it's worth the money to purchase it used. For example, if the brand was a budget sale to begin with, it might be too poor of quality to warrant the second-hand purchase. On the other hand, if it is a top brand or one required by a school or activity, then the second-hand purchase is a very good decision.
Choosing Appropriate Sizes and Styles
Used activewear is usually sized according to the same sizing charts as normal activewear and clothing, but can have some stretch or shrinking due to use. In most cases, it is possible to purchase one's normal size for a good fit. Some activewear, such as polo or rugby shirts, are designed to be a little loose in order to allow the wearer to breathe and cool down as she engages in physical activity. Others, such as biking trousers, might seem too small at first but are designed to fit very snugly in order to make the cyclist more aerodynamic. This holds true with dance wear as well.
Consider What Activity the Clothing is Being Purchased For
The biggest consideration is choosing a fit and style appropriate to the sport a woman plans on using the activewear for. For low-level activity sports such as walking, yoga, and light dancing, a pair of classic running trousers and a T-shirt with a sports bra will make an excellent choice. For a more specialised sport such as karate, it's usually necessary to purchase a keikogi and trousers.
Usually, any sports that require specialised activewear will include a list of what is needed and where it can be purchased from. Some used activewear should not be purchased unless there is no other choice. This includes bikinis, jockstraps, and other personal or underwear-type items that may have been worn without anything beneath them. If it becomes necessary to purchase this type of unsanitary item, it's essential to thoroughly sterilise it before use.
Buying Used Activewear on eBay
eBay is home to a huge selection of both new and used activewear, which makes it an excellent place to look for anything. Buying considerations include a specific type of activewear, particular brand, and size. Since eBay purchases can often be made all over the world, it's possible to find items that aren't available locally and, since they are used, at lower prices than you might find them elsewhere.
Searching for activewear on eBay should start on the home page of the site where you can type what you are looking for into the search bar. Basic searches could include "women's used activewear", or you could type "women's activewear" and then select 'used' from the options. For more specific searches, try 'women's wetsuit', 'women's dance leotards', or any other selection specific to your needs.
It is important to read the description of the garment before purchase. Sellers will normally list any imperfections or flaws in the second-hand garment, meaning that you can decide if it is worth the money. However, most used activewear on eBay is in good or like new condition, meaning that there will be little to no quality difference between the used and a new item. Once you have decided on your purchase, you may check your shipping and payment options and checkout through eBay.
Conclusion
Used activewear is a cheap alternative to purchasing new activewear and can either allow the buyer to afford a better brand, to afford more clothing items, or simply to save money. Some used activewear is sold to benefit charities or events, and many sellers such as eBay offer the option to make donations with a purchase.
Considerations when purchasing used activewear include the quality, condition, and original price, but the sanitation should also be an issue. Most health organisations recommend that anything worn as underwear including on the feet not be reused unless thoroughly sterilised to prevent the spread of infections. However, most sellers will not resell items that could possibly be considered unsanitary. Purchasing second hand or used activewear on eBay, other online stores, and in second-hand shops is usually easy, safe, and requires nothing more than knowing the size and the type of activewear needed for a certain sport.