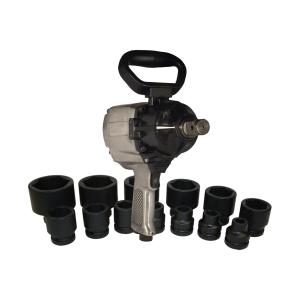 There is nothing more satisfying than grease stains and the sweat derived from fixing one's own car or motorbike in the garage. However, the constant turning of the wrist and the use of one's own strength to use regular automotive tools can be exhausting, slow, and possibly even painful for the joints and muscles. Fortunately, air tools give do-it-yourselfers the option of powering tools with pressurised air so that triggers and buttons control the torque of the tool, rather than the strength of the individual.
Because air tools are higher quality and easier to use than regular tools, they are also more expensive. While most brick and mortar hardware or automotive stores only carry new air tools, consumers can do some cost cutting by searching for used air tools on diverse online marketplaces like eBay, or they can browse through local classified ads. Knowing which air tools are necessities for a personal tool set is essential to getting the most out of one's money, and users should also take the time to learn how to safely operate the tools before using them.
Air Tools and Their Uses
Before beginning the search for the right used air tools, learning what each air tool is and how it works is critical to making the right purchasing decision. Some tools are used more frequently than others, and other tools may be too expensive or too rarely used to be worth the investment, even at used tool prices. Depending on the needs of the individual, some of these air tools are sure to be must-haves.
Air Tool

Description and Use

Air Compressor

Most important tool for a pneumatic tool set

Large tank filled with compressed air that powers air tools

Hoses and fittings are needed for connecting devices

Air Impact Wrench

Most common air tool

Used for large nuts and bolts

Used mostly to take wheels off a car

Has settings that allow the wrench to spin in both directions

Should not tighten nuts with this tool as the torque can strip the fasteners or cause injury

Should only use specially hardened impact sockets, extensions, and joints

Regular sockets cannot handle the pressure of a compressed air-powered wrench

Air Ratchet

Used for smaller nuts and bolts than the air impact wrench

Air Chisel

Used to cut into surfaces

Many bits can be attached to an air chisel for different sizes

Air Drill

Used for drilling holes

May have other attachments for grinding, polishing, or cleaning

Does not produce sparks, which is good for use near flammable liquids or gas tanks

Does not have a live electric cable that can be a safety hazard

Grip does not get hot

Air Duster

Also called a blowgun

Uses compressed air to clean dirt from tight areas

May be dangerous and loud, so eye and ear protection should be worn

Should not be aimed directly at any person

Nail Gun

Air-powered gun for fastening objects with nails

Not common for automotive work

Paint Sprayer

Uses compressed air to spread even coats of paint

Eye protection and mask should be worn to prevent paint mist inhalation

Sander

More powerful than electric sanders

Use less muscle power to operate

Die Grinder

Good for removing paint, rust, or any uneven metal surfaces

Cut-Off Wheel

Pen-like tool

Cuts metal easily

Reciprocating Saw

Used to cut through metal, plastic, and wood easily

Inflator

Good for filling flat tires

Air Gauge

Used to check air pressure in tires

Pipes

Used for a more permanent installation of the air compressor

Prevents a tangle of air hoses in the garage

Ideal for those who work with air tools frequently

Hoses

Connections between the air compressor and air tool

Fittings

Used to secure hoses to air compressor and air tools
By knowing how each air tool works, the quest for the perfect air tool set can be satisfactorily achieved. The most important tool for every automotive shopper is the air compressor. There are all sorts of compressors that vary in shape, size, and power. The compressor that is needed depends on the types of air tools that are used with the compressor.
Choosing the Right Air Compressor
When shopping for an all-purpose air compressor, there are several factors to consider. For instance, some air tools only need a light air compressor, while other tools, like a sander or chisel, require a heavy-duty compressor. A label on the side of the compressor explains how many cubic feet per minute, or CFM, of air is pressurised within the tank.
For smaller impact wrenches and ratchets, as well as nail guns, a light-duty compressor with 0-3 CFM is sufficient. Grinders, drills, medium-sized impact wrenches and ratchets, and a standard paint sprayer function well with a medium-duty compressor that runs at 4-8 CFM. The heavy-duty compressor powers most sanders, chisels, hammers, cut-off tools, and 2.54 centimetre impact wrenches at 9-20 CFM. Professional-grade air compressors run at 85 CFM or more. This type of air compressor is not needed for the average garage unless all the air tools need to be running at the same time.
Besides CFM capabilities, air tanks are also diverse in tank sizes. The larger the tank size, the higher the level of readily available air without waiting for the tank to recharge. The 33-gallon tank is an ideal size for the average garage. There is also a difference between one-stage and two-stage tanks. Two-stage tanks prevent air outflow and increase air pressure. Vertical air compressors take up less room in a garage, but they are not ideal for placing in the bed of a truck for on-the-go jobs. When shopping for a truck-mounted air compressor, horizontal air compressors sit securely in the back of a vehicle, but they are not recommended for a garage because they are so large. Both types can be purchased in portable, wheeled models if portability is a priority.
Another variation between air compressors is electric versus gas-powered. There is no difference between the two when it comes to power output; however, for enclosed spaces like a garage, an electric air compressor is a must to prevent fume inhalation. Gas-powered air compressors, on the other hand, are great for portability because they do not require electrical power.
Safety Precautions When Using Air Tools
Air tools need to be operated in a safe manner at all times. By checking for secure hose connections, leaks, and proper oil lubrication, consumers can keep the risk of injury and accidents low. Protection gear like gloves, safety goggles, earplugs, and a respiration mask should also be worn when operating air tools. After using an air compressor, the drain cock should be opened to drain moisture from the tank. Many compressors come with safety relief valves to automatically let air escape if the pressure in the tank is too high. Even if this is the case, the recommended pressure for the job or tool should never be exceeded.
Conclusion
Using regular automotive tools takes a significant amount of time for some jobs, and it only gets more difficult with age. Substituting regular tools with air tools saves energy and time, but new air tools can be expensive. Buying used air tools offers a viable solution for many at-home mechanics. These tools can sometimes be found locally through classified ads, but many buyers turn to online websites like eBay to save both time and money. The selection of used air tools and air compressors on eBay is vast, diverse, and easy to navigate.
Knowing the functions of each air tool helps individuals avoid buying unnecessary tools for their garages. Air compressors are an essential component for running air tools, and they vary in tank size and CFM power. They can be powered by electricity or gas, although the ventilation of the space where the compressor operates has to be considered if a gas compressor is chosen. All air tools should be operated according to their safety guidelines at all times, as they are high-powered and often sharp. Wearing protective gear like goggles and gloves is highly recommended.