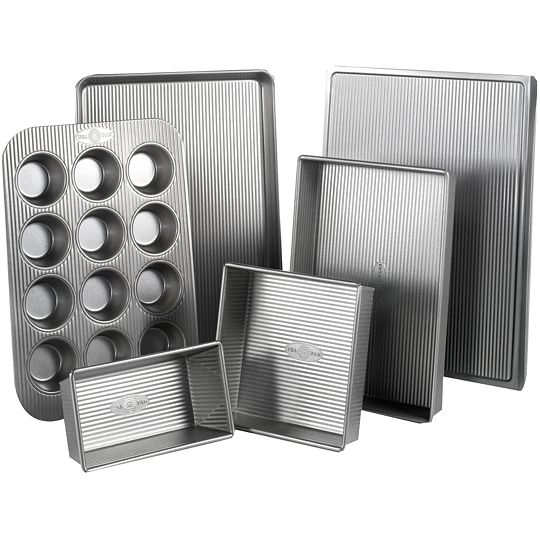 For the keen home cook or the new professional who is just starting out in the baking world, it can be expensive to equip a kitchen with brand new bakeware. Buying used bakeware allows experimentation with different brands and types of bakeware, whilst remaining within budget. Baking differs from other types of cooking in that it getting the best results really can come down to using the best quality equipment possible. It can be frustrating buying a cheap, non-stick cake tin, only to discover that the non-stick coating is not very good, yet many premium bakeware brands can be very expensive. If a good quality, second hand item is bought, it is possible to get very good results from baking, at a cost which is affordable. There are lots of different types of bakeware available, and some types make better secondhand buys than others. Vintage pieces and hard-to-get-ahold-of pieces, such as shaped baking tins, can make good buys. Car boot sales can be good places to pick up used bakeware and other kitchen essentials, whilst eBay is also a good option to browse through. Types of used bakeware that are available to buy can include, muffin and cake tins, shaped or fancy cake tins, novelty tins such as car, teddy bear and football shapes, and baking trays.
The best places to buy used bakeware
For anyone considering buying used bakeware, there are many places from which to buy, each having some pro's and con's.
| | |
| --- | --- |
| Car boot sale | At a car boot sale, there are often people selling kitchen equipment and bakeware they no longer need. Items can sometimes be bought that have hardly, if ever, been used. Some benefits of buying secondhand bakeware at a car boot sale are that the item can be seen up close, and can be inspected for any rust or damage. The seller can also explain the history of the item and why it is being sold. It is also often possible to negotiate on the price with the seller, as people selling items at a car boot sale often want to get rid of items, rather than have to bring them back home. One downside of buying at car boot sales is that it is not possible to know in advance what will be for sale on the day. If a specific item is sought, it may be better to search eBay, for example, where there are certain to be more options. |
| Antique shop | Antique bakeware, especially decorative copper bakeware, can sometimes be found in antique shops. Copperware is expensive, and antique copperware can be even more so. However, many people who are baking enthusiasts can be keen to have a traditional, vintage item in their collection, whether it be for use in baking, or just to be kept as a decorative item. Vintage items, and items that fit well into the currently popular theme of shabby chic, can also be found in antique shops. If the bakeware purchased in an antique shop is intended for regular baking, it is important to check what the item is made from, and if it will withstand temperatures in modern ovens. |
| eBay | One of the benefits of buying used bakeware on eBay is that items for sale are available from all over the UK, not just the local area. If a particular item or style of bakeware is sought, then eBay can be a good choice of place to buy. Regular searches on the site can be done until something suitable is found. If the eBay listing is detailed, or if there are good quality photographs, then buying used bakeware from eBay should be nearly as reliable as from a car boot sale, or antique shop where the item can be inspected before purchase. It is important before buying an item of used bakeware on eBay to have a close look at the photographs in the listing for any signs of rust or damage, and to ask the seller any questions about the item if necessary. |
Materials used for bakeware
The type of material a dish is made from is vital to its baking abilities. Some materials conduct heat better than others, and the result is a better finished product. The material used for the bakeware also depends on what type of bakeware it is. When buying used bakeware, it may not always be apparent what the item is made from, so if possible, ask the person who is selling it, or try and develop knowledge of this area before buying.
| | |
| --- | --- |
| Tinned steel | Tinned steel bakeware is cheap and readily available. It distributes heat evenly and so makes a good choice for bakeware, however, it needs to be looked after very carefully, and dried thoroughly after washing as it can rust easily. |
| Stainless steel | Stainless steel is often used for saucepans and cooking equipment but rarely used for bakeware. It doesn't conduct heat very well, and saucepans often have a copper bottom in order to help with heat conduction. Copper layers are less likely to be found in bakeware as this makes it expensive, so stainless steel is not necessarily a good choice when buying bakeware. |
| Aluminium | Aluminium is a very popular material used in bakeware. It conducts heat well and distributes the heat evenly, yet it is also quite a cheap option. Different types of aluminium bakeware are available, such as anodised aluminium (which will never rust), and hard anodised aluminium, which gives a harder, more durable finish. Most aluminium bakeware is made of sheet aluminium, but cast aluminium bakeware is also available. Cast aluminium bakeware is cast from a mould instead of being created from a single sheet. It creates a sturdy, thick, durable, quality item of bakeware, and is often used in bakeware that has complicated shapes, not easily created by sheet aluminium, such as Bundt tins and other shaped cake tins. |
| Non-stick | Non-stick finishes are often applied to bakeware, regardless of the underlying material the bakeware is made from. Most non-stick bakeware is quite cheap and can be fairly durable. A non-stick baking tray is very useful when cooking biscuits, as it can help to ensure they come off the tray in one piece. Non-stick bakeware is also easy to clean because baked or burnt food will not stick to the pan so much. When buying used non-stick bakeware, look out for any scratches or damage to the coating as once the coating has been damaged, it can peel off or start to rust underneath. |
| Silicone | Silicone bakeware is flexible, and comes in many different colours. Although silicone may be thought of as being non-stick, it needs to be greased before use like other non-stick pans or dishes. One benefit of silicone bakeware is that it is almost unbreakable and it is able to withstand quite large temperature changes. When buying used silicone bakeware, it is easy to see whether it is in good condition or not. |
| Copper | Copper bakeware has even better heat conduction than aluminium, and is therefore brilliant for bakeware. However, copper cannot touch the ingredients being baked and requires a lining of either tin or stainless steel in all copper bakeware. Copper bakeware can look beautiful if kept shiny, and can make a good display in a kitchen, especially if buying used, vintage, or antique pieces. |
Find Used Bakeware on eBay
To purchase used bakeware, visit the the eBay homepage. Start by opening the tab which says "All Categories" and then click on the link for Home & Garden, then click on Furniture & Living, and then Cookware, Dining & Bar. From here, click on Bakeware & Ovenware. Search available item listings, or refine the search further by using new options on the left side of the page. Alternately, try entering specific terms into the search bar at the top of any eBay page. To specifically look for used, rather than new bakeware, select the option to only search for used items on the left hand side of they eBay page.
Conclusion
There are many different types of bakeware available. Bakeware comes in a variety of styles, sizes, and shapes, such as cake tins, baking trays, and muffin tins. Buying used bakeware can be an economical way to purchase bakeware of good quality that is durable and may last for many more years. It can also be a good option when wanting to try a new shaped cake tin or something that may not be used very often without having the expense of buying a brand new item. When buying used bakeware, it can be a good idea to check what material the item is made from in order to make a judgment on whether the item will be a good buy or not.