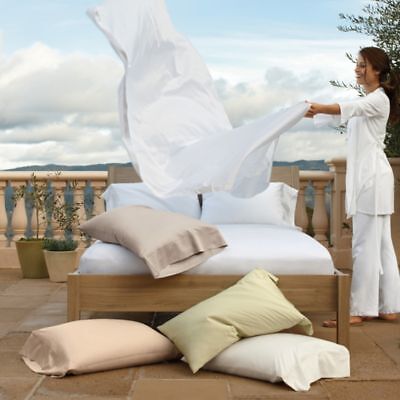 Most consumers are aware of the benefits of a quality mattress when it comes to getting a good night's sleep. However, few people realise that their choice in bedding often means the difference between a restful slumber and a restless night. Today's bedding industry offers a host of choices in fabrics, patterns, styles, and colours. With a little knowledge, all buyers of bedding are able choose just the right used bedding for their climates, sleep habits, and styles which meet all their bedding needs. Further, with washing machines and detergent which leave fabric feeling like new rather than newly washed, used bedding is sometimes more economical for the purchasers. Likewise, with a few helpful tips on how to find and buy bedding-related products on eBay or local high street thrift stores, shoppers are able to not only find the bedding products they want at great prices but also shop with confidence.
Get to Know Bedding Basics
Every bed needs basic bedding such as a mattress pads, sheets, blankets, and pillows. Adding a decorative touch with a comforter or bedspread is not a bad idea, as it helps make a room feel cosier and more inviting. Before shopping for used bedding, it is important to know the exact size of the mattress and to learn about the different bedding options available so buyers choose the items best suited to their needs.
Mattress Sizes
Mattresses come in six common sizes, and bedding is sized and labelled according to mattress sizes. If mattress size is unknown, find a tape measure and check against these common measurements: twin, full-size, queen, and king.
| Size | Measurements |
| --- | --- |
| | 99 cm wide by 203 cm long |
| | 137 cm wide by 190.5 cm long |
| Queen | 152.4 cm wide by 203 cm long |
| | 193 cm wide by 203 cm long |
There are other specialty sizes on the market, several of which simply increase the length of the standard sizes from 203 centimetres to 213 centimetres.
One other important measurement is mattress depth. While the width and length of each size category of mattress have little variance, the mattress thickness ranges from under 12.7 centimetres to 40.6 centimetres. Particularly when shopping for mattress pads and fitted sheets, buyers need to know how thick their mattresses are.
Used Sheets
High-quality bed sheets usually last up to 15 years. Whether king size, queen size, or twin size sheets are needed, look at pocket depth, thread count, and fabric before buying. Thus, buying used bedding made with high-quality materials is not a poor investment.
When shopping for fitted sheets, keep in mind that pocket depth refers to the thickness of the mattress. To find pocket depth, measure from the highest point on the mattress, including the mattress pad and any additional bedding that is used under the sheets, to the bottom edge of the mattress. Fitted sheets should also have elastic around their perimeter. Sheets with elastic just at the head and foot are more likely to slip off the bed.
Thread count, the number of threads per square inch, determines the quality of sheets. Generally, sheets with thread counts in the 300-and-above range are durable and lustrous, and they use a soft fabric which gets softer over time. They are also less prone to shrinkage than lower thread count sheets in the 80- to 120-thread count range. Sheets with low thread counts, though less expensive, have a rougher feel and are more likely to wear through.
Each fabric commonly used to make sheets has its own merits. Some sheets last for years, but require quite an up front investment. When deciding which type of fabric suits buyers' needs, they should consider budget as well as whether they enjoy a silky softness or prefer cotton-type comfort. Below is an overview of the most common types of fabrics in sheets.
Used Combed Cotton Sheets
Combed cotton sheets undergo a cleaning process to eliminate impurities and short, less desirable fibres. The combed cotton is then spun to create a yarn which is strong and compact. The process results in a soft, smooth, durable fabric. Organic cotton sheets are made from cotton grown without pesticides or chemicals, and they are not subjected to any chemical treatments during manufacturing.
Used Percale Sheets
Percale sheets offer a smooth, flat, and closely woven fabric, finer than muslin. These sheets are usually found with a thread count of 180 to 200. The over-under weaving pattern used to make percale sheets gives them a crisp feel and provides durability. Percale sheets are found in 100 per cent cotton or 50/50 cotton/poly blends.
Used Bamboo and Modal Sheets
Fabrics made from bamboo and modal offer ecologically friendly alternatives to standard cotton sheets. Bamboo is a fast growing plant which does not require pesticides, instead, a chemically dependent process is used to separate the fibres. When mixed with another fibre such as cotton, used bamboo sheets are soft and breathable and resist shrinkage and pilling. Modal sheets have a similar feel and quality as bamboo, but they are made from the soft wood of the beech tree.
Used Egyptian Cotton Sheets
Highly durable, lustrous, and silky Egyptian cotton sheets usually have a thread count above 200. The most desired of all bedding fabrics, Egyptian cotton is made of extra long fibre staples grown along the Nile River.
Used Flannel Sheets
Warm and insulating, used flannel sheets are ideal for colder climates. Flannel, a cotton textile, is sometimes blended with a synthetic fabric. Instead of describing thread count, manufacturers measure flannel in ounces per square yard.
Used Synthetic Fabric Sheets
Synthetic fibres such as Lyocell and polyester are known for their strength and durability, but they are not the most breathable fabrics. Synthetic sheets simulate silk or suede and resist wrinkles, and they are easily washed and dried. The extra thick dye used for printed sheets makes the fabric feel a bit rough at first. Rest assured, however, they soften up after only a few washings.
Used Blankets
Blankets add an extra layer of warmth and style to a bedding set. For the cold winter months, place a blanket made from fleece, down, or vellux between the sheets and comforter. For shoppers who reside in a warmer climate, a simple cotton or chenille blanket is all that is needed. To keep expensive or fragile comforters or quilts in mint condition, they should be folded at the foot of the bed each night and, for warmth, a less expensive blanket should be used instead.
Used Pillows
Choosing the right used pillows for a particular sleeping style and preference is oftentimes a daunting task. Available in standard, queen, and king sizes, pillows are generally labelled either by firmness level or by sleeping style. Stomach sleepers should choose pillows with a gently sloping surface and tapered ends. Firm, flat pillows provide back sleepers with the support they need. Side sleepers should look for pillows with a raised, even sleeping surface, which provides improved neck alignment.
Used Feather and Down Pillows
For those who like softness without a lot of support, used down and feather pillows are plump and comfortable, and they tend to last longer than pillows with other fillings. Down and feather pillows are particularly suited for stomach sleepers. A lack of neck support makes them unsuitable for side sleepers, and allergy sufferers should steer clear of them. There are hypoallergenic down and feather pillows available, but they tend to be more expensive.
Used Memory Foam Pillows
Memory foam pillows are extremely supportive, as they are made from specially treated polyurethane which retains its shape during use. Side sleepers and people with back or neck problems usually benefit from these types of pillows. Their dense structure means they do not breathe well, and, subsequently, they retain body heat. Memory foam pillows show good resistance to dust mites and are hypoallergenic and anti-microbial.
Decorative Covers and Accessories
Once all of the basic bedding is determined, buyers can finish off the look with a top layer to provide warmth and style. Adding a comforter or duvet is the final step to making a bed cosy and inviting. Bedspreads and quilts are other options for adding that finishing touch to a bed. Accessories like accent pillows and bed skirts complete a room and give it a polished look. Before selecting a comforter, duvet, or bedspread, buyers should make sure to know how much warmth they want their bedding to provide and which design styles they prefer.
Used Quilts, Comforters, Duvets, and Bedspreads
The comforter, bedspread, quilt, or duvet cover chosen for a bed likely becomes the focal point of the bedroom decor. Good quality bedspreads and comforters are made with matelasse, cotton chintz, chenille, or even velvet. These fabrics tend to have a tight weave and thick threads which increase the durability and opulence of the cover. Bed coverings are purchased as separate pieces or as a matched set, sometimes referred to as a "bed in a bag" set.
Used Quilt
A quilt is a thick blanket in three layers held together by embroidery stitching, known as quilting, which runs in patterned shapes. The top layer is usually a colourful array of several different fabrics stitched together, while the bottom layer is one piece, usually in a solid colour. The centre layer of batting or stuffing offers a slight amount of warmth.
Used Comforter
Thicker and warmer than a quilt, comforters are the most common type of bed covering. Comforters are filled with either synthetic fibres or down, and they are available in a host of patterns and colours to suit any taste preferences. Many comforters come with a warmth rating depending on the type and amount of material with which they are filled. Shoppers should consider not only their climate but also their preferred sleeping temperature when comparing these ratings. Comforters are bulky and need to be laundered regularly, either at home in a large capacity washing machine or by a dry cleaner.
Down comforters vary greatly in price and quality, but are typically cheaper when bought used. The fill power, the space one ounce of down occupies in cubic inches, determines the warmth of down comforters. Down comforters with higher fill power measurements are fluffier, and they last longer while providing more warmth at lighter weights. A fill power of 800+ is considered superb quality, 700+ excellent quality, and 600+ good quality. To prevent the down from leaking out over time, choose a down comforter with a high thread count casing.
Used Duvets and Duvet Covers
Duvet is the French word for comforter, and generally refers to a comforter filled with down or polyfill enclosed in a plain white or off-white cotton covering. Duvets are made to fit inside a slip cover which fits over the duvet, much like a pillowcase, and it closes with ties or buttons. Duvet covers come in all manner of styles, colours, and patterns, and they are easy to remove and launder. Duvet covers are used to extend the life of an older comforter or as a way to quickly change the look of a room.
Used Bedspread and Coverlets
Bedspreads, also known as coverlets, are usually made with either using a patterned fabric backed with a thin batting or from a single layer of lightweight fabric, such as chenille or damask. Bedspreads are larger than comforters and are designed to cover the entire mattress and box spring ensemble. More to add a decorative touch than to provide warmth, they are used alone in warmer climates and over blankets in colder temperatures.
How to Find and Buy Used Bedding on eBay
With so many bedding options from which to choose, it can be a bit overwhelming. With a few tips on how to search and find bedding items on eBay, shoppers can save a lot of time and effort locating the products they want quickly and easily. Additionally, shoppers should know a bit about how to buy used bedding on eBay, to ensure a safe buying experience.
Once you know what type of bedding items you want, conduct a search on any eBay webpage by the categories listed or the search bar. Searching for used cotton sheets or a used fleece throw blanket results in dozens, if not hundreds, of options. The more generic the search the more options that are returned. Conversely, if you are specific in your search you may only see a few products listed.
Before making a bedding purchase, it is important that buyers know their product, research their seller, and understand how eBay and PayPal protects them.
Conclusion
The right bedding not only helps you sleep better, but can transform your bedroom into your own private sanctuary, a place to relax and escape for a while. With the basics in mind and an idea of the style and colours you like, you are ready to search for just the right bedding to complement your bed. You can find an abundance of choices in department stores and discount retailers. Buying used bedding allows you to change the feel of your bed and bedroom without committing too much money to fabrics and styles you are unsure of. It also enables you to add to your inventory of bed sheets in the event of overnight guests without investing in brand new bedding.
Lastly, speaking with fellow sellers and buyers on eBay helps you ascertain what kind of bedding you should consider for your room or a guest room. Online stores and marketplaces, like eBay, generally offer all types of bedding in patterns, colours, and sizes to meet every budget and design style.