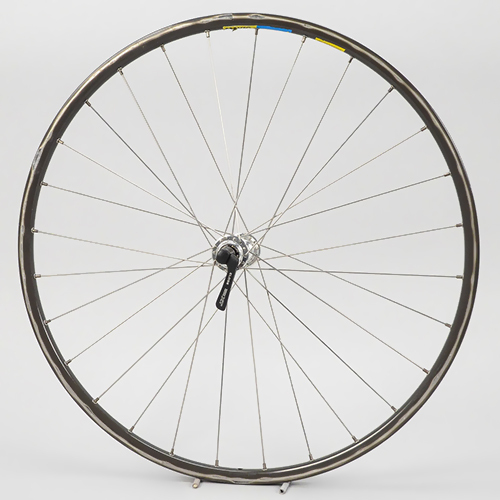 Cyclists will need a new set of wheels from time to time, whether their old ones have worn out, or whether they want to upgrade.
Buying online is fast becoming a popular choice for cycling enthusiasts and novices alike.
It is important for riders to understand the bike wheel market; the types of wheels that there are, which ones are most suited to which bikes. You will also need to identify what would be suited best to your riding style.
For many, a good option is to buy second hand wheels, though you will need to research what is needed and then to thoroughly scour the market before making a choice.
eBay has an extensive choice of second hand wheels for every type of cyclist including town, racing, mountain and hybrid bikes and can help make searching simple, stress-free and most importantly, successful.
Bicycle Wheels
A wheel upgrade is a great way to spend some money on a bike and achieve a big return, without having to buy a whole new bike.
Riders looking for a quicker and more aerodynamic performance can make a significant change to their bike and riding experience with new wheels.
For example, choosing wheels with fewer spokes reduces the weight of the wheel. Alternatively, depending on your riding style, it may be that more durable wheels which can withstand high impact over heavy terrain are more suitable. eBay has a wide choice of wheels in one place so that all types of riders can find wheels that match the way they ride.
Pre-Owned Wheels
To buy a set of pre-owned wheels is one of the best ways to achieve value; you will often be better off buying good quality pre-owned items than brand new goods from a value manufacturer.
New bikes and bike parts lose a significant amount of value as soon as they are sold. As a result you can find great deals buying pre-owned. It is important to search extensively for pre-owned wheels on eBay and to get to know the market well.
It is also more sustainable to buy used parts. Many cyclists sell their old wheels because they want to upgrade. As with all sports, the technology advances all the time.
Some people simply have to have the very latest equipment. This is great news for people who don't mind buying pre-owned; there's always plenty of choice in the market.
Types of Wheels
When researching to buy a new set of wheels, you should consider these main factors about the bike.
Firstly it is important for a rider to know what type of bike they have and therefore the type of wheels they need to buy, whether for a town bike, a mountain bike or a hybrid bike.
As well as the type of wheels, riders need to decide which type of tyres they want to use as not all tyres will fit with all wheels. The large majority of cyclists use clincher tyres but serious road cyclists may want to consider tubular tyres.
| | |
| --- | --- |
| Wheel/Tyre | Description |
| | Town bikes have slim tyres and wheels. These generate top speed with minimum effort on smooth surfaces such as cycle paths and roads because there is less rolling resistance. This also means that they have relatively little grip; there is less contact with the ground. Town bikes are only really suitable for use in towns and on road-type surfaces. |
| | These bikes are designed for uneven terrain including rocks, loose dirt and surfaces with a lot of debris. They provide strong grip and are durable, meaning fewer punctures. More contact with the ground means that they are harder work for the rider on smooth road surfaces. |
| | Hybrid bikes share some features of town bikes and some features of mountain bikes. The width of the tyres is in between town and mountain bikes. They are not as thin as town bikes and have less tread than mountain bikes, which makes them flexible. Riding on roads and cycle routes is comfortable but the bike can also deal with gravel and non-tarmac surfaces. Check the specification of each bike as to what 'hybrid' means; the definition varies between manufacturers. |
| | These are the most common tyres, found on the majority of wheels. Clincher tyres consist of an outer tyre which fits over an inner tube and is held in place under the rim by air pressure when the tyres are pumped up. |
| | Tubular tyres are rarer than clincher tyres and are most commonly used on racing bikes and by professionals. These tyres require wheels that have rims specially fitted for tubular tyres. |
How to Search on eBay
Thousands of bikes, parts and used bike wheels are available for purchase on eBay from trusted sellers with a choice of payment options. eBay offers a wide range of choice as buyers can benefit from sellers all over the country whilst being assured of their protection through the Buyer Protection Program.
To begin an eBay bike search go to the Sporting Goods portal under the Sports & Leisure heading. Then navigate to the Cycling section where there are sub-sections such as Bikes, Bike Parts, Clothing, Footwear & Helmets, Cycling Accessories, Trophies and Other Cycling.
There is a search box on every page and also an advanced feature where the category to search in can be specified. Use keywords to narrow down preferences and carefully read through the results of searches to check that the results are suitable. Riders must ensure they know what size wheels they need for their bike. The size will be printed on the side of the tyre or on the frame of the bike and is a good starting point for finding new wheels.
To search for used wheels only, check the box 'used' on the left-hand side panel under the heading 'condition' and this will filter the results. When the search has been narrowed down enough, and there are several suitable options, the search does not end here. It is important to spend some time researching the product and gathering as much information as possible before thinking of buying or placing a bid.
Questions to Ask the Seller
First, read through the description of the products thoroughly to get a good idea of what is on offer. It may be helpful to jot down notes or to bookmark the page so that other listings can be compared.
Look carefully at the photos. Check that they are of the original product and not just a stock photo taken from the manufacturer's website.
If some of the details are not satisfactory then do not hesitate to Ask the Seller questions. Perhaps request further photographs in order to see parts of the product clearer or from an angle that is not shown in the listing.
If not originally given, it is a good idea to get information about the history of the bike wheels. Find out how many owners they have had and where the bike was stored.
Wheels that have been stored indoors, rather than outdoors will be in very different conditions. It can also be useful to ask the seller what type of riding they have done and how many miles they have ridden. This helps you to assess the previous usage of the wheels and whether they match what you are looking for.
Buying Tips
* When buying bike wheels it is important to check that the wheels are not buckled and the spokes are not loose. However, a slight wobble can be easily fixed.
* Make sure that you can see a close-up photograph of the rim. Check that it is not worn down or hollowing in as this will affect your braking ability.
* Look for lines or scratches around the rim; this may indicate that they have been damaged by dirt, shale or gravel which has damaged the rim by getting under the brake pads. This could lead to the rims splitting.
* Clean rims which are unscratched show that they are in good condition.
* Cleanliness around the hub of the wheel is a sign of good wheels. Ask for close-up photos of the hub, spokes and rim of the wheels as these areas give you strong indication of their condition and that they have been well looked after.
* Check the competitiveness of the pricing and make sure it is reasonable, not excessively high or low for the product. Get to know the market and the wheels available. Look through all available options, compare prices and search for the best value for money.
Conclusion
Second hand bike wheels can get you a great product at a good price compared to buying new. For all cyclists, the key to a successful buy is to research and know what you want.
Riders should check the details to ensure that the wheels will fit their bike, are suitable for their riding style, and are reasonably priced. eBay offers secure payment through PayPal and all purchases are protected by the Buyer Protection Program. This allows buyers to shop with confidence and to make the most of the choice of products that eBay offers.
The decision-making process is helped by the search function that ensures bike riders can find the right wheels for them and their bike amongst the thousands of wheels listed on eBay.
Going for a Buy It Now item is more suitable; these results can be selected by clicking on the relative tab at the top of the results page. Also bear in mind the delivery service offered by the seller and the time it will take for payment to clear. It may be possible to ask the seller to speed up the postage service at extra cost.