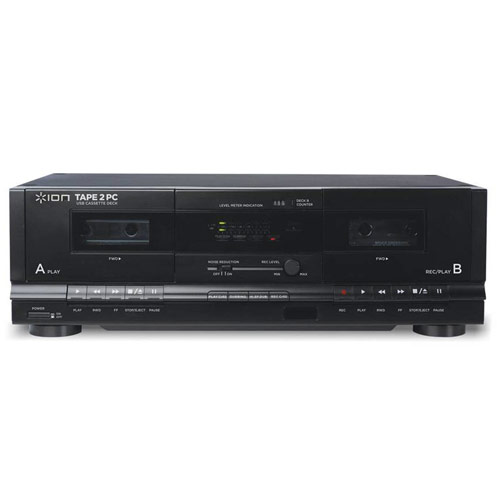 Many people still own large collections of cassette tapes, whether commercially recorded or taped at home from a radio programme. Others use them to keep their family history alive, with recorded interviews from family members who may have since passed. Cassette tapes are a tremendously flexible recording medium, and despite having been superseded by more modern music and recording devices, they still have a place in many homes. As a result, the need for appliances that can play them back, such as cassette decks, still exists. While some buyers may prefer to look for a new cassette deck to play back their existing tapes, others may find their budget is better spent on used cassette decks. There is no perfect choice for all buyers, but for many the benefits of buying used far outweigh any potential drawbacks. All it takes is a little time and ability to research both new and used cassette decks in general, as well as any specific deck the buyer may be interested in.
Understanding How Cassette Decks Work
When buying anything second-hand it is important that the buyer be able to make an informed decision about their purchase's condition, and the best way to ensure that is through education. The more a person knows, the easier it is for them to determine when a particular used cassette deck is a good buy. The key to understanding the cassette deck is understanding the cassette itself. A cassette tape is a plastic holder that contains two spools and a magnetic tape that runs between them. It also contains a tensioner to make sure the tape is neither too loose nor too tight.
The deck itself is designed to do two things, pass the tape at a constant speed over the read/write head and decode the information the tape contains. Most decks contain two heads, one for bulk erasure and a second for both reading and writing. There are a few with separate read and write heads, but they are rare. The key to ensuring good quality recording and playback is maintaining a constant tape speed, normally 4.76cm per second. This is the job of two components, the capstan and pinch roller. The way it works is that the capstan has a precise motor that pulls the tape past the head, while the pinch roller holds the tape against the capstan so that it can maintain an even speed and constant tension.
Reasons for Choosing a Used Cassette Deck
There are a number of reasons to choose a used cassette deck over a new one, some of which are budgetary, some of which are not. Evidently, one of the most common reasons for buying anything used is that it is easier on the budget. This can be reflected in one of two ways, either by lowering the cost of buying the product in the first place, or by allowing the purchaser to buy a more expensive model than they would otherwise be able to afford. The other main reason for buying used, is if the buyer is looking for a particular model or feature that is no longer available. In these cases, buying used may be the only option available. Whatever a given buyer's reasons, buying used can be a rewarding way to find exactly the right cassette deck to meet anyone's needs.
What to Look for When Buying Used Cassette Decks
The key to buying a used cassette deck, or any other used Hi-Fi separate is knowing exactly what is being bought. When buying a new product, it is usually enough to look at the general specifications of that model. Every unit is essentially the same, so it does not matter which specific example a person buys. One brand-new cassette deck in a box is essentially the same as another brand-new cassette deck in a box. However, this all changes when buying a used cassette deck, where no two examples are exactly alike.
Every Used Cassette Deck is Unique
When someone buys a used cassette deck, or any other used product, they are not simply buying an example of that model of cassette deck. They are buying that one specific cassette deck, a unique object with its own history. Whether that history be light wear on the controls, or having been taken around the world, no two used items are in exactly the same condition. Thus, anyone buying used need not only consider the features of that particular make and model, but also the unique condition of the specific example they are looking to buy. Only by treating it on its own specific merits, rather than just those of that model, is it possible to make an informed purchasing decision.
Research the Model
For anyone looking to buy a used example of a particular cassette deck, it is a good idea to do as much research as possible in order to find out everything one can about that specific model. Every buyer should do their due diligence both in the form of researching any reviews of the cassette deck as well as looking into user forums to find other user's experiences so as to know what they should expect when buying one.
Research the Specific Unit
Once the buyer has researched the model, they should also pay attention to the specific units they are looking to buy. This means examining any used cassette deck they might be buying in person, and studying all available information if they are buying a used cassette deck online. When looking at an online listing, buyers should pay attention to everything the seller has to say about the item they are interested in. They should read all the details and examine any photographs of the unit that might be available. The advantage of examining photographs of the unit is they enable the buyer to see the exact details. A list of specifications may apply to any example, but generally speaking, photographs do not lie.
Putting it all Together when Buying a Used Cassette Deck
The first thing a buyer should do is decide on a budget, as that is often the limiting factor on their desired purchases. Once they have determined their budget, the next thing to consider is what features they would like and also what features they need. Is the person looking for a dual cassette player they can use for tape to tape recording, or do they want a three head unit for the best recording and playback quality? Answering these questions in advance makes the final decision less difficult. Then, knowing what they need and what they can afford, they can start their research in terms of which models best match those requirements. Making these decisions beforehand makes it that much easier to find the right used cassette deck using the least time and effort.
Buying a Used Cassette Deck on eBay
One of the best places to buy a used cassette deck is eBay. You can find almost any model quickly and easily. All you need to do is enter your terms in the search box, which is on every eBay page, and watch the results come up on your screen. Once you have your results, you can use the filters in the sidebar to narrow them down to just the ones that fit your needs. In fact, you can filter by price range, brand, even seller location. It is even possible to limit your search to just used cassette decks. You can also sort your filtered results so that the cassette decks that best fit your needs are at the top of the list.
After you have found the right deck, the next step is to look for a good match amongst eBay's sellers. The best place to do that is their profile page, where you can see both their location and feedback, as well as any specific policies they may have. Some sellers may bundle cassette decks with other Hi-Fi separates, while others may allow local buyers to pick up their cassette deck in person to avoid shipping costs.
Conclusion
Buying a used cassette deck is a simple matter of buyer education, followed by making decisions based on knowledge. It is important to understand how a cassette deck works so that the prospective purchaser can make an informed decision about which features matter most to them. Some may want a dual deck, others may be interested in one with three heads. Research generally shows which models offer the best balance of the features they want and need, and what long-term users think of those specific brands and models. Every used cassette deck carries its own unique history, which is why it is important to not only study the type of cassette deck a person intends to buy, but also to go over every scrap of available information about the particular unit they are looking at. By combining both general and specific knowledge of used cassette decks, anyone can turn their choice of buying used into the right one for their needs.