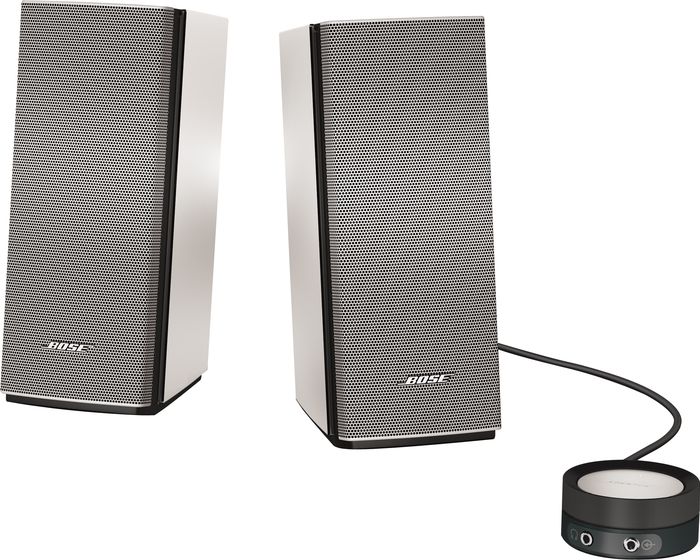 Computer speakers create rich sound while users listen to music, watch videos, or play games. Computer speakers vary in price and some high-end speakers are quite expensive, so buying used computer speakers is a more affordable option for consumers who are on a budget.
Speakers also vary by style and type, depending on what type of sound users are looking for, and what the speakers are going to be used for. Surround sound speakers provide an all-encompassing experience for the listeners, while typical speakers offer clear, crisp sound in a small package.
Speakers come in different shapes and sizes, and offer various features, such as a remote control or extra bass sound buttons. With the technology available these days, the tiniest speakers can put out amazing sound, so size is not always an indicator of what a speaker can really do. Consumers should purchase the proper used computer speakers for their individual needs based on the many types of speakers available on eBay.
Select Computer Speakers by Style
Computer speakers come in various styles that offer different sound quality, features, and set-ups. Buyers can see these different types of speakers listed when searching for used computer speakers, and it is easier to shop for computer speakers when consumers know what each type offers.
2.0 System
A used 2.0 speaker system is the most traditional and common type of computer speakers. This type of speaker system is affordable, especially for consumers who buy 2.0 speakers used. A 2.0 speaker system works well for everyday and light use, and it provides ample sound for music and video watching.
2.0 speakers mean that the speakers have two channels, and they are usually compact in style and do not take up much space. The only real downside to a 2.0 speaker system is the fact that the bass may not be amplified as much as with other types of systems.
2.1 System
The major difference between a 2.0 system and a 2.1 speaker system is the fact that a 2.1 system includes a subwoofer, which picks up lower sound frequencies, therefore providing the listeners with a heavier bass sound. It also uses satellite speakers which pick up high frequencies better than 2.0 speakers do. For a more advanced listening experience or to get more bass out of music, users should select a 2.1 system. A 2.1 system is also compact and small, and users can easily find many styles of used 2.1 speaker systems that are affordable if bass performance is important to them.
5.1 System
A 5.1 computer speaker system brings it up a notch with larger speakers as well as smaller surround sound speakers too. For users who are considering a 5.1 system, a bit more room is needed to place the additional speakers, but the sound quality is premium with this type of system.
For consumers who watch movies on their computers or play in-depth games, it is worthwhile to invest in a used 5.1 system with surround sound for that extra layer of sound that buyers cannot get with standard 2.0 or 2.1 speaker systems. A 5. 1 system offers five channels, and when users mount the surround speakers on the wall, it provides great sound for movies and gaming.
Choose Computer Speakers by Brand
When it comes to shopping for used computer speakers, buyers are pleased to see some familiar, well-known brands. Different brands offer different styles of speakers as well as pricing, so consumers are able to select the brand of speakers that best fits their needs for what they offer. Some brands, such as Logitech, work with most any type of system, though it pays for the users to discover exactly what speakers are most compatible with their specific systems.
Dell
Dell offers a wide range of used computer speakers, such as 2.0 systems, 2.1 systems, and 5.1 systems. Dell computer speakers may work best with certain Dell systems, so consumers should read the listings carefully to determine if their systems are compatible with the speakers before purchasing. Dell offers surround sound speakers as well as some speakers which offer additional features like Bluetooth and extra USB ports.
HP
HP, or Hewlett-Packard, is a brand that offers common types of computer stereo speakers which are affordable and high quality. HP makes speakers for its various computer systems as well as external speaker systems that include surround sound speakers and smaller, compact speakers.
Logitech
Logitech is a high-end speaker brand, and purchasing used Logitech computer speakers is a good deal for a quality product. Logitech makes premium 2.0, 2.1, and 5.1 systems, or consumers can purchase separate subwoofers to amp up computer speaker systems.
Logitech speakers are a bit more costly, but purchasing used ones reduces the overall cost, and Logitech speakers are long lasting and durable. They come in a variety of sizes for every type of computer use, from gaming to listening to music.
Wireless or Wired Computer Speakers
Something else consumers should consider when purchasing used computer speakers is whether or not they want wired or wireless speakers. Wired speakers plug into computer USB ports as they traditionally always have, but newer speakers are designed without wires and operate wirelessly without users having to deal with tangled up wires or cords.
Consider Computer Speaker Features
Buyers may want to factor in additional features that speakers offer when they are deciding between used computer speakers. Some features that buyers may see are remote control speakers, Bluetooth capability, headphone jacks, additional bass boost options, speaker stands, or the ability to be able to be used in other capacities, such as in home theatre systems. Some speakers offer the ability to connect other media options such as CD players, gaming consoles, or MP3 players with additional auxiliary jacks, as well as THX certified superior sound quality.
How to Select Computer Speakers
When it comes to buying used computer speakers, consumers may not know exactly what they are looking for. Depending on what users want the speakers for, certain types of speaker systems may be more appropriate and more cost efficient.
Uses

Type of Speakers Needed

Price Range

2.0

2.1

£-££

Intense music listening

5.1

££-££££

Gaming

5.1 with subwoofers

£££-££££

Movie watching

2.1

5.1

££-££££
For light household computer use, elaborate speakers do not need to be purchased. However, consumers who use computers for more than average computing, such as for heavy gaming, music listening, or watching movies, more sophisticated speaker systems are appropriate. Media savvy users may also appreciate speakers which are more versatile as home theatre speakers or speakers for external audio devices such as CD players or MP3 players.
How to Buy Used Computer Speakers on eBay
If you want to boost your computer's sound with a speaker system, you do not have to spend a lot of money. Purchase used computer speakers on eBay for an affordable price. When you are looking for speakers, navigate to computer speakers and select the "used" option to see what is available. Shop by brand, such as HP speakers or by style of speakers, or enter a price range if you are on a tight budget.
When purchasing anything that is used, especially electronics, the most important thing is that the item is in good condition. Read the seller's listing carefully and look at photographs of the speakers to determine the condition of the speakers. Ask the seller if you can pick up the speakers in person instead of having them shipped, so you can get an even better look at them before you take them home. This also alleviates shipping cost and hassles. To ensure you are getting a quality product, only shop for used computer speakers from merchants who are Top-rated sellers and who have a lot of excellent feedback from other buyers.
Conclusion
For consumers who want to experience high-quality sound when they are playing games online, listening to their favourite music, or watching videos, adding a great set of computer speakers can boost the sound enjoyment for users. Whether it is a traditional 2.0 sound system or a more elaborate system with added subwoofers, a computer speaker system really adds something to a computer.
Users should consider what type of computer system they have and make sure it is compatible with the speakers that they want to purchase. Some systems may have different requirements than others, and may work better with other types of speakers. Brand specific speakers, such as Dell, may work best with Dell computer systems. Whether users are gaming, watching DVDs, or listening to iTunes, computer speakers can boost the sound level and create a more intense and fun listening experience, while surround sound speakers and subwoofers make users feel like they are inside the sound, creating an all-encompassing experience.