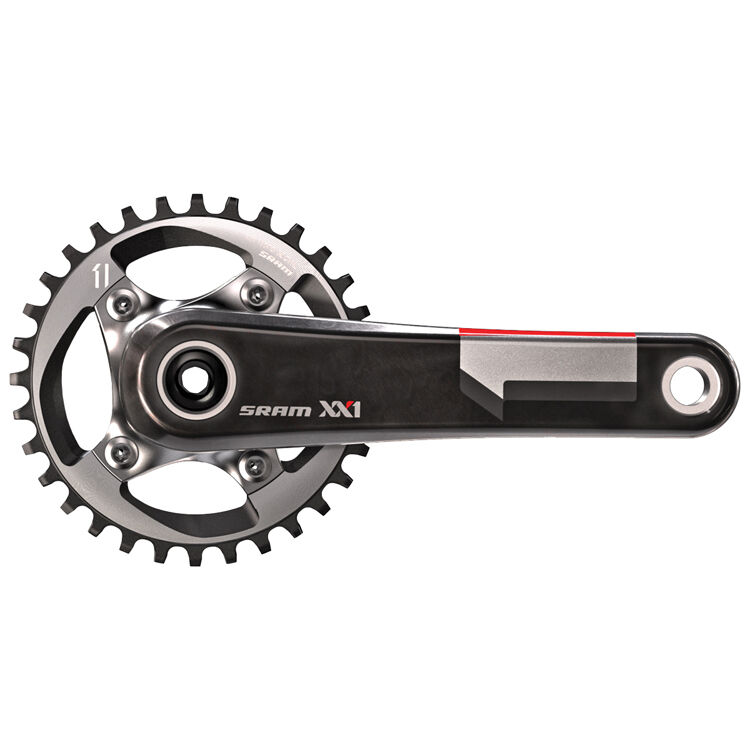 Most cyclists' purchase a bike without fully understanding how the individual components function to create the full machine. If a certain part were to malfunction, it can take the bike off the road until fixed. The crank set is a vital fixture in the mechanics of a bike. If you are undertaking a bike renovation or building one from scratch, a crank set will be required.
Most good bike specialist shops or online shops will stock cranks sets. But if you are looking for a used or second hand crank set, where do you go? The best place to shop is on auction sites like eBay. eBay's range of bike products of both new and used quality is extensive making it a great choice to shop.
This guide will outline advice on how to purchase a used crank, and the varying factors required in making your selection choice.
What Is A Crank Set?
Essentially the crank set on a bike converts the pedal power into motion, ensuring that the bicycle gains momentum and moves. A crank or chain set is the chain that connects both wheels to the pedals. It is the essential ingredient that makes a bike move when pedaled. A crank set is connected to the rider via the pedals and to the bike wheels via a series of sprockets and cranks that are in turn attached to the pedals. Some crank sets also contain an axel that runs through the bottom of the bracket of the crank set. It is important to note that crank sets do vary in quality and price, but depending on the ultimate requirements will influence the buying decision. A used crank set should offer a more affordable purchase option.
What Crank Sets To Purchase?
The market is saturated with different brands and types of crank sets, which is too extensive to mention throughout this short guide. The best way forward is to research the different types of crank sets via online resources, books and cycling videos.
There are many different types of crank sets available. Each will be suitable for a certain bike and type of riding. An incorrect purchase could mean that the bike could become damaged or permanently broken. In the case of used products, most crank sets will be available second hand. Because of this, it is of particular importance to look at all elements of the proposed product to ensure it is in fact what is required. Specifics such as the quality of the crank set, and damage present, and why the seller is getting rid of the crank set could all be part of the buying decision.
Materials
As mentioned, there are many various crank sets on the market. However, most crank sets will be made out of one of five different materials:
Steel
Chromoly
Aluminium
Titanium
Carbon fibre
The affordable option is steel, which is a strong material and offers a sturdy solution for cyclists. The only negative to steel is that it can add weight to the bicycle and it can become quite heavy. For a lighter crank set the best materials are aluminum, titanium or carbon fibres. These materials will commonly be chosen for mountain bikes or road racer bikes, due to the lightweight option. Chromo steel crank sets will often be used on BMX bikes.
Construction of A Crank Set
Like most products, the cost of the crank set will determine the quality of the product. More affordable crank sets will have chain rings welded or riveted directly to the rank arm. The more expensive crank sets will have the chain rings bolted in. The advantage of a bolted in chain ring means they can be replaced if one is broken, damaged or requires replacement for some other reason.
The overall construction of the crank set will vary depending on the type of bike it serves. The different types of bikes and crank sets include:
Tandem bikes
Chain guides
Chain guards
Left side drive
Freewheeling
Compatibility of Crank Sets
There are a few issues to be aware of when it comes to crank sets. The biggest hurdle with compatibility in a crank set is the connection between the bottom bracket spindle and crank arms.
Whilst there are many different compatibility issues, the biggest issue presented with crank sets compatibility will be the use of a square taper bottom bracket. Another further issue facing a cyclist includes the length of the bottom bracket.
These are important issues to take into consideration. If the crank set is not completely compatible with the other components then it is likely that the chain line will misalign or derailed and therefore may not work as it should. It may even cause the chain ring to run too close to the frame.
How to Install a Crank Set
The installation of a crank set is a complex operation.
Some crank sets come equipped with their own 'one-key self release' function. Some require more attention. The best way to complete this task is to consult a professional or under take further research on the procedure. The installation of the crank set is undoubtedly a fundamental element of ensuring that the cycle operates as expected, so this stage is crucial for the performance of the bicycle.
Required Tools When Installing a Crank Set
Replacing a crank set requires more than just a few parts. Certain tools will be required to assist in the operation. These tools include: crank bolt wrench, socket and driver, crank puller, adjustable wrench, rags to clean up and mess, grease or oil, grease, torque wrench. These specific tools can be purchased on eBay, but it is important to understand the exact requirements of installing the crank set prior to researching and buying tools.
Buying Considerations of a Crank Set
There are many buying considerations attached to purchasing a crank set for your bicycle. Some of the main factors will be highlighted in the following section:
Price: Setting a budget for the purchase is a sensible and mandatory aspect of the process. Setting a budget will determine the types of crank sets that are optional and therefore can filter your choices.
Type of Bike: As highlighted earlier in the guide, the type of bike that the crank set is being purchased for will depend on what crank set to purchase.
Frequency of Use: the rider needs to decide how often they are going to ride? This will ultimately affect the quality, price and material used for the crank set.
Material: the material utilised for the crank set will be a factor that influences your decision.
Aesthetics: although crank sets come in only a small number of materials, some offer more aesthetically pleasing designs. Therefore the aesthetics could be an option in your buying decision.
Brand: with a large selection of cycling brands on the market, this could be a crucial decision depending on your preference to specific brands.
How to Buy a Used Crank Set On eBay
eBay offers literally hundreds of bike accessories and crank set products. Not only that but it is one of the largest sites for selling used crank sets. The purchase of a used crank set is essentially the same as purchasing a new one. Adequate research is required to ensure it is the correct product for the bike. To search for the suitable products on eBay this can be done a number of different ways.
The first is by searching with keywords. Simply enter the keyword or specific product into the search bar located at the top of every page on the site. This leads eBay to search their database that will culminate in a selection of products that fit the keyword entered.
It is also possible to search using the pre-created categories by eBay. These categories will house all products into groups ready for browsing. It is also possible to break each category down further by using the sub-categories also decided upon by eBay.
Of course it is also possible to use the advance search function. This is located at the top of the page to the right of the search bar.
When a product is identified, here is when particular attention must be paid. Before buying, always ensure that it is what you require. Examining the description and photo provided by the seller can do this. Collect information like:
Condition of the product – use the photo provided to cross-reference the description.
Reason it is being sold.
Compatibility with your bike.
If further information is required, it is possible to ask further questions via Ask The Seller. Do not make a purchase until completely sure this is the product required.
The product will be sold one of three ways: Bid, Buy It Now or Best Offer. Pay particular attention to this, as each will require a different purchase process. When a payment is required, there is another decision to be made. Are you going to pay via PayPal, credit or debit card? Each offers a secure payment option.
eBay does offer outstanding customer service. This is backed up by the Buyers Protection Programme.
If any questions about the above processes remain outstanding, look into the Buying Tips page. Further information can be found there on how to use the site.
Conclusion
Purchasing a used a quality crank set from eBay has never been easier. No longer does purchasing a used product mean poor quality. There are numerous reasons why a seller will be looking to part with a used crank set. The product could be 'as new' or 'never been used' but needs to be sold for reasons like it wasn't appropriate or didn't fit.
eBay's outstanding customer service, secure site and excellent selection of used goods make it the perfect choice for any buyer. Why leave the comfort of your own home to go shopping for a crank set? And with home delivery, it really is a home shopping experience.