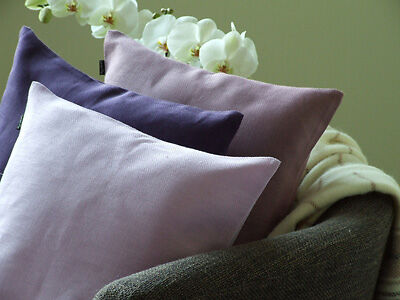 Cushion covers are a great way to revitalise a tired room, or add a splash of luxury to a faded sofa. They provide some customisation to any individual and offer an interchangeable decor in the home. The vast array of materials, colours, designs, and functions of cushion covers make it a complicated and comprehensive buying process. Doing the right research is essential to finding the right used cushion cover to complement a home.
About Used Cushion Covers
Cushions have been around since the Roman era, firstly large enough to be used as round level seating, but later taking on the function that we know today. Since their first inception, they have been designed with an eye to decoration as well as function. Original cushions didn't have covers, rather they were simply stitched collections of comfortable and soft material which were left either unadorned or decoration was added to the cushion itself. Covers came into play to make cushions more practical in a variety of locations, to make them easier to clean and to offer some degree of personalisation for such a common piece of furniture. Aside from the more expensive and luxurious of modern cushions, it is rare to find one without a cover.
Choosing A Used Cushion Cover
Cushion covers are designed to be different, and looking for one is always going to require some prior knowledge of the market. Styles and materials vary drastically from the practical and easy-to-clean covers to the luxurious covers meant for decoration rather than use.
Material for Used Cushion Covers
| | |
| --- | --- |
| Leather/PVC | Leather cushions have enjoyed success as a contrast to the largely textile furniture in the household. They are more expensive than synthetic competitors but don't stain easily. Whilst not machine washable, they can be cleaned very easily as long as a spillage or stain is wiped immediately. Wipe clean PVC is becoming a replacement, often called "pleather" or "leather-like", which is far cheaper and 'wipes clean.' |
| Suede/Polyester | Suede is a soft touch material often used in expensive fashion items and has found its way onto expensive cushion covers. Being notoriously difficult to clean and easy to spoil, cheaper synthetic competitors are replacing it with "suedette" imitations made of polyester. |
| Silk | Silk is one of the most sought after and expensive fabrics in the world and is an incredible luxury to find on cushion covers. Both silk and satin are contentious as materials because of their inability to last very long because of the weave and their slippery feel often sees them being seen as uncomfortable. Silk cushion covers are normally purely for decoration. |
| Faux Fur | Whilst fur is almost unheard of on cushion covers, faux fur is a popular choice to contrast the plain texture of most household furniture. Faux fur is made from synthetic fibres sewn onto polyester. Whilst the stray texture of faux fur makes it more likely to pick up difficult stains and become matted with time, most are machine washable. |
| Synthetic | The term synthetic is probably the most prevalent amongst cushion cover materials and it simply means a collection of man-made fibres or natural fibres brought together in a man-made process. The aim of synthetic materials is to improve upon natural components or at least make less expensive. Synthetic cushion covers are inexpensive and long lasting, though aren't as luxurious as silk, suede, or leather. |
| Cotton/Polycotton | Cotton or polycotton are still seen as synthetic, but are more popular in those looking for a less artificial feel and appearance. They are softer than synthetic competitors, and last longer, though more expensive. |
Fastening a Used Cushion Cover
The whole point of a cushion cover is for it to be removable, whether for cleaning purposes or to customise the interior of a home. There are two main manufacturing processes involved in producing a removable cushion cover, the end result being either a zipped back or an envelope back.
| | |
| --- | --- |
| Zipped Back | Zippered cushion covers feature a closable seam of the back of the cover, operated by a zip. This zip can pull the cushion cover tight over the cushion to give it a fuller shape and prevents the cushion slipping from its cover. The potential for breakage exists with a zip and it might be inadvisable for more expensive fabrics because of the potential to trap and tear within the zip itself. |
| Envelope Back | Envelope backs are far simpler than zippered cushion covers. Envelope backs simply feature an overlapping piece of fabric on the back of the cover, which serves to prevent the cover slipping off the cushion contained within. The lack of mechanism and time involved makes them a lot cheaper to produce and there are no components to break or need repair, but the cover will not sit as tightly nor securely on the cushion. Envelope backs are also easier to wash because of the lack of metal parts. |
Most expensive or luxury cushion covers tend to operate with envelope backs because of the commodity of material involved. Decorative cushions are also almost always enveloped backs because their function is aesthetic. For the modern household, zipped backs are the most popular and practical.
Type of Used Cushion Covers
Looking for a cushion cover will be different to each person, depending upon the type of cushion that they are looking for. A lot of people won't know the technical names and functions behind their cushions, but there are a surprising amount of cushions types today.
| | |
| --- | --- |
| Scatter | Scatter cushion is the term given to the most popular domestic cushion, which is 'scattered' on the sofa. These are normally square or rectangular in shape and feature a foam insert, for which most cushion covers are suitable |
| Bolster | Bolster cushions are long, firm log shaped cushions designed to be headrests or to fill the void at the small of your back when sitting down. Bolster cushion covers are often more expensive because they are perceived as a luxury item. A lot of bolster cushion covers will feature tassles at either end. |
| Seat | Seat cushions are those used on dining chairs, wicker chairs, and any hard form of seating. They are normally thinner than scatter cushions and great care is taken to ensure that they match the flat size of the chair itself. Most of these cushion covers are utilitarian in design and should be made with long life in mind; synthetic is a popular choice. |
| Ottomon | Ottomon cushions are large floor cushions made from a very firm and heavy filling that serves as a footrest accompaniment to a sofa. The covers for these cushions are large and expensive and often combine the rarely seen together functions of practicality and luxury. Persian rug style designs are popular in making ottomon cushions the focal point of a room. |
Buying Used Cushion Covers
Buying used cushion covers requires a lot of examination of the condition of the fabric itself. Particularly on the more expensive and perishable fabrics like silk and suede; look for fading in the colours and particularly in the weave of the fabric. If the stitching is evident where the fabric has broken down, then the cushion cover is likely to deteriorate with further use. Damp can affect cushion covers drastically so check for darker patches that look like water marks and, of course, always look for stains on both the front and back of the cover. Checking that the zipper or buttons work on the closure of the cover is essential to avoid being left with lumpy cushions.
Finding Used Cushion Covers On eBay
From the eBay homepage, cushion covers can be found in the Home, Furniture & DIY section which is found by clicking the All Categories link on the left of the page. Once within Home, Furniture & DIY, open the Furniture & Living menu and choose Home Decor. Clicking on Cushions will open up the category, from which you can navigate directly to Cushion Cover by ticking it on the left. The filters on the left make it possible to refine the search through selecting the Main Colour, Material, Condition, Price, Style, Room, Brand, and more. Be sure to tick Used in the condition drop down menu. Specific brands and types can be found easily by inputting a search query into the text bar at the top of the page which will return catered search results.
Conclusion
Cushion covers provide the ideal way to personalise any room in the house, adding the degree of customisation that makes a house feel like home. Without cushion covers it would be very difficult to keep furniture clean, and choosing the right cushion cover can change the ambience of a room. With the right knowledge and an eye for a bargain, eBay is the ideal marketplace to hunt for the perfect used cushion cover.