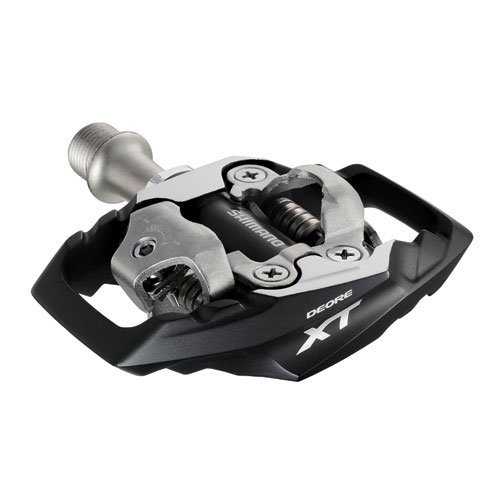 Cycling pedals
are used for the purpose of making it easier for a cyclist to ride a bicycle. They are connected to the chain of the bicycle that then turns the wheels via the gears.
Whilst the function of the pedal remains the same throughout every bicycle, there are different types available. Pedals can be purchased as brand new, yet a lot of cyclists like to buy their pedals as used or second hand. This can be for money saving reasons, as well for the reason that some styles and brands may be out of production and not available on the market anymore.
Auction sites such as eBay are home to a variety of used pedals and this guide aims to help potential buyers looking for used pedals to seek the right one out for them.
Types of Cycling Pedal
Before buying a used cycling pedal, it is useful to know which type of cycling pedal is required and best suited to one's personal riding style. This can help make the purchase of a used cycling pedal easier and the search more specific. Below is table determining and explaining the types of cycling pedal that are readily available on the likes of eBay:
| | |
| --- | --- |
| Standard Platform Pedal | The standard platform pedal is one of the more commonly used pedals. They are, however, only really designed for use on bicycles that are to be used for recreational purposes. Standard pedals tend to be made from a solid rubber or plastic and for this reason they are affordable. Pedals of this nature often feature on children's bicycles, as they are simple in design and do not require any bicycle riding experience to get used to. One of the advantages of platform pedals is that it allows the rider to get off the bicycle quickly as they are not attached to the bicycle in any way. There is also no specialised footwear that is necessary for the use of platform pedals. On the other hand, they are not suitable for use when the cyclist is planning for efficiency or a wide range of movements, as the lack of clips means that if one moves too much, the feet can move away from the pedals. |
| Advanced Platform Pedal | This type of pedal is very similar to the standard platform pedal in its basic design. Advanced platform pedals are relatively flat and don't they require any cycling based footwear to use. However, advanced platform pedals differ to standard platform pedals by the way that they have specialised teeth moulded into the edge of pedal. This is designed to allow for the feet of the cyclist to have more grip on the pedal without having to purchase any specialised cycling shoes. They are no different to standard platform pedals to use, but they perform better as a pedal for the likes of BMX bikes and mountain bikes. One of the only disadvantages to advanced platform pedals is that clothing can easily be caught on the teeth of the pedal if loose clothing is being worn. The nature of the teeth also means that one should be careful when stationary, so as to avoid skin being caught. |
| Toe Clip Pedal | Pedals with toe clips are a popular form of pedal that is a step up from advanced platform pedals. They are essentially advanced platform pedals, with a clip that goes over the top of the rider's foot to prevent the foot from coming loose from the pedal. Not only does the clip maintain efficiency by stopping the foot from leaving the pedal, it also allows for more power to be produced, as the foot is pulled upwards. Toe clip pedals are appreciated by those who have lengthy cycling commutes, and also those who enjoy going on road cycling trips for extended periods of time. Again, normal footwear can be used with toe clip pedals and once they have been gotten used to, they are easy to use. |
| Hybrid Pedal | Hybrid pedals provide cyclists with the best of both worlds. One side of the pedal is similar to an advanced platform pedal in that it is relatively flat and has the teeth associated with pedals of this nature. The other side of the pedal allows for a clipped cycling shoe to be attached and to be used securely and efficiently. Pedals of this nature are popular amongst those who use their road bicycles as a means of commuting or riding recreationally, as well as wanting to use their bicycle in a more advanced, racing style. |
| Cleat Pedals | Cleat pedals are completely different to the likes of standard platform pedals and advanced platform pedals, and are quite similar to toe clip pedals. They contain the same idea of toe clips - that the foot should not leave the pedal. With cleat pedals, this idea is reinforced by the fact that cleat pedals have a bracket that allows for cycling cleats to be attached to the pedal without a clip. This allows the pedal and the foot to move as one. To use these pedals a cyclist needs to own a pair of cycling shoes that match up with the cleat pedals that are being purchased. Pedals of this nature should only be used on long touring rides that do not contain frequent stops. |
All of the types of pedal mentioned in the table above are available for affordable prices as used on the likes of eBay.
Considerations when Buying Used Cycling Pedals
The type of pedal that is being purchased is not the only thing that needs thinking about when buying a used cycling pedal. In fact, there are some more important factors that come into play. These include:
Material
The material that the pedal is made from can very much determine how much is to be paid for it. However, the issue concerning the material of the pedal is not necessarily how much the pedal will cost, but how long it will last. Certain materials such as alloy or aluminium are not as strong as the likes of carbon and titanium.
For this reason one should be wary as to buying a cycling pedal made out of a weaker material, especially if it has been used. A weaker metal that has been used regularly may be prone to further wear and tear in such a way that the pedal may be rendered useless.
Condition
When buying used, the condition of the product should always be a deciding factor as to whether to go through with a purchase. This is also relevant when one is considering buying used cycling pedals. One should look out for signs of wear and tear in the images that should be provided by the seller, as well as taking note of any references to damage in the product description.
With cycling pedals in particular, one should keep an eye out for the wearing down of teeth on advanced pedals and hybrid pedals, as the grip will be lessened, thus affecting their efficiency. Another thing to look for is any damage to the toe clips or brackets on cleat pedals. This is especially important as any damage to these can cause crashes and serious injury.
Bicycle Type
The purchase of used cycling pedals should also be relevant to the type of bicycle that they are going to be fitted on. For example, standard platform pedals should not be used on any bicycles other than cruisers or children's bikes, and cleat pedals are completely unnecessary for any bicycle other than road or racing bikes.
Buying Used Cycling Pedals on eBay
eBay is one of the most efficient and secure ways of purchasing used cycling pedals as the buying options available on the site mean that on most occasions, prices tend to be lower on the price scale than when buying from specialist online or high street stores.
This is largely down to the fact that the site is auction based and buyers can make keep Bidding until a budget limit is met or the item is one. There is also the option for buyers to purchase their choice of used cycling pedal straight away with the Buy It Now or option, or to bypass other potential buyers of the same pedal by using the Best Offer facility (if this is made available by the seller).
eBay also provides the opportunity for buyers to find listings exclusive to used cycling pedals. To reach these listings, one should go the Sporting Goods area of the site and click on the Cycling link. From here, one should choose the Bike Components and Parts section and click on the Pedals tab. There is also another filter tab that can be made use of to ensure that the listings only show used cycling pedals.
Due to the fact that one will be buying cycling pedals from the used category, it is important to read the product description to make sure that the pedal is usable.
There is also always the option to ask the seller a question or visit the Buyer Tips page if there are any further enquiries about buying on the site.
Conclusion
The way to buy used cycling pedals is by knowing what is wanted beforehand. This way, the search becomes more relaxed and one knows exactly what they are looking for.
More specifically to used cycling pedals, one should keep an eye out for the condition of the pedals to make sure that buying them used and paying a lesser price than buying brand new is worthwhile and cost-effective.
One should also take care to make sure that the pedals being purchased are suitable and sensible for use on the bicycle that they are to be used on.
With all of this in mind, using a site such as eBay can ensure that the buying of used cycling pedals is done so in an informed and secure fashion.