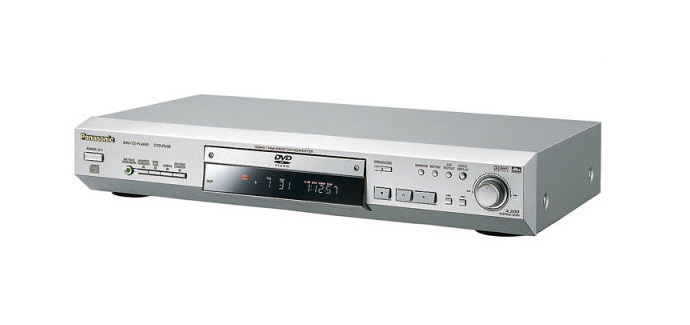 For the majority of people DVDs still remain the method of choice for watching a film at home, so buying a DVD player is an important purchase which requires some careful thought. Choosing to buy a used DVD player can be a much more cost effective option, but there are several points that need to be considered beforehand to ensure that the right model of DVD player is purchased.
Type
There are several different types of DVD players available, so it is worth taking the time to think carefully about how it is intended to use the DVD player and exactly what type of disc will need to be played on it.
| | |
| --- | --- |
| Portable | If there is a chance that the DVD player may need to be played in different locations, then it is worth considering investing in a portable DVD player. The small size of a portable DVD player makes it perfect to travel with, and it can be ideal for occupying the family during long car journeys. Portable DVD players can be connected to a television and played through it if required. |
| Progressive Scan DVD Players | This type of DVD player can be used with a normal definition television but is set up to be easily converted to high definition when required so that it can also be played with a high definition television. This is probably the best type of DVD player to choose when intending to buy a high definition television in the near future. |
| Blu-Ray DVD Players | This type of DVD player removes the need to have a separate Blu-ray player as it has the capability to play Blu-rays as well as DVDs. It will need to be used in conjunction with a high definition television to ensure the best picture quality. Blu-ray DVD players may be a little more expensive but may also have the ability to stream services, and they generally can be connected to the Internet. |
Regions
DVDs which are made in different countries will not necessarily be able to be played on every DVD player. For the purpose of DVDs, the film industry has split the world into different regions, and the UK is part of region two. An American DVD comes from region one and will not play on a DVD recorder from the UK if it can only play region 2 DVDs. If the DVD player may be used to play DVDs which are imported from other countries, then it will be necessary to look for a DVD which is multi regional. This means that it would have the ability to play DVDs from anywhere in the world.
Formats
Standard pre-recorded DVDs use a MPEG codec to play, and all DVD players will play DVDs that are in this format. If a DVD player will be required to play recordable and rewritable DVDs and CDs, then the player will need to be able to recognise the DVD-R/RW, the DVD+R/RW and the CD-R/RW formats. Older models of DVD players may not have this capability, so it is worth checking.
Build
The construction of the DVD player can be an indication of its quality. There are a lot of DVD players on the market of varying quality, and it is a good idea to look for one that is sturdy and feels strong and avoid any that feel flimsy and which are made from thin plastic. Well-known brands will tend to feel sturdier
Audio Connections
If the DVD player is going to be used with a television that has surround sound, then it is important to check if the DVD player is able to play digital sound. If this can be done, then it will be shown as the DVD player having the capability to recognise the HDMI format. If the DVD player cannot automatically play digital sound, then it is vital to choose a DVD player that has a coaxial output port for the additional audio connection that will be needed between the player and the television.
Controls
Take some time before purchasing to consider how easy it will be to operate the DVD player. The controls need to be clear, simple, and easy to read both on the actual DVD player and on the remote control if there is one. A good DVD player will include controls on the remote control that allow the user to easily shift around the different features on the disc and to load the different features quickly. Controls which allow on screen configuration may make it easier to set up the DVD player once purchased, especially if the instruction manual is not available.
Widescreen Playback
The options for viewing films in widescreen can vary greatly. Check the format that the DVD player will use to view widescreen films and whether or not there is a selection of formats to choose if the DVD player will not be used with a widescreen television. Most DVD players will allow widescreen recordings to be viewed with black blocks filling in the top and bottom of the screen. Some may offer the viewer the option of picking the key area of the image, which will then fill the entire screen with the extreme outer part of the image being lost.
Guarantee or Warranty
Although this may depend on the age of the DVD player, it is worth asking whether it is being sold with any existing warranty or any guarantee against breakdown.
To Find a Used DVD Player on eBay
Looking for a used DVD player on eBay is a simple process. The eBay homepage has a tab titled Shop by category, and clicking on this will give the user a list of some of the main categories and the option to click See all categories. Once the full list of categories is displayed on screen, it will include a category for Sound & Vision. Clicking on this category will fetch a list of sub categories including DVD, Blu-ray & Home Cinema. The next list of sub categories will include DVD & Blu-ray Players, and clicking on this will display the category for DVD Player.
This category will contain all the DVD players that are currently listed for sale. The search can be further refined if necessary as there is a list of features and brands that can be selected. There is also a separate category listing for portable DVD players if this is the type of player that is required. The search bar at the top of every page on eBay can also be easily used to search for used DVD players. Simply typing in some keywords such as used DVD player would pull up a list of all used players that were currently listed on eBay. The user could also enter additional keywords such as brand names or specific features that the user requires if they want to refine their search.
Conclusion
Buying a used DVD player instead of a brand new one can be a much cheaper option, but it is important to check that an older model will be suitable and has the necessary features to meet all requirements. It is essential to confirm that the DVD player will play Region Two DVDs and to look for a multi-region model if required. An older model may not have as many extra features as a brand new up to date model, but it will generally be able to play DVDs with good quality picture and audio.