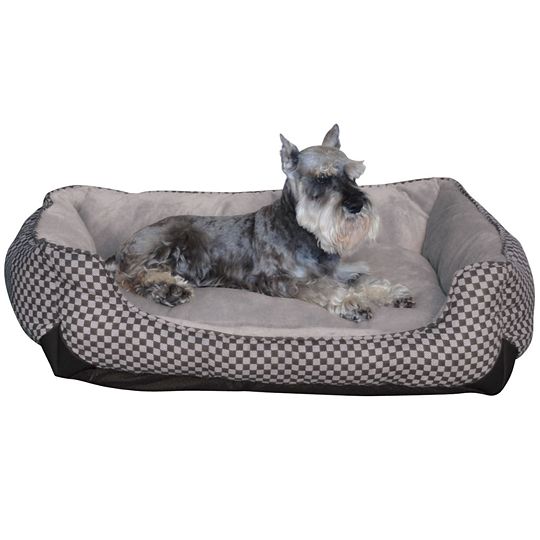 When shopping for dog beds, the range and luxury available through browsing online may be surprising. eBay is an ideal place to search as it provides a range of beds as well as the means to compare prices, ensuring that an informed purchase is made. Specialty beds, such as medical-quality memory foam beds for older dogs, or décor enhancing styles of "dog furniture" can be especially expensive. However that doesn't mean that a good and fashionable bed is not affordable. Checking the options in used dog beds is a great way to find a bargain and make purchasing the right bed an affordable option. Used dog beds are also an ideal option when purchasing a bed for short term use – for example, while the dog is still a puppy and is likely to grow. When shopping for a used dog bed, keep these tips in this article in mind.
Make a Used Dog Bed Smell Like Home
One of the problems in buying used dog beds is the scent that lingers from the bed's previous occupant. Even though the bed will have been washed and cleaned before being sent, a dog's keen sense of smell will let it know that the bed had a previous owner and that that previous dog was not one of the dog's own "pack" (a dog's pack is their owner and immediate family).
If the dog bed smells like another dog, the dog may hesitate to use it. To overcome this problem, try these tips.
If only the frame of the bed was purchased, fill the frame with new bedding.
If a new bed is bought that is covered with leatherette, its surface can be wiped clean of scent fairly easily.
If buying a bed that is covered in cloth or other scent-retaining material and the bed is washable, it can be washed with the family's old clothes to begin removing the scent from the previous owner's home and replacing the scent with a familiar one.
In all these cases, it is possible to lay the cover of the dog's old bed, his blanket or some old clothes from a family member on the newly-purchased bed until more familiar scents sink into it. The smells present in an old blanket or in old clothes from a family member are those of the family the dog is a part of. A dog knows each family member by scent, and it will make him feel safe and cosy to sleep on a bed that smells like the family he loves.
A Used Bed is a Good Purchase for a Puppy
A small puppy is unlikely to take issue with a used dog bed, as at a young age dogs are still identifying members of their "pack", and will not be put off by the fact that their bed smells like a dog they don't know. A used bed can therefore be ideas for a new puppy, serving as an inexpensive first bed to get them through their teething and chewing stages. Depending on the style of the bed and the size a puppy will grow to when they reach full size, it may be possible to use that first bed as a cosy nest for car trips or as a second bed in a corner for naps.
Decide on the Features of a Dog Bed
Every sort of dog bed can be found in the used dog bed section of eBay. It is a good idea to have in mind the needs of the dog before looking at all the types available to keep from being overwhelmed with choices. It will be possible to come up with a list of essential and desired features. For example, if the dog is older, the must haves may include a large size so the dog can stretch out, medical-quality memory foam pad, and washable cover. Desired features may include a particular type of material for the cover, a Velcro closure instead of a zipper, and rounded edges instead of corners. To determine the features the dog needs, consider the dog's age, whether it is an indoor or outdoor dog, whether or not it chews or digs, and how it likes to sleep. Does the dog sprawl all over the floor or seek out a quiet place under a desk or coffee table?
Size The Dog's Bed
It is possible to use the filters available on eBay to specify the desired size when browsing the selection. To determine the size dog bed that is right for both owner and pet, first establish where the bed will be used (car, house, inside, outside, in a crate), how the dog likes to sleep (sprawled out on their side or curled up nose to tail), and the actual size of the dog. Do not guess about measurements; use a tape measure to determine the size of the dog, the size of the space where the bed should be, and then the measurement needed for the right-sized bed.
Find the Right Style of Bed
It is possible to search on eBay with the name of a particular style, such as "nesting dog beds" or "bolster dog beds". If unsure of which style is desired, browse the whole selection by navigating to Pet Supplies and selecting Beds under the 'dog' listings.
Some of the styles to be seen include the following:
| | |
| --- | --- |
| | This term is a catch-all for beds that have sides (as opposed to a flat mat). Bolster beds, doughnut beds, and cave beds are all nesting beds. |
| | This is the other sort of dog bed, as distinct from a nesting bed. Pillow dog beds are flat. It is possible to buy round, square, triangular or rectangular pillow beds in a variety of thicknesses and in a variety of materials. |
| | These beds have firm sides that give the dog something comfy to lean against or to prop their head on. |
| Mats and pads | Made for easy transport, mats and pads come in all different thicknesses. Some of them are so thin that they can be rolled up. Others are thicker, but flat so they push under the bed when not in use. |
| | These beds are round, encircled with a pillowed rim. |
| | These beds are great for a dog that either likes to burrow under the covers or who likes the feeling of being enclosed or covered when sleeping. |
| | Designed for the older dog, an orthopaedic bed usually features easy in and out and thick, supportive foam. |
| | The defining characteristic of an outdoor dog bed is that it is made of tough material. Outdoor beds are used on rough terrain (from concrete to decking to the ground). Some are specially designed to keep a dog warm, while others are specially designed to keep him cool. |
Be Aware of Other Available Features
Keep alert for features other than style.
Heated beds or raised platform beds, for example. One is important for old dogs or dogs that live in especially cold climates. The other is good for outdoor dogs or dogs that need a cooling perch during hot summer months.
It's a good idea to check the product specifications for ease of care. Is it possible to remove the cover of the bed to wash it? Is it possible to brush the cover to remove dog hair? Is it stain-resistant? A bed that cannot be washed easily may end up being a bed that gets thrown away.
If the owner or the dog suffers from allergies, or if the buyer has an interest in making an eco-friendly purchase (purchasing a used dog bed is an eco-friendly purchase), the material the bed is made of may be a concern.
Some beds are water- or mildew-resistant, which is especially important if the bed will be used outdoors, or in a humid climate.
Buying used "dog furniture" can be a brilliant way to afford some of the more up-market styles of dog beds that can be quite expensive when bought new.
Finding the Right Price
Finally, to be sure to get a fair price, check on eBay the price of the dog bed new (being sure to include shipping and handling fees) and then compare the price of a new bed with the price of a used one. Once the desired dog bed is found, check the advertisement to see what the seller's return policy is and whether he or she is offering any sort of guarantee or if the bed is being sold "as is."
How to Find Used Dog Beds on eBay
To browse the selection of use dog beds, follow the process of finding regular dog beds, by navigating through Pet Supplies > Dogs > Beds. Then use the left column menu to select used under the 'condition' option. This will display the entire range of used dog beds available on eBay. It is also possible to further narrow down the search by entering search terms into the search bar at the top of the screen.
Conclusion
Buying a used dog bed is a convenient option to explore when furnishing your pet and companion with a new place to sleep without spending a fortune. eBay's large selection makes finding the right bed an easy and enjoyable experience.