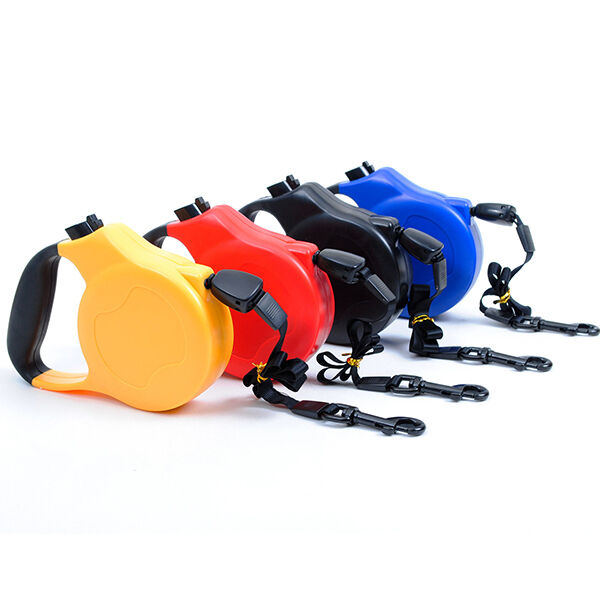 Billions of pounds are spent every year collectively by millions of people around the world on different types of pet care products, and two types of dog products that seem to be purchased frequently by the average owner are dog leads and harnesses. Based on the quality of the actual products and the size and type of dog, the prices of leads and harnesses can vary greatly.
eBay has a wide variety of used leads and harnesses that you can choose from, but these products can also be purchased from many other traditional stores and online websites as well. The key is to know the right way to shop for these items, and this guide has been designed specifically to teach potential buyers how to do it.
Which Type of Lead Is Necessary?
Identifying the specific type of lead that is needed is an important first step that must be taken before proceeding any further with this shopping experience. Many consumers make the mistake of assuming that all dog leads (or leashes) are exactly the same, capable of performing the same basic function. Even though all leads are specifically designed to stay attached to the dog for the restraint and overall control of the dog to stay in the hands of the person holding the leash, there are several key differences in the types of leads available and their structure in general.
Specific leads were designed for specific purposes. Matching these purposes with the leads will allow buyers to quickly identify which leads need to be purchased, and which ones do not. Review the content of the chart below as a guide:
| | | |
| --- | --- | --- |
| TYPE OF LEASH | BASIC DESIGN | PRIMARY FUNCTION |
| Short Tab Leads | A basic loop handle or short leather leash with an attached clip. | Provides an enhanced level of restraint with a short distance of space for the pet to roam freely; used primarily for competition and training sessions. |
| Braided Leather Leash | Similar to the short tab leads, comes with a basic loop handle and attached collar clip. Leash is usually no longer than 4 feet long. | Primarily used by owners and trainers for obedience training purposes. There is not very much room allowed for dogs to roam freely. Design of lead allows owners to hold it easily for a firmer, tighter grip whenever necessary. |
| Tracking and Training Leads | These webbing leads are usually made out of nylon & can extend up to 6 feet long with basic clip/handle design. | Casually walking the dog is the primary purpose of most webbing leads; there are certain enhanced versions that can extend up to 30 feet and even longer. |
| Slip-Lead | Usually designed with a basic loop handle and an adjustable, enhanced slipping loop. Distance of leash is comparable to most training leashes. | This innovative design is used primarily in competitions and dog shows, because the leash will have to be quickly slipped on and off at any given time during these events. The slip-lead is therefore not very good to use for casual settings, but is the best leash to use for competitive scenarios. |
| Retractable Leads | One of the most popular designs of leads currently available in the general market; thin rope easily retracts back into large plastic handle automatically | This specific lead is designed for the average pet owner that does not need to have as much restraint over his or her dog. The majority of these leads can be extended up to 25 feet, allowing the dog to roam freely without the owner losing complete control over their pet. |
The One Lead to Never Purchase
Medical, veterinary and scientific studies that have been conducted over the years have all been able to prove that there is one particular type of lead that, even though it is very popular in most countries around the world, should never be purchased and used on a dog. This is the lead that is made wholly out of a metal chain, regardless of its length.
Metal chain leads are not effective for training or even casual walking purposes. However, these leads are very effective when it comes to seriously injuring the people that are using them and, more importantly, the dogs that are being controlled by these unsafe leads in the first place. As can be seen from the chart above, there are many other safe and effective options that can be chosen instead of these chain alternatives.
Finding a Quality Dog Harness
In many cases, a basic lead and collar are just not enough to maintain complete control and restraint over a dog. This could primarily be due to the size and age of the actual leash or, in most cases, the size and age of the actual dog. If it is a fairly large dog breed, the same collar and lead that worked for them as puppies can easily become ineffective completely as they grow older. This is why investing in a quality harness would be the best route to take.
Just as there is a wide variety of dog leads available, there are also several different types of dog harnesses available as well. The following chart reflects the distinct features and functions of each type.
| | | |
| --- | --- | --- |
| TYPE | PURPOSE AND DESIGN | PRIMARY BENEFITS |
| NO PULL | Primarily used for training purposes. Leash is attached to front chest strap; when dog pulls on the leash, he or she is guided towards the owner instead of away. | Discourages the dog from pulling away from owner without the need for excessive force; minimises risk of neck and throat injuries in dogs due to reduced pressure being applied to these areas. |
| NO JUMP | Primarily used for obedience training purposes. Designed to apply additional resistance to chest area of dog while allowing owner to maintain full control. | Discourages the dog from jumping due to the added weight and pressure that is applied by this design each time that he or she jumped; can be adjusted to fit both small and large dogs. |
| H-STYLED | Traditional yet popular design for harness; allows owner to maintain control and restraint of dog regardless of size. | Not very effective for training purposes. Simple design makes it effective and efficient for casual walking and everyday use, regardless of the size and age of the dog. |
| AUTO TRAVEL | Designed to keep the dog safe and secure while travelling in a car; works well with seat belt tensioning device to lock in place whenever frequent stops are made. | Not designed for training or casual, everyday use. This particular harness is only effective for travelling in a car. However, the adjustable design and fully padded vest makes it safe and comfortable to wear for any dog. |
| STEP-IN | Developed for everyday use; designed so that dogs can easily just step into it and the owner can use the adjustable sides for the perfect fit. | Distributes weight, stress and resistance throughout the chest and shoulder regions to discourage dog from pulling away. Perfect for squirmy dogs of all sizes. |
Checklists for Buying Used Leads and Harnesses
Do not become too overwhelmed by the idea of shopping for used leads and harnesses, instead of new versions of these products. The quality, condition and specifications of these products are going to be the same in both cases. However, there are basic features that should be checked for and examined thoroughly before purchasing any type of lead or harness - regardless of whether it has never been used before, or it has been used hundreds of times.
Shopping Tips for Used Leads and Harnesses
* Search for a safe and comfortable fit for the dog.
* Match a specific purpose with the specific product type.
* Sturdy, quality materials are built to last a long time, even though they may cost a little more than expected.
* Do not forget to check the size, width and length of these products to match dog's height and weight now.
* Measure the dog's chest before purchasing a harness to ensure that the perfect fit is achieved.
* Remember that training harnesses need to fit tighter and more snug than casual, everyday harnesses in order to be effective.
* Invest in products that can easily be adjusted for the future growth of the pet.
* Examine leads and harnesses for signs of excessive wear and tear or damage.
* Allow the dog to get used to wearing the lead and harness around the house or in the backyard before it is used on casual walks and runs.
Key Points to Remember
* Retractable leashes are the best choice for casual use.
* Stay away from metal chains; there are more effective, safer options.
* Nylon leads are good for puppies, but not necessarily for adult dogs.
* Research brands and models thoroughly before purchasing.
How to Shop for Leads and Harnesses on eBay
There are many other websites that feature a variety of leads and harnesses that can be purchased, but eBay has become known by pet owners and trainers alike as being the best place to go for a variety of quality products, dog supplies and training equipment.
To get a complete listing of the leads and harnesses available to be purchased and bid on today, go to Harnesses and/or Leads & Head Collars found in the Dog Supplies section of the Pet Supplies category. The thousands of different items listed within this category can be filtered based on such features as:
* Type
* Size
* Material
* Colour
* Condition (new or used)
The Fixed Price and Auction options provide you with an opportunity to have options when it comes to bidding for and purchasing these items. The most important details and specifications of these products are featured for public display, so that potential buyers can determine whether or not they should continue searching or have already found the product(s) that they needed.
The detailed item listings for each individual product will fill you in on all of the other pertinent information that you will need to know before finalising any purchases or making any bids. Remember, once a bid is placed, the bidder has made a commitment towards purchasing that product if that bid should win.
Therefore, make sure that you contact the seller if you should ever have any questions or concerns that need to be answered or addressed. Stay away from sellers that have extensive records of negative feedback and poor reviews from past customers. There are just too many reputable sellers available on eBay with high quality dog supplies and related products for you to spend time and money on, rather than those questionable, high-risk individual sellers and companies.
Conclusion
Protecting and caring for dogs is one of the top priorities of most owners. Leads and harnesses are two of the most important tools that pet owners should have readily available either for training purposes or everyday use as their dogs and cats continue to grow older and bigger.
There is an abundance of other dog supplies (such as food, vitamins and toys) that will be purchased throughout the dog's life. Being able to find and capitalise on great deals for quality leads and harnesses, especially if these products have already been used by previous owners, can help to create a solid pattern for pet owners to follow for future pet-related purchases as well.