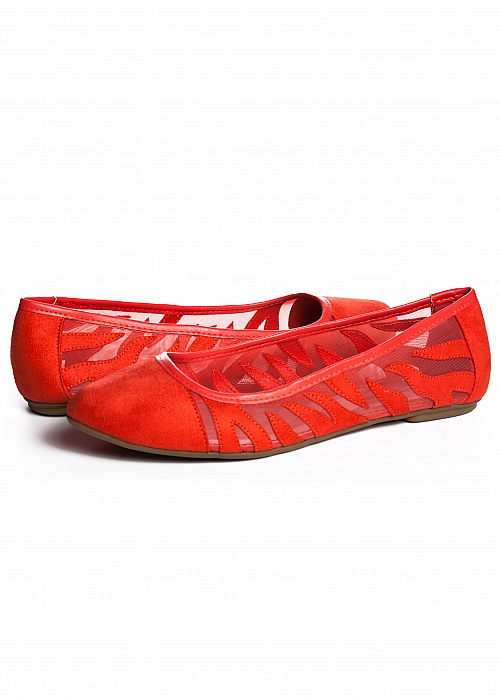 Flats are among the most comfortable shoe options available to women today, a footwear choice that can address the office as easily as it can address a casual day at the beach. These low-rise shoes offer a good deal of style, nonetheless, and a wide variety of types that can appeal to almost any taste. Everything from the chic and minimal ballet flat to the pragmatic thong can give a woman an easy-to-wear answer to her footwear needs. A particularly useful option available to women shopping for flats is the used marketplace. When searching for the right pair of used flats,, it can help a woman to have a good idea of the range of styles available in this category of shoes, with a clear notion of the style accents and benefits of each shoe type. It can also be of benefit to a woman to have an idea of the retail options available, including the online marketplace. Understanding how one can utilise a website such as eBay can be of help as a woman embarks on the process of acquiring a pair of used flats.
Types of Used Flats
There is a wide variety in the world of women's flats, offering a range of choices that can complement any setting or any ensemble that a woman chooses to put together. The more popular styles in women's flat shoes include ballet flats, thongs, and sandals, among others. Each style can accommodate a particular need or look that a woman may have in mind.
Used Ballet Flats
One of the most popular trends in recent years is the ballet flat. Based on the simple structure and lines of a classical ballet slipper, these flats are basic, slip-on shoes that manage to deliver a dynamic fashion statement. Most ballet flats feature a rounded structure and can sometimes come with a small thread bow just below the toes, just as on a pair of real ballet slippers. These flats have no arch support and can be difficult for some women with higher arches to wear. Ballet flats go well with capri pants and skinny jeans, and they can also act as a perfect accompaniment to a casual shift dress. Used ballet flats may be found in any number of colours and can bear patterns as distinct as a zebra print or sequined designs..
Used Thongs or Flip Flops
Used thongs or flip flops can be great spring and summer options that deliver a bit of style during the day while also offering a pragmatic solution for activities such as going to the beach or pool. Some flip flops can follow the basic design scheme of the classic thong, with a plain architecture and undecorated look. Other shoes in this category may feature a platform flat in the sole and more design elements, including accoutrements that dress the thong or patterns on the sole itself.
Used Loafer Flats
Loafers are a reliable and comfortable shoe which provide a classic and sturdy option to women. These types of flats are often made in leather or suede, with some canvas options also available. Loafer flats can sometimes feature a mocassin style design with threaded leather accents and laces, while others can incorporate design notes not unlike a man's dress shoe. Loafer flats typically offer more arch support than other types of flats and can also be worn with insoles. Loafers are an ideal choice for women who want to look polished yet casual in their workplaces.
Used Mary Jane Flats
Mary Jane flats, with their schoolgirl strap and pragmatic design, are a charming retro touch that many women enjoy wearing. Like loafers, this type of flats works well with insoles and delivers excellent arch support for a flat shoe. Mary Jane flats typically come in traditional colours such as black or brown, but they can also be found in more dynamic choices such as red or blue.
Used Flat Sandals
Strappy flat sandals are another fun way women can get a bit of comfort in their footwear while still delivering a stylish touch to their daily outfits. Flat sandals come in any one of myriad designs and typically incorporate straps placed across the arch various formations. These straps can be smooth or braided leather, while other sandal types might feature a twine or even plastic strap design. Sandals can work for a lunch date, running errands, or even in more casual work environments.
Finding the Right Size in Used Flats
When shopping for used flats, it is important for a woman to find the correct size to allow for comfort and safety when wearing a pair of shoes. To ensure that she has the ideal size shoe, a woman needs to measure her larger foot to ascertain the correct size she needs in footwear.
Measuring the Foot
To measure her foot, a woman should place her larger foot on a piece of paper. With a pen or pencil, she should outline the toe line and heel line of the foot onto the paper. She should then take a straight line measurement from the centre of the heel to the tip of the big toe. This length in centimetres can be used as a reference in finding the right size flat.
Cross-Referencing Measurement to Size for Used Flats
The following chart lists the average measurements for the more common sizes found in women's shoes. Women shopping for used flats may come across shoes in UK sizes, European sizes, and even US sizes and should be aware of the size conversions across the various categories.
| US | Europe | UK | Australia | Centimetre |
| --- | --- | --- | --- | --- |
| 5 | 35 | 2.5 | 3.5 | 22.8 |
| 6 | 36 | 3.5 | 4.5 | 23.5 |
| 7 | 37.5 | 4.5 | 5.5 | 24.13 |
| 7.5 | 38 | 5 | 6 | 24.45 |
| 8.5 | 39 | 6 | 7 | 25.08 |
| 9.5 | 41 | 7 | 8 | 25.72 |
| 10.5 | 43 | 8 | 9 | 26.34 |
| 12 | 44 | 9.5 | 10.5 | 27.3 |
| 13 | 45 | 10.5 | 11.5 | 27.9 |
| 14 | 46.5 | 11.5 | 12.5 | 28.6 |
| 15.5 | 48.5 | 13 | 14 | 29.2 |
It is important to note that sizes can vary from one manufacturer to the next. The chart above is only an average and should be used as a general reference. When shopping for a pair of shoes, a woman should verify the size of the product sizing and find out whether the sellers' shoes skew larger or smaller than the average.
Shopping for Used Flats
Women can access a certain number of used flats at local retailers including second-hand shops and vintage stores. However, these stores may not necessarily have a range of sizes or styles that one is looking for. With its comprehensive catalogue of shoes, eBay offers an option that women can take advantage of as they shop for used flats.
Buying Used Flats on eBay
To begin a search for a pair of used flats on eBay, conduct a basic search by using the search bar found on any page on the website. The basic search yields the appropriate listings available in used flats on eBay. To get an overall idea of the types of flats available in eBay's used marketplace, you can use a general search term such as "used women's flats&". If you have a particular item in mind, use a narrower search term, such as "used black ballet flat&". You may also use the website's advanced search option available on the homepage to filter the results by parameters such as price range, location of the item, as well as by eBay's top-rated sellers.
When shopping for used flats on eBay, it is recommended that you get to know the seller from whom you want to buy an item. Visit a seller's page by clicking on the seller name on the listing page for n item. Review the seller's track record and feedback received from other customers. Getting to know a seller on eBay can add that extra assurance as you place an order.
Conclusion
There is no reason a woman has to sacrifice comfort when looking for style in a pair of flats. With the large variety of flats on the market today, a woman can feel confident about finding a stable and easy-to-wear shoe that still incorporates well into a fashion-forward lifestyle. Everything from a ballet flat to a sandal can provide just the accent needed to polish off an ideal ensemble. When shopping for flats, women may consider looking into the used marketplace, where a diverse range of quality options can be found at lower price points than those available at regular retailers. While local shops may have a limited selection, online auction sites such as eBay are far more likely to stock the exact pair of used flats a woman is looking for. By perusing the numerous listings for used flats on the website, reviewing the sellers, and confirming her foot size, a woman can find a pair of used flats that complements her shoe collection and wardrobe ideally.