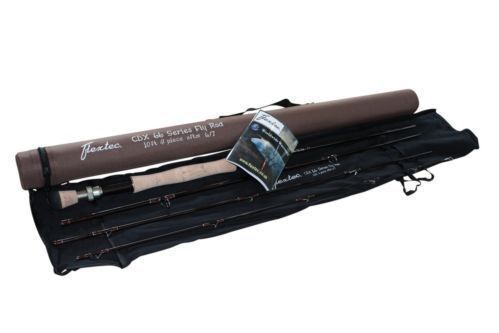 There is a huge range of fly fishing rods on the market and it is as well to take good advice from an expert before embarking on a purchase.
Fly rods are used to fish a fly. This is a hook dressed with feathers or hair. Generally the fly represents or imitates something that the fish would like to eat. In some cases however the fly is merely a lure or an annoyance to the fish. This is particularly the case with salmon fishing where the fish are not feeding at all.
Fly fishing is regarded as one of the most artful forms of fishing. To watch a good fly fisherman cast is aesthetically very impressive. Buying a good used fly rod needs careful thought. Rods vary in size, strength and feel and it can be very frustrating fishing with the wrong rod for the conditions.
Match rod size to fishery and target fish
Understand firstly what the target fish might be. Having established this, try and get a really good understanding of the type of fishery being fished. Lake, river, saltwater, small stream or highland loch; they all require different types of rod for the best effect and most satisfactory performance.
Rod sizes vary from tiny five foot trout rods for small streams to 17 foot salmon rods for mighty rivers. Most fly fisherman like to try and catch the biggest fish possible on the smallest rod feasible. This is a good ambition but it is very important to be able to reach the fish in the first place and it is a useless exercise if the rod being used simply isn't powerful enough to get the fly close to the fish.
It is quite dull however, playing a very small fish on a very big rod. The angler therefore needs to find the perfect balance of power in the rod with feel and sensitivity when actually playing the fish.
Different rods for different casts and flies
Rods also vary in the way they are used. There are three types of rods used for two broad techniques. The single handed rod is generally no longer than 11 foot and is used to cast the fly working the rod with one hand in what is known as a back cast. The line comes off the water, over the shoulder and goes out behind the fisherman before being brought forward to cast the fly to the required position. On lakes when fishing from a boat this is a very straightforward exercise as there are no trees or bushes to catch the fly as it goes behind. The rod is generally worked from the elbow to wrist in movement and very little exertion is required if the technique has been mastered.
Where the fisherman might be fishing a big river with trees on the bank and no space behind a 'Spey' cast with a double -handed rod might be a more suitable method of presenting the fly. This is where the fly never goes behind the body and is simply rolled out across the water in front of the angler. Here a double handed rod can be used and these are generally no shorter than 11'6" and go up to about 17'.
There are really three types of fly fishing, wet fly where the fly will sink in the water. Often it will represent a nymph or beetle in the water luring the fish to take it. The dry fly technique involves the angler representing a fly hovering above the water or on the surface.
The third use of a fly rod is in saltwater fly fishing particularly for Bonefish, Tarpon and Permit. These all take a fly, which is generally much bigger and more colourful than a standard pattern.
Modern fly rods
In general modern fly rods are made of carbon fibre and are therefore extremely light even when they are over 15 foot and are casting a line of over 40 yards. Modern carbon rods have evolved from the original bamboo or split can rods developed through the late 19th and early 20Th centuries. The brands that make the best quality rods of all levels are either British like Hardy or American like Sage. Some of the best rods particularly big salmon rods are Nordic and so keep an eye out for brands like Loomis or Loop.
Fly rods are delicate
Because of their delicate nature good fly rods, although very strong are easily broken. The most common breakage comes from being trapped in car doors or simply being stood on. A crack in a fly rod can completely disable the rod and make it redundant. The rings and fittings on rods vary in quality but they are fundamental to the performance of the rod and so try and buy the best quality for the budget.
Look out for value
Fly rods and all fly fishing tackle is much more expensive than coarse or sea fishing gear and so there is generally less liquidity in the market. A new rod is a big investment and many fly fishermen use the same rod for many years. There are some good quality manufacturers that are slightly more affordable.
Good Value Brands:
You can find these brands on eBay.
Old fly rods for investment
If buying rods for investment then it is worthwhile looking at the split cane rods that sometimes come up in auctions. Any of the Hardy Bros rods with their typical hand written branding can be worth a great deal. Collectors, particularly Americans, love these old rods and there is quite a market for used bamboo and split cane.
Reel must fit rod
It is very important to make sure that the reel is compatible with the rod. Reels and reel fittings have evolved substantially in the last twenty years and different makers have different fittings. The tackle is completely redundant if the reel won't fit onto the rod and so the buyer would be well advised to ensure that the rod does have fittings that work or that a reel is purchased with the rod. Some fittings on less high quality rods are very loose and the reel, while fitting onto the rod, then works itself out of them and falls off the rod. Reels falling on stones or into the bottom of a boat generally may become damaged and sometimes need to be written off completely.
Fly fishing rod length
When buying any fly rod, apply the following rules.
* Salmon and sea trout on a large river probably need a double handed rod between 13 and 15 ft in length.
* With lake and reservoir fishing for rainbow or brown trout a single handed rod of about 8 to 10 ft is probably the best choice although a longer, more powerful single handed rod might be useful where the fishery is unsheltered and windy.
* Really small rods are perfect for small burns and chalk streams. They allow the angler to get low in the water and fish delicately for small wild fish, which can be very wary.
* In between there are hybrid fly rods, which can be used with one or two hands and these are particularly useful for fishing for salmon in little spate rivers. They are sometimes called grilse rods.

How to buy used fly fishing rods on eBay
Now that you've worked out which fly fishing rod you want, find them quickly on eBay. While you shop, don't forget Line , Flies and Tackle. Click the Sporting Goods portal and click.
Categories: The Categories list on the left side of each page will help you narrow down your listings by item type. You'll find links for Clothing & Footwear, Coarse Fishing, DVDs, Fly Fishing, Sea Fishing, Tackle Boxes, Universal Accessories, Videos and Trophies As you refine your search you'll be able to narrow down your choice by subcategory.
Product Finder: Use the Used fly fishing rod Finder to quickly narrow down item listings by brand, model and condition. (new or used)
Keyword search: Search eBay listing titles for specific words. For example, if you want to find used fly fishing rods, type the keywords "fly fishing rods used" (without quotation marks) into the Search box. Click "Search title and description" to expand your results. Visit eBay's Search Tips page for more tips on searching with keywords.
If you can't find exactly what you want, try browsing eBay Stores or tell the eBay Community what you're looking for by creating a post on Want It Now, or save a search on My eBay and eBay will email you when a matching item becomes available.